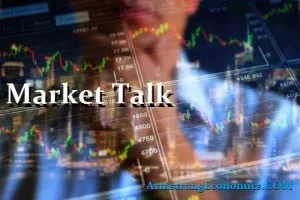 ASIA:
International experts investigating the origins of Covid-19 have all but dismissed a theory that the virus came from a laboratory in China. Peter Ben Embarek, the head of the World Health Organization (WHO) mission (Mission to China), said it was "extremely unlikely" that the virus leaked from a lab in the city of Wuhan. The WHO team currently at the end of their investigation mission said more work was needed to identify the source of the virus. The investigation could now focus on South East Asia, one expert said
Indian government reaffirmed its decision to obtain funds for its massive 2021/22 borrowing program at below 6.0%, as the central bank has given assurances that it will provide ample liquidity, Reuters reported. Bond yields surged on Friday following the central bank's policy meeting amid investor concerns about market liquidity and the government's 12.06 trillion Indian rupees ($165.56 billion) borrowing program. India's central bank governor, Shaktikanta Das said that the government's long-term average borrowing cost is expected to be between 5.8%-5.9% in the fiscal year starting April.
The major Asian stock markets had a mixed day today:
NIKKEI 225 increased 117.43 points or 0.40% to 29,505.93
Shanghai increased 71.04 points or 2.01% to 3,603.49
Hang Seng increased 156.72 points or 0.53% to 29,476.19
ASX 200 decreased 59.50 points or -0.86% to 6,821.20
Kospi decreased 6.57 points or -0.21% to 3,084.67
SENSEX decreased 19.69 points or -0.04% to 51,329.08
Nifty50 decreased 6.50 points or -0.04% to 15,109.30
The major Asian currency markets had a mixed day today:
AUDUSD increased 0.00337 or 0.44% to 0.77374
NZDUSD increased 0.00151 or 0.21% to 0.72389
USDJPY decreased 0.6520 or -0.62% to 104.58
USDCNY decreased 0.02679 or -0.42% to 6.41898
Precious Metals:
Gold increased 7.91 USD/t oz. or 0.43% to 1,838.07
Silver increased 0.028 USD/t. oz or 0.10%% to 27.280
Some economic news from last night:
Japan:
Average Cash Earnings (YoY) decreased from -1.8% to -3.2%
Overall wage income of employees (Dec) decreased from -1.8% to -3.2%
Overtime Pay (YoY) (Dec) increased from -10.80% to -8.90%
M2 Money Stock (YoY) increased from 9.1% to 9.4%
M3 Money Supply (Jan) increased from 1,929.1T to 1,939.3T
Australia:
NAB Business Confidence (Jan) increased from 4 to 10
NAB Business Survey (Jan) decreased from 14 to 7
New Zealand:
Inflation Expectations (QoQ) increased from 1.6% to 1.9%
Some economic news from today:
China:
M2 Money Stock (YoY) (Jan) decreased from 10.1% to 9.4%
New Loans (Jan) increased from 1,260.0B to 3,580.0B
Outstanding Loan Growth (YoY) (Jan) decreased from 12.8% to 12.7%
Chinese Total Social Financing (Jan) increased from 1,720.0B to 5,170.0B
Japan:
Machine Tool Orders (YoY) decreased from 9.9% to 9.7%
Indonesia:
Retail Sales (YoY) (Dec) decreased from -16.3% to -19.2%
EUROPE/EMEA:
Britain called on Monday for a reset in relations with the European Union and a refinement of a Brexit deal covering trade with Northern Ireland, saying trust was eroded when Brussels attempted to restrict COVID-19 vaccine supplies. To avoid creating a hard border on the island of Ireland, Northern Ireland remained within the EU's single market for goods under the Brexit deal, effectively creating a frontier within the United Kingdom. The EU swiftly changed its position on the vaccines, but London hopes to capitalize on the gaffe to win changes to the Brexit deal because the new rules have disrupted Britain's trade with Northern Ireland.
Big 4 – EY, published a report which shows British businesses took on debt at more than twice the normal average growth rate since the crisis began and are on course to have borrowed £61bn in total by the end of 2021. Faced with prolonged lockdown restrictions at the start of the year as persistently high Covid infections delay a return to normal, EY forecast a £26bn rise in borrowing from banks this year – as much as £17bn more than in 2019. The government announced last week that businesses struggling during the pandemic would be given more time to make repayments on state-backed loans. The new offer includes the option of paying sums back over 10 years rather than six, and allowing firms to choose to pay only the 2.5% interest. However, the scale of new debts taken on by firms could hold back Britain's economic recovery, and lead to weaker investment if firms prioritize bringing down debt levels.
The UAE's Mars mission "Hope" Probe successfully entered the planet's orbit on Tuesday in a first for the Arab world, making the UAE the first Arab country to reach the Red Planet. Mission controllers at the UAE's space center in Dubai announced that the unmanned craft, called Amal, Arabic for Hope, reached the end of its nearly seven-month, 480 million kilometers journey and began circling the red planet, where it will gather detailed data on Mars' atmosphere.
The major Europe stock markets had a mixed day today:
CAC 40 increased 5.51 points or 0.10% to 5,691.54
FTSE 100 increased 8.03 points, or 0.12% to 6,531.56
DAX 30 decreased 48.11 points or -0.34% to 14,011.80
The major Europe currency markets had a mixed day today:
EURUSD increased 0.00658 or 0.55% to 1.21179
GBPUSD increased 0.00769 or 0.56% to 1.38175
USDCHF decreased 0.00635 or -0.71% to 0.89232
Some economic news from Europe today:
Germany:
Gemran Current Account Balance n.s.a (Dec) increased from 21.2B to 28.2B
German Exports (MoM) (Dec) decreased from 2.3% to 0.1%
German Imports (MoM) (Dec) decreased from 5.4% to -0.1%
German Trade Balance (Dec) increased from 16.0B to 16.1B Italian Industrial Production (MoM) (Dec) Italian Industrial Production (MoM) (Dec)
Italy:
Italian Industrial Production (MoM) (Dec) increased from -1.4% to -0.2%
Italian Industrial Production (YoY) (Dec) increased from -4.2% to -2.0%
US/AMERICAS:
The Senate began former President Donald Trump's second impeachment trial this Tuesday. The former president has been charged with allegedly provoking the US Capitol siege that occurred on January 6. This is the first time a president has been impeached twice in US history. So far, over 200 people have been charged with federal offenses for their involvement in the Capitol siege, and the FBI continues to seek out others.
Job openings in the US totaled 6.65 million in December, according to the Labor Department. However, that still fails to cover the 4.1 million unemployed Americans who lost their jobs over the pandemic. Due to lockdown restrictions, the hospitality sector suffered a -6.2% to -5.5% decline in new job openings, and the sector shed between 300,000 to 777,000 positions.
Canada is continually tightening their borders to prevent the coronavirus, and new variants, from entering the country. "As of February 15th, when you return to Canada through a land border, you'll need to show a 72-hour PCR test, just like air travel," Prime Minister Justin Trudeau stated today. Those who fail to abide by the new guideline face "a stiff penalty, a fine and demand and ensure a rapid and complete follow up to make sure that they are getting tested, that they are being properly quarantined, that they are not putting at risk the safety of other Canadians by returning home without a clear negative test," the prime minister noted. Dr. Theresa Tam stated that travelers who have been vaccinated will not be immune from mandatory testing.
Air Canada, the nation's largest airline, is displacing 1,500 workers as the demand for travel has drastically decreased. The airline will also end flights to over 17 routes beginning next week. Since the beginning of the pandemic, Air Canada's workforce declined by nearly 50%. The Canada Border Services Agency stated that 8.4 million travelers arrived in Canada from March 31, 2020 and January 24, 2021, however, half of the travelers were truck drivers delivering or exporting supplies.
US Market Closings:
Dow declined 9.93 points or -0.03% to 31,375.83
S&P 500 declined 4.36 points or -0.11% to 3,911.23
Nasdaq advanced 20.06 points or 0.14% to 14,007.7
Russell 2000 advanced 9.24 points or 0.4% to 2,299.00
Canada Market Closings:
TSX Composite advanced 78.36 points or 0.43% to 18,408.62
TSX 60 advanced 5.25 points or 0.48% to 1,089.65
Brazil Market Closing:
Bovespa declined 224.74 points or -0.19% to 119,471.62
ENERGY:
The oil markets had a mixed day today:
Crude Oil increased 0.42 USD/BBL or 0.72% to 58.3900
Brent increased 0.6 USD/BBL or 0.99% to 61.1600
Natural gas decreased 0.061 USD/MMBtu or -2.12% to 2.8210
Gasoline decreased 0.0099 USD/GAL or -0.59% to 1.6649
Heating oil increased 0.008 USD/GAL or 0.46% to 1.7558
Top commodity gainers: Palm Oil (3.99%), Zinc (2.26%), Bitumen (2.53%), and Cotton (3.14%)
Top commodity losers: Rubber (-1.21%), Orange Juice (-1.55%), Corn (-1.42%), and Natural Gas (-2.12%)
The above data was collected around 17:58 EST on Tuesday.
BONDS:
Japan 0.07%(+0bp), US 2's 0.12% (+0.008%), US 10's 1.16%(+0bps); US 30's 1.95%(+0.007%), Bunds -0.44% (+0bp), France -0.23% (-0bp), Italy 0.51% (+0bp), Turkey 12.64% (+1bp), Greece 0.78% (+11bp), Portugal 0.07% (+1bp), Spain 0.14% (+1bp) and UK Gilts 0.46% (+1bp).