Blog/Market Talk
Posted Feb 9, 2017 by Martin Armstrong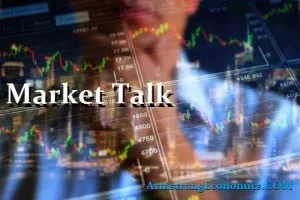 Asia was split today with the Nikkei not managing to move out of first gear – at least during the Asia session – but saw the Yen lose its haven status. The volatile Japanese data for Machinery Orders was released better than the 3.1% expected figure at +6.7% (against a previous -5.1%) did not really help market sentiment probably because it is so volatile. It was not until we were into US trading hours did the Nikkei futures react to US indices reflecting some positive vibes. Last seen up +1.5% the Nikkei is following the Trump enthusiasm on the back of expected tax incentives rumour mill. JPY continues to lose ground to the dominant USD with last price seen around 113.50. On the Shanghai index confidence was good with prices closing +0.5% on the day with the CNH last seen 6.8600 (weaker again against the USD). Hang Seng follow suit adding +0.2% in cash trading and a further +0.4% for late US futures impact. Reserve Bank of India left rates unchanged, halting its recent easing cycle as data and sentiment both appear to be reflecting better times ahead.
A key talking point between European Dealers today was the huge Trade data release from Germany for 2016 that reached a record high. Figures this morning was 2016 recorded 252.9bn up from the 244.3bn recorded in 2015. Many say it is the cheapness of the Euro accelerated the export led economy which is proof the currency is low for them – that's what happens when all sorts are thrown into a mixing bowl. The DAX, CAC and IBEX all closed around 1% better on the day with banks again a talking point. Soc Gen stock rose (+2.7%) on better than forecasted results whilst Commerzbank beat expectations, initially rallying shares but were reversed when the CFO announced future earnings may struggle; shares closed down 1.75%. FTSE also closed better (+0.5%) with GBP reversing early gains only to close down -0.4% on the day; more USD strength than GBP weakness it is rumoured.
Lots of talk accompanied better volume in the US market today with the DOW, S+P and NASDAQ all hitting record highs after "big league" tax deals are rumoured. There were many people who it is rumoured threw in the towel today and started to purchase stock. Obviously, the rumours provided the confidence and setting new highs sparked sentiment. The market has been in a tight trading for a while so it was refreshing to see a break-out. As equities rose Bonds lost their bid and a poor 30yr auction was probably the result of absolute low yields at the time of auction.
In Japan the 30-year yield fell 3.5 basis points to 0.870 percent, off near one-year peak of 0.915 percent that it touched Wednesday. The auction saw bids of 3.23x, a tad less than bid-to-cover ratio of 3.33 seen last month. US 2's fell back to close 2's 1.18% (+4bp), 10's 2.40%(+6bp). German Bund 10yr 0.31% (+2bp), closes the US/Bund spread at +209bp. Italy 2.16% (-7bp), Greece 7.60% (+8bp), France 0.98% (-2bp), Turkey 10.62% (-1bp), Portugal 4% (-6bp) and Gilts 1.24% (+3bp).