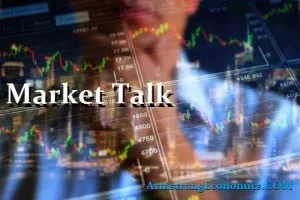 ASIA:
China's capital city, Beijing, will hand out about $1.5 million in a limited trial of the central bank's digital currency, the municipal government announced over the weekend. That marks the third major test of the digital currency under development by the People's Bank of China. The cities of Shenzhen and Suzhou held similar experiments in the last few months. In this trial, Beijing said it will select 50,000 from a pool of applicants to receive 200 yuan, or about $30 each, in the digital currency. Recipients can spend the money at designated offline locations or on parts of e-commerce site JD.com during the upcoming Lunar New Year holiday.
Shares of Chinese short video app company Kuaishou started trading on Friday in Hong Kong, marking the start of its life as a publicly listed company. The company priced its shares at 115 Hong Kong dollars, which was at the top of its range. The initial public offering (IPO) raised 41.28 billion Hong Kong dollars ($5.32 billion), CNBC reported.
India's central bank kept rates steady at record low levels as expected in its monetary policy committee meeting held on Friday and said it would maintain support for the economy's recovery from the pandemic by ensuring ample liquidity for markets to absorb a massive government borrowing program. The repo rate or RBI's key lending rate was held at 4%, while the reverse repo rate or its borrowing rate was left unchanged at 3.35%. The repo rate has been cut by a total of 115 basis points since March 2020 to cushion the shock from the COVID-19 pandemic.
PayPal Holdings Inc will wind down its domestic payments business in India from April 1, the company said in a statement on Friday. PayPal was a payments options on many Indian online apps such as travel and ticketing service MakeMy Trip, online film booking app BookMyShow and food delivery app Swiggy.
Hyundai Motor Group said on Monday it is not now in talks with Apple on autonomous electric cars, just a month after it confirmed early-stage talks with the tech giant, sending the automaker's shares falling. The announcement ends weeks of internal divisions at Hyundai Motor, parent to both automakers, about the potential tie-up, with some executives raising concerns about becoming a contract manufacturer for the US tech giant in a partnership reminiscent of electronics firm Foxconn's role in making device for Apple such as the iPhone.
The major Asian stock markets had a mixed day today:
NIKKEI 225 increased 609.31 points or 2.12% to 29,388.50
Shanghai increased 36.11 points or 1.03% to 3,532.45
Hang Seng increased 30.79 points or 0.11% to 29,319.47
ASX 200 increased 40.20 points or 0.59% to 6,880.70
Kospi decreased 29.39 points or -0.94% to 3,091.24
SENSEX increased 617.14 points or 1.22% to 51,348.77
Nifty50 increased 191.55 points or 1.28% to 15,115.80
The major Asian currency markets had a mixed day today:
AUDUSD increased 0.00242 or 0.32% to 0.76981
NZDUSD increased 0.00176 or 0.24% to 0.72195
USDJPY decreased 0.15 or -0.14% to 105.22
USDCNY decreased 0.01629 or -0.25% to 6.44140
Precious Metals:
Gold increased 19.65 USD/t oz. or 1.08% to 1,831.27
Silver increased 0.572 USD/t. oz or 2.13% to 27.400
Some economic news from last night:
China:
FX Reserves (USD) decreased from 3.217T to 3.211T
Japan:
Bank Lending (YoY) (Jan) decreased from 6.2% to 6.1%
Current Account n.s.a. (Dec) decreased from 1.878T to 1.166T
Some economic news from today:
Japan:
Economy Watchers Current Index (Jan) decreased from 34.3 to 31.2
Singapore:
Foreign Reserves USD (MoM) (Jan) increased from 362.3B to 370.1B
Indonesia:
Consumer Confidence (Jan) decreased from 96.5 to 84.9
FX Reserves (USD) (Jan) increased from 135.90B to 138.00B
EUROPE/EMEA:
Europe's economy is likely to rally in the second quarter as an acceleration in COVID-19 vaccine roll-out allows governments to lift lockdown restrictions gradually, the European Commission's vice president for the economy Valdis Dombrovskis said Monday. The Eurozone economy contracted 0.7% quarter-on-quarter in the last three months of 2020, and economists expect it will shrink again in the first quarter of this year. The International Monetary Fund last month forecast the US and Japanese economies would return to pre-pandemic levels by the end of this year, but that the economy of the 19 countries sharing the euro would not catch up until next year.
The UK has warned Britons in Hong Kong that the territory has stopped recognizing dual nationality, and it might no longer be able to help citizens who also hold a local passport. The warning will affect the lives of hundreds of thousands of dual Chinese nationals in Hong Kong, who have been able to work in the city while maintaining family links overseas and vice versa.
Exports from Britain to the European Union fell by 68% in January as trade was disrupted after the end of a transition period following Britain's departure from the European Union, according to a trade body representing haulers. The government did not confirm the data and said disruption at the border had been minimal since Britain completed its journey out of the EU's orbit in 2020 following an agreement on trading arrangements. International members at the Road Haulage Association (RHA) reported a 68% fall in exports in January, the group said on Twitter.
The major Europe stock markets had a green day:
CAC 40 increased 26.77 points or 0.47% to 5,686.03
FTSE 100 increased 34.20 points or 0.53% to 6,523.53
DAX 30 increased 3.19 points or 0.02% to 14,059.91
The major Europe currency markets had a mixed day today:
EURUSD increased 0.00015 or 0.01% to 1.20505
GBPUSD increased 0.0006 or 0.04% to 1.37406
USDCHF decreased 0.00016 or -0.02% to 0.89874
Some economic news from Europe today:
Swiss:
Unemployment Rate n.s.a. (Jan) increased from 3.5% to 3.7%
Unemployment Rate s.a. (Jan) remain the same at 3.5%
Germany:
German Industrial Production (MoM) (Dec) decreased from 1.5% to 0.0%
Spain:
Spanish Industrial Production (YoY) (Dec) increased from -3.7% to -0.6%
Euro Zone:
Sentix Investor Confidence (Feb) decreased from 1.3 to -0.2
US/AMERICAS:
Wall Street had a bullish beginning to the week after all major indexes closed at all-time highs. The Dow advanced 237.52 points to 31,385.76 led by Disney's 4.71% gain, followed by Chevron  (2.6%), Goldman Sachs (2.45%), and Boeing (1.89%). The Nasdaq grew to 13,987.64 today after advancing 131.35 points. NVIDA led the Nasdaq's historic day after gaining 6.35%, followed by Applied Materials (5.12%), Illuminia (4.96%), and KLA-Tencor (4.67%). Marathon Oil's 13.22% leap helped the S&P 500 advance to 3,915.59 followed by Occidental Petroleum (12.74%), Apache (9.49%), and NVIDA.
Treasury Secretary Janet Yellen is not concerned about the impact the $1.9 trillion coronavirus stimulus package may have on inflation. Yellen stated that the biggest risk would be to "leave workers and communities scarred by the pandemic," and believes employment could reach pre-pandemic levels by 2022 if stimulus is provided. "I've spent many years studying inflation and worrying about inflation, and I can tell you, we have the tools to deal with that risk if it materializes. But we face a huge economic challenge here and tremendous suffering in the country. We've got to address that. That's the biggest risk," Yellen stated.
The Federal Reserve Bank of New York expects household spending to increase this year. The NY Fed raised their forecast to a median spending rate of 4.3%, representing the highest amount of anticipated spending in half a decade. Their forecast for earnings do not reflect the uptick in spending, as they anticipate earnings to remain at 2%.
The majority of people who left the US workforce in January were women, according to the National Women's Law Center. In January, 80% of people over 20 who left the workforce were women, placing the total number of women who left since the pandemic began at 2.3 million. Digital learning and home schooling are one of the main reasons women have left the workforce.
US Market Closings:
Dow advanced 237.52 points or 0.76% to 31,385.76
S&P 500 advanced 28.76 points or 0.74% to 3,915.59
Nasdaq advanced 131.35 points or 0.95% to 13,987.64
Russell 2000 advanced 56.43 points or 2.53% to 2,289.76
Canada Market Closings:
TSX Composite advanced 194.36 points or 1.07% to 18,330.26
TSX 60 advanced 10.75 points or 1% ti 1,084.4
Brazil Market Closing:
Bovespa declined 543.9 points or -0.45% to 119,696.36
ENERGY:
The oil markets had a green day today:
Crude Oil increased 0.89 USD/BBL or 1.57% to 57.7400
Brent increased 0.96 USD/BBL or 1.62% to 60.3000
Natural gas increased 0.014 USD/MMBtu or 0.49% to 2.8770
Gasoline increased 0.0183 USD/GAL or 1.11% to 1.6676
Heating oil increased 0.0274 USD/GAL or 1.60% to 1.7411
The above data was collected around 14:15 EST on Monday
Top commodity gainers: Platinum (3.04%), Lumber (2.89%), Corn (2.83%) and Bitumen (3.68%)
Top commodity losers: Palladium (-0.63%), Sugar (-0.85%), Coffee (-0.56%), and Zinc (-0.70%)
The above data was collected around 14:20 EST on Monday.
BONDS:
Japan 0.07%(+1bp), US 2's 0.11%(+0.002%), US 10's 1.16%(-1bps); US 30's 2.00%(-0.03%), Bunds -0.43% (+2bp), France -0.21% (+2bp), Italy 0.52% (-2bp), Turkey 12.52% (+0bp), Greece 0.77% (+9bp), Portugal 0.08% (+2bp); Spain 0.14% (+1bp) and UK Gilts 0.48% (-1bp).
US 3-Month Bill Auction decreased from 0.065% to 0.035%
US 6-month Bill Auction decreased from 0.070% to 0.050%
French 3-Month BTF Auction decreased from -0.631% to -0.643%
French 6-Month BTF Auction decrased from -0.627% to -0.635%
French 12-Month BTF Auction remain the same at -0.642%