Blog/Market Talk
Posted Feb 8, 2019 by marty armstrong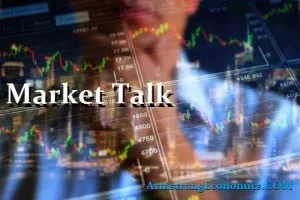 Asia:
The topic for 2019 has certainly been the US-China trade negotiations. Today indicated the matter is far from solved. Negotiations are still ongoing with 21 days until the deadline. Also, like Germany, Trump wishes to ban all Chinese Telecommunications within the US as geopolitics are certainly heating up.
China will reopen on Monday. Hong Kong opened today after being closed for 4 days. There was no big bounce in Asia as most of the major markets slumped due to the news. The Nikkei 225 decreased by 2% to 20,333; the Hang Seng lost 20 bps to 27,93 and the Kospi fell 1.2% to 2,177.
Elsewhere in Asia, the ASX declined after its big run yesterday (0.3%). Stocks fell in the Philippines, Indonesia, and Singapore but rose in Malaysia. Clearly it was capital flows moving out of the region as only AUD and NZD strengthened against the dollar today, albeit by minimal margins.
Commodities were mixed today with gold and silver increasing 37 and 66 bps respectively. Capital certainly came out of the stock markets today and found a home within the precious metals. Platinum and palladium also performed well. Other commodities such as coffee and coal all lost over 1% today.
Europe:
Europe followed Asia in the markets as it seems like it was global risk mode for today following the news on the US-China deal. The CAC, FTSE, and DAX dropped 50 bps, 30 bps, and 1.1%. That concludes a bad week for the German Index.
The EUR, GBP, and CHF all declined against the dollar as it seems capital flows are certainly exiting the Eurozone today.
Some more economic data came out of Europe, the most surprising was that German exports rose by 1.5% when it was expected to rise by only 0.2%. But that was no savior for the DAX as it slumped today. Italy production was heavily reduced MoM which took a few people by surprise.
Americas:
It's been an eventful week, with some notable corporate earnings, economic data, reactions to lower outlook for Eurozone, President Trump's State of the Union, and so on. Everything is connected.
Friday saw U.S. equities under pressure for most of the day, but finishing in a relatively decent position. The Dow dropped -0.25% (closing 25,106.33, -63.20), but that is well off the lows of the day (similar to yesterday) where it was threatening to close below 25k. Although down midday, the S&P 500 and NASDAQ Composite actually closed the day slightly positive at +0.07% and +0.14% respectfully. The Russell 2000 also finished in positive territory, up +0.05%.
The uncertainty in the markets was also noted in Canada where the GSPTSE closed down -0.45%, and the TSX 60 closed down -0.49%.
Brazil's BOVESPA showed notable improvements after closing nearly 1% higher.
Futures and commodities fared better today with oil (+0.17%) and natural gas (+2.31%) both up from the previous trading session. Gold (+0.27%) and silver (+0.65%) also experienced an uptick this Friday.
As we've talked about previously, next week lines up as an important one.
Energy:
Crude increased 0.12 USD (0.23%) to 52.65 from 52.64 in the previous trading session, while Brent increased 0.46 USD (0.75%) to 62.21.
Bonds:
Japan -0.03%(-2bp), US 2's 2.46% (-2bps), US 10's 2.63%(-2bps), US 30's 2.97%(-2bps), Bunds 0.09% (-3bp), France 0.54% (-1bp), Italy 2.98% (+3bp), Turkey 14.14% (-21bp), Greece 4.01% (+4bp), Portugal 1.68% (+1bp), Spain 1.25% (+0bp) and UK Gilts 1.15% (-3bp).