Blog/Market Talk
Posted Feb 8, 2017 by Martin Armstrong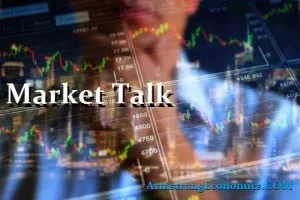 All core Asian indices closed higher today even as energy prices fell another 1% in todays trading. The Nikkei, Hang Seng and Shanghai all closed +0.5% firmer on the day. Currencies were well behaved with the JPY playing around the 112 figure for the majority of the day. The dollar index (DXY) broke above the psychological par level again as Euro and GBP came under pressure in early trading. In late US trading Asian equity futures have retraced some of the cash gains but are only trading 0.1% away from the cash closes. We saw the CNH trading back lower at 6.8500 as rumours circulated between dealers that volatile conditions often test determination.
Very quiet in Europe given very few economic statistics releases and trading volumes so poor. There were a few political rumours floating around, especially in the UK where the Brexit Bill gets its final vote in the Commons this evening. If passed, the Bill will authorise PM Theresa May to begin Brexit Talks under Article 50. All attempts to modify the Bill have failed, so far, and so onto the House Of Lords upon their return on Feb 20th. GBP has bounced in the past couple of days but saw sellers early in the day. By the late trading in US markets we were back around the 1.2525 level again with the Euro playing round the 107 level. Most core European indices closed around unchanged with most action taking place in the Bond markets.
US stocks were also extremely quiet today with little or no fresh news. Market volumes were low again but we did see some buyers for the NASDAQ and the broader S+P with both making positive ground, all be it small! In the uncertainty gold has continued to perform, up another $10 today but is yet to close above the resistance level. Being Thursday we will see Initial Claims again so hopes are for an encouraging release. Treasuries have been well bid the past two days with yields falling to their lowest this year.
The 10yr Note auction this afternoon saw average yields taken at 2.333. In-directs took 65.1% and the bid-to-cover ratio came in well below average at 2.29 (average is around 2.5). The market has seen inflation expectations fall in recent days with TIPS (Trsy Inflation Protected Securities) backing off their highs lately as dealers become less concerned. Interestingly though, the MM curve still prices-in three hikes which is more than likely explains the flattening seen recently. 2/10's flattened 3bp tdy but 2/30's down by 4.5bp.
2's closed 1.14% (-2bp), 10's 2.34% (-5bp) with Bunds closing 10's at 0.29% this pushes the US/Germany spread to +205bp. Italy 2.23% (-12bp), Greece 7.52% (-8bp), France 1% (-11bp), Turkey 10.63% (-9bp), Portugal 4.06% (-13bp) and finally Gilts 1.21% (-8bp).