Blog/Market Talk
Posted Feb 7, 2018 by Martin Armstrong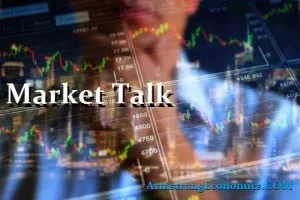 The mood was a little down this afternoon, that Asian equity markets could not produce more enthusiasm than we saw today. With all core markets opening on a positive note, following the late US rally, it was less than encouraging that they could maintain that theme. Shanghai was the first market to turn down after just a few hours of trading with financials leading the way. By the close of the day the Hang Seng, SENSEX and KOPSI had all followed. The Nikkei only just managed to finish in the green with a +0.15% performance. Exporters and Tech were the key drag but Ricoh and Japan Tobacco didn't help with 6% declines a piece. Yen rallied to a 108 handle but has retreated as the day has progressed and was last seen mid 109's. The A$ also lost ground as commodities weighed on sentiment and was last seen down around 0.75% on the day.
Asia wasn't sure but Europe certainly knew which way it wanted to go. All core indices opening firmer and each making ground as the day progressed. Talk in Germany of Merkel eventually sealing the deal to take a fourth term in office. No good attempting to look for a reason for every move, sometimes it just is! Rising tide lifts all boats and would have been the case but Deutsche Bank shares really have stood out this year. YTD they currently trade down 19% with 2% of that loss occurring today with the DAX up 2%. After Europe closed the US session has been erratic at best and so can see DAX futures currently trading negative for tomorrow session. Euro suffered some losses today against the USD with a fall of around 1%. Worth keeping an eye on European core against periphery spreads especially if they start to tighten. There really is only one large buyer for periphery government paper that is talked of, but core looks as though they are seeing some liquidations happening. Tomorrow (Thursday) we hear from the Bank of England and will also see the Inflation Report released. Definitely worth keeping an eye on Gilts and Cable tomorrow.
US opened DOW around unchanged, NASDAQ was small down, then saw a 350 point rally opened to return to unchanged and then rally again. The direction is yet to be determined and so we need to see Fridays close for confirmation. The final hour was weak and that's what will trickle into Asia. Energy prices were a huge talking point this afternoon, as prices declined in excess of 3%. The inventory was larger than expected and given the recent retraction in risk it is not surprising we see oil hit. Given the lack of volume at these extended prices, watch for brokerages to start increasing margin requirements. There must be some pretty excessive risk be run out there, once they have recharged their models! Also, as we wrote yesterday – its worth keeping an eye on currency moves. There must be a huge demand for USD's coming from all four corners of the globe.
Japan 0.07%, US 2's closed 2.13% (+3bp), 10's at 2.85% (+6bp), 30's 3.13% (+7bp), Bunds 0.74% (+4bp), France 0.98% (+3bp), Italy 1.94% (-4bp), Greece 3.61% (-8bp), Turkey 11.57% (u/c), Portugal 1.99% (-4bp), Spain 1.40% (-1bp) and Gilts 1.55% (+3bp).