Blog/Market Talk
Posted Feb 7, 2017 by Martin Armstrong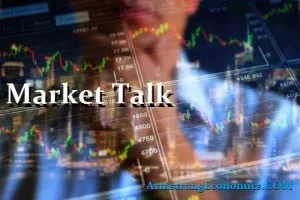 Given that we saw the US markets retreat mid-session from early highs, in Asia many were concerned the full enthusiasm is yet to arrive. As equity markets took a side-step gold was the main talking point after its near $20 rally in late US trading. The flight to quality also saw the JPY retest old highs back at the mid 111's as exporters struggled. Most core markets were lower but again not in any measure. The Shanghai, Hang Seng and Nikkei all closed around -0.1% and even an unchanged announcement from the RBA could only nudge the ASX up 0.1%. In late US trading Asian futures were relatively little changed but we have seen the dollar fight back from its recent weak spell.
The Euro suffered against the USD today but that also lifted some core European indices despite light volume. The CAC and IBEX lost ground whilst gains were made in the DAX (which closed new year lows yesterday) and FTSE. Basic resources were star performers but were also joined by precious metals. The CAC would have performed better but for the poor results published by BNP Paribas who shares were down almost 5% on write-downs in its Polish division. FTSE actually finished well after BP results disappointed but also economic data from Halifax Home Prices were down -0.9% (0% expected) giving a y/y figure of 5.7% against a previous 6.5% (the first decline since Brexit. Energy prices continue to drift as it is seen that OPEC's efforts are being undermined by the US Shale production. GBP saw a solid bounce late in London trading after Kristin Forbes (BOE policy maker) said that the time for a raise in rates is on the horizon lifted cable two big figures (last seen 1.2520)
Shortly after the open the Dow hit record highs trading over 100 points better but then drifted back as energy prices fell. one of the main talking points was the volume trading being so small, one trader commented it feels like Christmas! Having hit new highs we are still on the promise of better things to come from new President Trump. Much of the recent enthusiasm are on the expectation of tax changes, rewritten regulation and infrastructure spending with many licking their lips in anticipation. Towards the close prices drifted back and so we wait for confirmation or a denial of the move.
US 2's closed 1.16% (+1bp), 10's 2.39% (-3bp) curve 2/10 flattened 4bp. German Bund 10yrs closed 0.35% (-2bp) closes the US/Germany spread at +204bp. Italy 2.35% (-1bp), Greece 7.60% (+12bp), France 1.11% (-2bp), Turkey 10.72% (+14bp), Portugal 4.19% (u/c) and UK 10's at 1.29% (-2bp).