Blog/Market Talk
Posted Feb 6, 2018 by Martin Armstrong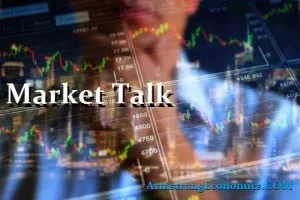 The Nikkei closes 4.75% lower, the Hang Seng is down 5.1%, ASX and Shanghai both around 3.3% and the VIX trading with a 50 handle! Anyone short vol. (and the rumour is there are a few) will be panic buying and chasing the market. Gold at best only added $10 from yesterdays close but we are starting to see a move into the USD. Government bonds did see better demand than we saw in yesterdays trading, but that said, US 10's still only rallied (price – yield down) having seen the panic selling in equities. Difficult to single out a specific sector as all were under pressure but healthcare, financials and technology appeared to see most interest. When we see the DXY rally start to build momentum, beware heavy USD indebted sovereign's and key exporters. Lets see what happens in US trading for an Asian opening call and direction.
European core followed Asia with key indices (DAX, CAC, FTSE etc.) all down around 2.5% on the day. The dramatic move late in US trading really has shaken a lot of people especially when they can't relate the move to one key reason! The market does not like volatility, even though brokers love it, but especially after seeing a run of record high after record high! The capital flow is becoming more obvious that the USD is the place to be. In late European trading/early US – We are seeing a healthy bounce but is coming too late for Europe. Most European closed around 2.25% lower on the day but we have to wait until Wednesday to see the next instalment. Not a great day to release lower than expected earnings but that is what we had today for BNP Paribas. The stock fell 3.5%; but look on the bright side – at least they were not wound-up in the VIX derivative (XIV)!
An 800 point range in cash and another 1k+ in DOW futures but because the market closes higher people feel relaxed! The VIX was hot gossip across all regions given it traded from single digits to 50+ over the past few trading days. Volume are thin so we are seeing values sketchy, but looks people are frozen like rabbits in headlights. We are still in for a volatile week with plenty yet to play for. The BOE, additional treasury supply, gold and oil selling-off and still with many companies yet to release results there is no time to relax anytime soon. The shape of the treasury curve, their spread to European government paper and currency markets have been relatively mute whilst equity markets commanded centre stage, but these will soon make their way to the front. Maybe these could be about to take headlines now that we see a 2.5% bounce for core US indices.
Japan 0.075%, US 2's closed 2.10% (+5bp), 10's 2.79% (+5bp), 30's 3.06% (+4bp), Bunds 0.70% (-3bp), France 0.95% (-4bp), Italy 1.98% (-3bp), Greece 3.69% (u/c), Turkey 11.57% (+14bp), Portugal 2.03% (+1bp), Spain 1.41% (-4bp) and Gilts 1.52% (-4bp). Note again the mismatch in closing hours for a true reflection on the spreads.