Blog/Market Talk
Posted Feb 6, 2020 by Martin Armstrong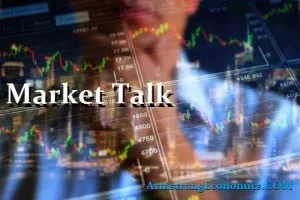 ASIA:
The coronavirus outbreak in China has continued to affect citizens, and has now killed more than 560 people and infected 28,000. The Chinese government has decided to take tough measures to counter this deadly virus.
Chinese whistle blower Dr. Li Wenliang died on Thursday due to the coronavirus. Li Wenliang was the first person who tried to issue the first warnings about the deadly coronavirus outbreak when he sent out a warning to his fellow medical practitioners on December 30, 2019. Police then visited him to tell him to stop in order to keep the news under wraps.
China confirmed on Thursday that they will reduce tariffs on $75 billion worth of American-made goods to fulfill the trade pact signed in the first phase of the US-China trade deal. This move came at a time when China is fighting to counter the coronavirus crisis that has affected the Chinese economy badly.
India has completely rejected the references made with Jammu and Kashmir by Malaysia-Pakistan joint statement and reacted sharply on Thursday, saying the Malaysian leadership should develop a better understanding of facts and acknowledge that Pakistan remains an epicenter of global terrorism. Pakistani Prime Minister had raised the issue of Kashmir during his talks with Malaysian counterpart Mahathir bin Mohamad.
India's Ministry of External Affairs has called China Pakistan Economic Corridor (CPEC) illegal. During a Parliament session, the government conveyed its concerns as this Economic Corridor passes through parts of the Union Territories of Jammu & Kashmir and Ladakh, which are under the illegal occupation of Pakistan.
Citibank has canceled an annual investor conference originally scheduled for this month because of the coronavirus outbreak. The Asia Pacific Investor Conference is one of Citibank's largest annual conferences held in the region, attracting over 1,000 institutional investors, issuers, and C-suite financial professionals. The bank has yet not decided on a new date for the conference at this stage.
The major Asian stock markets had a green day today:
Shanghai increased 48.42 points or 1.72% to 2,866.51
Kospi increased 62.31 points or 2.88% to 2,227.94
ASX 200 increased 73.10 points or 1.05% to 7,049.20
NIKKEI 225 increased 554.03 points or 2.38% to 23,873.59
Hang Seng increased 706.96 points or 2.64% to 27,493.70
SENSEX increased 163.37 points or 0.40% to 41,306.03
The major Asian currency markets had a mixed day today:
AUDUSD increased 0.0003 or 0.05% to 0.6755
NZDUSD decreased 0.0008 or 0.12% to 0.6473
USDJPY increased 0.0450 or 0.04% to 109.8330
USDCNY decreased 0.0080 or 0.11% to 6.9667
Precious Metals:
Gold increased 10.14 USD/t oz. or 0.65% to 1,564.26
Silver increased 0.1678 USD/t. oz or 0.95% to 17.8060
Some economic news from last night:
South Korea:
Current Account (Dec) decreased from 5.97B to 4.33B
Japan:
Foreign Bonds Buying increased from -547.7B to -150.2B
Foreign Investments in Japanese Stocks decreased from -284.0B to -295.6B
Australia:
Exports (MoM) (Dec) decreased from 2% to 1%
Imports (MoM) (Dec) increased from -3% to 2%
NAB Quarterly Business Confidence remain the same at -1
Retail Sales (MoM) (Dec) decreased from 1.0% to -0.5%
Retail Sales (QoQ) (Q4) increased from -0.1% to 0.5%
Trade Balance (Dec) decreased from 5.518B to 5.223B
Indonesia:
Consumer Confidence decreased from 126.4 to 121.7
Some economic news from today:
India:
Cash Reserve Ratio remain the same at 4.00%
Interest Rate Decision remain the same at 5.15%
Reverse REPO Rate remain the same at 4.90%
EUROPE/EMEA:
Chinese firm Huawei promised the EU that it will make all the components used for the 5G network in Europe. The company has set up hubs in Europe so it can build the infrastructure there.
The EU discussed next year's budget proposal without the UK, meaning the budget allowance is lower than previous years. This caused MPs to complain about a reduction in budget, with one MP warning that his European agency will shut down if funds are reduced.
According to the European Commission, the union will need up to 450 gigawatts of energy to enable them to be carbon-free by 2050. The ECC commented that the rate of adding renewable energy to the grid is too slow to make that target, with only 4 GW being added last year derived from wind.
An Italian MP has said that he will not push for "Italexit" as he believes the EU has a limited shelf life in its current format.
Israeli fighter jets have struck a target in Syria near Damascus, which is believed to be an Iranian backed militia base. It is said that 23 people were killed. Russia, meanwhile, has said they are working with Turkey and Iran on the ground as tensions heat up in Syria.
The major Europe stock markets had a green day today:
CAC 40 increased 52.78 points or 0.88% to 6,038.18
FTSE 100 increased 22.31 points, or 0.30% to 7,504.79
DAX 30 increased 96.49 points or 0.72% to 13,574.82
The major Europe currency markets had a mixed day today:
EURUSD increased 0.0003 or 0.02% to 1.1003
GBPUSD decreased 0.0024 or 0.18% to 1.2972
USDCHF increased 0.0003 or 0.03% to 0.9738
Some economic news from Europe today:
France:
French Industrial Investments (Q1) increased from -1.0% to 3.0%
Germany:
German Factory Orders (MoM) (Dec) decreased from -0.8% to -2.1%
US/AMERICAS:
Wall Street posted historic gains this Thursday after all three major indexes peaked to new highs. Boeing (3.59%) pushed the Dow to a record high of 29,379.77, aided by strong performances from Microsoft (2.07%), and Apple (1.17%). The S&P 500 reached a record close of 3,345.78 after Twitter's stock jumped 15.03%, with additional support from Cardinal Health (10.59%), and Cognizant (9.93%). Nasdaq rose to 9,572.15 aided by strong performances from Cognizant (9.93%), Take Two (5.78%), and Ulta (5.35%).
In an interview with Fox Business, Treasury Secretary Steven Mnuchin said it is "too early to tell" how the coronavirus will impact the global economy. "It could impact the rest of the world. At this point, we haven't seen any issues in regards to supply chains," Mnuchin commented. In about two weeks, he stated, the US will have a better understanding of the implications of the virus as it is not fully understood how rapidly it may spread.
Bejing announced that they will reduce tariffs on 1,717 different US goods by 50%. The reduction will occur on February 14, which is the same date the US will lower tariffs of certain Chinese goods. Although certain reports claim that this decision was due to the coronavirus, Secretary Mnuchin confirmed in a statement that this was decided during phase one of the trade deal.
The Trans Mountain pipeline cleared a major legal hurdle this week after Canada's Federal Court of Appeals ruled in favor of expansion. The expansion will add over 600 miles to the existing pipeline that will send oil from Alberta to Vancouver. It is expected that the number of barrels produced per day will increase from 300,000 to 890,000 after the project is completed. Currently, the US is Canada's main oil importer, however, the Canadian government hopes the increase in production will allow them to enter Asia's marketplace.
US Market Closings:
Dow advanced 88.92 points or 0.30% to 29,379.77
S&P 500 advanced 11.09 points or 0.33% to 3,345.78
Nasdaq advanced 63.47 points or 0.67% to 9,572.15
Russell 2000 declined 4.46 points or -0.27% to 1,677.46
Canada Market Closings:
TSX Composite advanced 105.9 points or 0.60% to 17,757.49
TSX 60 advanced 6.19 points or 0.59% to 1,058.65
Brazil Market Closing:
Bovespa declined 838.30 points or 0.72% to 115,189.97
ENERGY:
OPEC+ decided to cut production by a recommended 600k bpd, but it did little to the price of Crude oil. The Russian energy minister said it was too early to determine if they will adhere to the recommendations that were determined by the slowdown due to the outbreak of coronavirus.
The oil markets had a negative day today:
Crude Oil decreased 0.03 USD/BBL or -0.06% to 50.6593
Brent decreased 0.43 USD/BBL or -0.78% to 54.9581
Natural gas decreased 0.0259 USD/MMBtu or -1.38% to 1.8483
Gasoline decreased 0.017 1USD/GAL or -1.13% to 1.4859
Heating oil decreased 0.0019 USD/GAL or -0.11% to 1.6557
Top commodity gainers: Rubber (1.77%), Palm Oil (1.29%), Bitumen (3.05%), and Orange Juice (1.12%)
Top commodity losers: Palladium (-2.31%), Platinum (-1.46%), Natural Gas (-1.38%), and Gasoline (-1.13%)
The above data was collected around 10:30 EST on Thursday.
BONDS:
Japan -0.01%(+3bp), US 2's 1.44% (-1bps), US 10's 1.64%(-1bps); US 30's 2.11%(-2bps), Bunds -0.36% (+1bp), France -0.10% (+1bp), Italy 1.01% (+4bp), Turkey 10.25 % (+11bp), Greece 1.18% (-55bp), Portugal 0.30% (+2bp) Spain 0.31% (+1bp) and UK Gilts 0.60% (-1bp).
Japan 30-Year JGB Auction remain the same at 0.430%
French 10-Year OAT Auction decreased from 0.04% to -0.11%
Spanish 10-Year Obligacion Auction decreased from 0.440% to 0.347%
Spanish 3-Year Bonos Auction dereased from -0.236% to -0.301%
US 4-Week Bill Auction decreased from 1.545% to 1.540%
US 8-Week Bill Auction remain the same at 1.550%