Blog/Market Talk
Posted Feb 6, 2017 by Martin Armstrong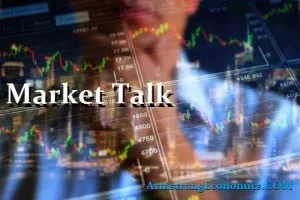 After a successful Non-Farms number on Friday, Asia followed suit encouraged along by the US markets closing near their days highs. All core Asian indices followed but with the exception of the ASX (Australian exchange) which closed small lower as the currency made ground. The Nikkei made ground closing +0.35% higher but could have been better but for the weak wages data that officials stated were the weakest in a year. The rising cost of living is dampening involvement in the market as belt tightening is rumoured to be hitting both commitment and sentiment.
Geo-political headlines grabbed the weekend press as far as Europe is concerned with much speculation surrounding Le Penn's address in Lyon, France at the weekend. Rumoured to have over 25% of the vote and with the two big parties suffering their own squabbles, there is much talk about the French membership of the union and a possible Frexit. All core indices closed around 1% lower with the only exception being the UK's FTSE which closed -0.3% weaker. Both the Euro and GBP took hits of around 0.5% against the US Dollar which moved the chase into safe-haven bonds yet again. Interesting to see that the ECB's lending list today has an addition of three 2018 Schatz meaning they must have purchased them last week. German Ind. Orders came in much stronger than many had expected today (5.2% against an estimated 0.5%) many talking about the cheap Euro (seemed to be a hotly debated topic even with Mr Draghi today)! Nerves continue Frexit, Nexit and Grexit all being debated.
US market has traded nervously all day with many still suffering the effects of a late night due to watching the TV until the early hours. We opened fairly steady but eased off half-way through the session as nerves surrounding geo-political concerns continue to weigh on the market. With a fairly light week, as far as economic data is concerned, there is a chance we could be headline watching but watching the European declines certainly feels it is drifting into the US market. European bonds were all being discussed so we may well see a recovery in the DXY which may drift into USD products (saw a rally in Gold closing up $10).
US 2's closed -5bp at 1.15%, 10's 2.42% (-6bp). Bund 10yr closed 0.37% (-5bp); closing the US/Germany 10yr spread at +205bp (-1bp). Italy 2.36% (+11bp), Greece 7.48% (+13bp), France 1.13% (+6bp), Turkey 10.58% (+3bp), Portugal 4.19% (+7bp) and UK Gilts 1.31% (-4bp).