Blog/Market Talk
Posted Feb 5, 2020 by Martin Armstrong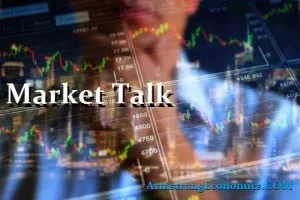 ASIA:
Hong Kong announced that any travelers from mainland China will be faced with a 14-day quarantine period before being allowed into the country. Carrie Lam, Hong Kong's Chief Executive, said the measure will be in effect at midnight on the 8th of February. The virus has now affected around 25,000 people globally and deaths nearing 500.
India's largest IT services organization Tata Consultancy Services signed a 1.5 billion USD contract with retail and wholesale pharmacy major Walgreens Boots Alliance Inc. across a ten-year period to transform its technology operations, making it the largest deal in the retail space for the company. India's largest IT firm will take over staff, consolidate vendors, run the entire IT operations of the $136.9 billion Walgreen Boots, which is among the world's largest retailers. TCS will modernize applications and cloud-enable the technology operations for the US retailer, which is an existing customer for over a decade.
During Thursday's Monetary Policy Committee meeting, India's central bank is expected to maintain interest rates. Analysts noted that inflation is above target and the economy has shown possible signs of recovery from its worst contraction in over a decade. Last year, the central bank's Monetary Policy Committee (MPC) cut rates by 135 basis points over five straight meetings, before surprising the markets in December by holding the policy repo rate steady at 5.15% due to growing concerns over inflation.
The major Asian stock markets had a green day today:
Shanghai increased 34.80 points or 1.25% to 2,818.09
Kospi increased 7.73 points or 0.36% to 2,165.63
ASX 200 increased 27.40 points or 0.39% to 6,976.10
NIKKEI 225 increased 234.97 points or 1.02% to 23,319.56
Hang Seng increased 110.76 points or 0.42% to 26,786.74
SENSEX increased 353.28 points or 0.87% to 41,142.66
The major Asian currency markets had a mixed day today:
AUDUSD increased 0.0010 or 0.15% to 0.6745
NZDUSD decreased 0.0021 or 0.32% to 0.6475
USDJPY increased 0.3510 or 0.32% to 109.8090
USDCNY decreased 0.0146 or 0.21% to 6.9768
Precious Metals:
Gold increased 5.34 USD/t oz. or 0.34% to 1,554.56
Silver increased 0.0119 USD/t. oz or 0.07% to 17.6264
Some economic news from last night:
China:
Caixin Services PMI (Jan) decreased from 52.5 to 51.8
Chinese Composite PMI decreased from 52.6 to 51.9
Hong Kong:
Manufacturing PMI (Jan) increased from 42.1 to 46.8
South Korea:
FX Reserves – USD (Jan) increased from 408.82B to 409.65B
Japan:
Services PMI (Jan) increased from 49.4 to 51.0
Australia:
AIG Construction Index (Jan) increased from 38.9 to 41.3
Services PMI increased from 49.8 to 50.6
HIA New Home Sales (MoM) increased from -4.4% to 2.0%
New Zealand:
ANZ Commodity Price Index (MoM) increased from -3.4% to -0.9%
Employment Change (QoQ) (Q4) decreased from 0.2% to 0.0%
Labor Cost Index (QoQ) (Q4) remain the same at 0.6%
Labor Cost Index (YoY) (Q4) increased from 2.3% to 2.4%
Participation Rate (Q4) decreased from 70.40% to 70.10%
Unemployment Rate (Q4) decreased from 4.1% to 4.0%
Indonesia:
GDP (YoY) (Q4) decreased from 5.02% to 4.97%
GDP (QoQ) (Q4) decreased from 3.06% to -1.74%
GDP Annual decreased from 5.17% to 5.02%
Some economic news from today:
India:
Nikkei Services PMI (Jan) increased from 53.3 to 55.5
EUROPE/EMEA:
Post-Brexit, the EU is planning on revamping their process for membership. There are currently six Balkan states that are undergoing applications to join the union. Ursula von der Leyen tweeted that the EU has proposed a dynamic plan for talks with Macedonia and Albania.
Reports of potential EU financial regulation changes to Mifid II, which was initially designed to give concessions to the city of London, may be amended to take those concessions away. A German member of the EU Parliament said the largest financial center is now out of the EU, therefore changes are needed in regulations.
The EU placed sanctions on two top Turkish state oil officials over their illegal drilling practices in the Mediterranean Sea. This is the first time the EU has taken action over Turkish individuals.
Meanwhile, the EU foreign policy chief landed in Tehran to begin talks to save what is left of the Iranian nuclear deal. The Iranian President issued a statement to the EU, suggesting if all parties resume compliance with the deal, so will they. The Iranian supreme leader Khamenei took a swipe at US President Trump's peace plan for the Middle East by saying the plan will not work and that it will die before Trump will.
The major Europe stock markets had a green day today:
CAC 40 increased 50.35 points or 0.85% to 5,985.40
FTSE 100 increased 42.66 points, or 0.57% to 7,482.48
DAX 30 increased 196.59 points or 1.48% to 13,478.33
The major Europe currency markets had a mixed day today:
EURUSD decreased 0.0047 or 0.43% to 1.0998
GBPUSD decreased 0.0039 or 0.30% to 1.2992
USDCHF increased 0.0043 or 0.44% to 0.9735
Some economic news from Europe today:
Swiss:
SECO Consumer Climate (Q1) increased from -17 to -7
Spain:
Spanish Services PMI (Jan) decreased from 54.9 to 52.3
Spanish Consumer Confidence increased from 77.7 to 87.2
Italy:
Italian Composite PMI (Jan) increased from 49.3 to 50.4
Italian Services PMI (Jan) increased from 51.1 to 51.4
France:
French Markit Composite PMI (Jan) decreased from 52.0 to 51.1
French Services PMI (Jan) decreased from 52.4 to 51.0
Germany:
German Composite PMI (Jan) increased from 50.2 to 51.2
German Services PMI (Jan) increased from 52.9 to 54.2
Euro Zone:
Markit Composite PMI (Jan) increased from 50.9 to 51.3
Services PMI (Jan) decreased from 52.8 to 52.5
Retail Sales (MoM) (Dec) decreased from 0.8% to -1.6%
Retail Sales (YoY) (Dec) decreased from 2.3% to 1.3%
UK:
Composite PMI (Jan) increased from 49.3 to 53.3
Services PMI (Jan) increased from 50.0 to 53.9
Norway:
House Price Index (YoY) (Jan) increased from 2.60% to 3.20%
US/AMERICAS:
President Donald Trump was acquitted of both impeachment charges in the Senate this Wednesday. The House voted in December to impeach the president on two articles: obstruction of Congress and abuse of presidential power. Today, the Senate overturned that ruling with all 53 Republican senators unanimously voting to acquit the obstruction of Congress charge, and all but one Republican senator voting to acquit the charge of abusing power.
President Trump addressed the American public during his third State of the Union address on Tuesday evening. The president amplified sentiments of strong economic growth throughout the country, stating economic the country was growing at a pace "unimaginable" during the past administration. Partisan polarization was abruptly apparent during the address. Rush Limbaugh, a far right-wing radio host, was presented with the highest civilian honor — a Presidential Medal of Freedom. A few Democratic Party members audibly chanted their disapproval. House Speaker Nancy Pelosi tore a printed copy of the president's speech during his conclusion, further reiterating the political divide in America.
The results of the Iowa caucus have been slowly released throughout the day after Monday's voting debacle. Nearly 75% of the votes have been accounted for at the time of this writing. Pete Buttigeg and Bernie Sanders are in a close competition as both secured 11 delegates. Buttigeg currently has an edge over Sanders, gaining 26.9% of the vote versus Sander's 25.2%. Elizabeth Warren gained the support of five delegates and 18.2% of the vote. None of the other candidates, including once-favored Joe Biden, secured any delegate nominations.
Tesla's bullish week came to an abrupt end this Wednesday after it was announced that a portion of their car deliveries scheduled for February will be delayed due to the outbreak of the coronavirus. A representative for Tesla stated that the company "will catch up the production line once the outbreak situation gets better." Tesla declined 17.18% by the close of today's session.
US Market Closings:
Dow advanced 483.22 points or 1.68% to 29,290.85
S&P 500 advanced 37.1 points or 1.13% to 3,334.69
Nasdaq advanced 40.71 points or 0.43% to 9,508.68
Russell 2000 advanced 25.15 points or 1.52% to 1,681.92
Canada Market Closings:
TSX Composite advanced 138.86 points or 0.79% to 17,651.59
TSX 60 advanced 7.28 points or 0.7% to 1,052.46
Brazil Market Closing:
Bovespa advanced 471.56 points or 0.41% to 116,028.27
ENERGY:
Crude oil rebounded around 3% after a 10-day losing streak. The coronavirus is taking all the headlines as more flights are being canceled to and from China. Jet fuel oil is quoted down 25% since the outbreak began. The EIA quoted a 3.4 million barrel build for the last week of January, suggesting a slowdown of use due to the virus.
The oil markets had a mixed day today:
Crude Oil increased 1.45 USD/BBL or 2.92% to 51.0308
Brent increased 1.5 USD/BBL or 2.78% to 55.4526
Natural gas decreased 0.0115 USD/MMBtu or -0.61% to 1.8657
Gasoline increased 0.0606 1USD/GAL or 4.21% to 1.4998
Heating oil increased 0.0573 USD/GAL or 3.59% to 1.6485
Top commodity gainers: Gasoline (4.21%), Palm Oil (4.04%), Heating Oil (3.59%), and Lumber (3.56%)
Top commodity losers: Cheese (-1.44%), Rubber (-1.67%), Feeder Cattle (-1.08%), and Live Cattle(-0.70%)
The above data was collected around 16.10 EST on Wednesday.
BONDS:
Japan -0.03%(+2bp), US 2's 1.44% (+2bps), US 10's 1.64%(+4bps); US 30's 2.13%(+5bps), Bunds -0.36% (+5bp), France -0.10% (+4bp), Italy 0.98% (+3bp), Turkey 10.14 % (+11bp), Greece 1.19% (-53bp), Portugal 0.28% (+3bp) Spain 0.30% (+2bp) and UK Gilts 0.61% (+4bp).