Blog/Market Talk
Posted Feb 4, 2019 by marty armstrong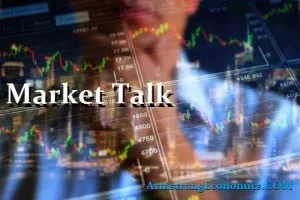 Asia:
Firstly, we would like to wish our Chinese and Korean readers a happy new year and have a wonderful holiday.
Asian stocks posted positive returns as optimism grew regarding a possible US and China trade deal. Donald Trump and Xi Jinping are due to meet on the 27th and 28th of February in Vietnam. Donald Trump also mentioned that he is optimistic when they will meet all points will be agreed to.
The Nikkei 225 rose 50bps to 20,884; the Hang Seng gained 20 bps points – with only a half day of trading today. and the ASX 200 advanced 50bps to 5,891. Markets in China and South Korea were closed due to public holidays. The Chinese markets will remain closed for the rest of the week. The Hang Seng will reopen on the 8th of February.
Looking ahead for the week we have retail sales coming out from Australia with the RBA interest rate decision due tomorrow morning. Indian interest rate decision on Wednesday and New Zealand's employment change.
The JPY weakened against both the USD and EUR by 36bps and 18bps respectively. The USDCNY increased by 32bps to 6.7782
Europe:
The European markets were a little sluggish, FTSE 100 was pretty much flat, increasing only 8bps during the course of the trading day. DAX decreased 27bps to 11150. CAC 40 decreased 56bps to 4990. The STOXX600 increased 6bps to 359.62 – making the year to date return 6.60%.
More economics figures coming out from Europe which shows that the CPI in YOY in Europe on average has decreased. Spanish unemployment has increased by 83.5k, 20K more than expected. Surprising given recent results show its manufacturing and industrial sector was growing in recent months.
UK Construction PMI was released and was slightly worse than expectations. Meaning a contraction in the UK construction sector.
Looking ahead for the week we have retail sales numbers due from most European countries. ECB economic monthly bulletin is due on Thursday. German Trade Balance. BoE inflation report and meeting minutes from the UK.
The Euro strengthened against the GBP, by 16bps, against the dollar on the other hand weakened by 18bps to 1.1433.
USA / Americas:
Another busy week ahead, with more corporate earnings (starting today with Google parent company Alphabet, Inc., among others). This week will also see the ISM Non-Manufacturing prices, Core durable orders, GDP QoQ, Retail sales, Trade Balance as well as the Federal Budget Balance.
Major U.S. indices started the week in positive territory: the Dow closed up +175.48 (+0.70%); the S&P 500 closed up +18.34 (+0.68%); the NASDAQ Composite closed up +83.67 (+1.15%); Russell 2k closed up +15.48 (1.03%).
To the North, the TSX Composite closed up +96.01 (+0.62%), and the USDCAD increased 0.0025 or 0.19% to 1.3123 on Monday February 4 from 1.3098 in the previous trading session. To the South, Brazil's BOVESPA closed up +727.35 (+0.74%), and Venezuela sanctions continue.
As we've talked about, February is looking like an important month, with the February 15th deadline before another potential U.S. Government shutdown, along with continued U.S. – China trade talks (and the aforementioned Trump and Jinping in-person meeting set for the end of the month). Stay tuned.
Energy:
US crude reversed from a winning week failing 1.3% on weak global industrial data. This on the back of reaching 2 months highs earlier in the day. OPEC and the Venezuela sanctions were the cause of recent success. The EIA crude inventory report is due on Wednesday with expectations that the inventory has risen to 1.6m barrels.
Bonds:
The French auctioned of their 3, 6 and 12 month bonds. All are with negative yields and all sold with slightly higher yields than previously. More European debt is being offered at tail end of the week, where the Spanish will be selling 3,5 and 10 year bonds.
Japan -0.01%(+1bp), US 2's 2.53% (+2bps), US 10's 2.73%(+4bps), US 30's 3.07%(+3bps), Bunds 0.17% (+1bp), France 0.58% (+1bp), Italy 2.76% (+3bp), Turkey 13.92% (-5bp), Greece 3.90% (-56bp), Portugal 1.67% (+2bp), Spain 1.26% (-9bp) and UK Gilts 1.28% (+3bp).