Blog/Market Talk
Posted Feb 3, 2020 by Martin Armstrong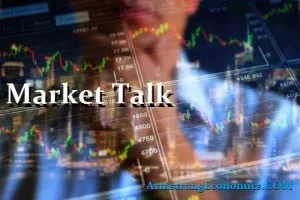 ASIA:
The Chinese central bank said yesterday they are looking to pump in 1.2 trillion yuan (173 bln USD) to support the economy and maintain sufficient liquidity in the market. The shares opened up around 8-9% lower due to the coronavirus.
China has built a new hospital with a 1,000 bed facility in the central city of Wuhan in just 10 days and started taking admissions. This facility was built only to treat patients with officially confirmed coronavirus infections who were transferred from other facilities. Construction teams of 7,000 workers with armies of trucks and excavators dug and scraped around the clock to complete the project. The city government is attempting a feat recalling the SARS epidemic of 2003, when Beijing built a hospital in a week. For Beijing, the facility would also serve as a potent symbol of the government's drive to do what needs to be done.
The Union Budget of India for 2020-2021 was presented by India's Finance Minister Nirmala Sitharaman on February 1, 2020. This year's budget was presented with three key aspects- "Aspirational India, Economic Development, A Caring Society." The annual economic survey presented before the budget projected annual growth rate for India in the range of 6% to 6.5% in the new fiscal year that begins on April 1, 2020. The Finance Minister said that these numbers are realistic because the government has taken various factors on board to improve the government revenue generation and improvement in the government revenue generation would enable it to invest more into infrastructure projects that could see some immediate gains as it "puts money in the hands of the people and core industries revive because of the demand." In this year's budget, government allocated $40 billion for agricultural and rural development and lowered income tax brackets. The government also announced a concessional corporate tax rate of 15 percent to new domestic companies in the manufacturing and power sector.
Singapore has announced aid for its domestic businesses and workers amid the coronavirus outbreak to counter the economic crisis that is deepening from a disease that has already contributed to falling stock markets, shuttered businesses, and created a supply chain disorder around the region. The island state said on Saturday it would use government funds to help businesses cover their cash flow needs and pay wages as the coronavirus spreads from China and hits economies across Asia.
The major Asian stock markets had a mixed day today:
Shanghai decreased 229.92 points or -7.72% to 2746.61
Kospi decreased 0.13 points or -0.01% to 2,118.88
ASX 200 decreased 93.90 points or -1.34% to 6,923.30
NIKKEI 225 decreased 233.24 points or -1.01% to 22,971.94
Hang Seng increased 44.35 points or 0.17% to 26,356.98
SENSEX increased 136.78 points or 0.34% to 39,872.31
The major Asian currency markets had a mixed day today:
AUDUSD decreased 0.0002 or 0.03% to 0.6689
NZDUSD decreased 0.0002 or 0.03% to 0.6461
USDJPY increased 0.3060 or 0.28% to 108.6690
USDCNY increased 0.01647 or 0.24% to 7.01477
Precious Metals:
Gold decreased 10.75 USD/t oz. or -0.68% to 1,578.81
Silver decreased 0.3614 USD/t. oz or -2.01% to 17.5962
Some economic news from last night:
China:
Chinese Industrial profit (YoY) (Dec) decreased from 5.40% to -6.30%
Chinese Industrial profit YTD (Dec) decreased from -2.1% to -3.3%
Caixin Manufacturing PMI (Jan) decreased from 51.5 to 51.1
South Korea:
Nikkei Manufacturing PMI (Jan) decreased from 50.1 to 49.8
Japan:
Manufacturing PMI (Jan) increased from 48.4 to 48.8
Australia:
AIG Manufacturing Index (Jan) decreased from 48.3 to 45.4
MI Inflation Gauge (MoM) remain the same at 0.3%
ANZ Job Advertisements (MoM) increased from -5.7% to 3.8%
Building Approvals (MoM) (Dec) decreased from 10.9% to -0.2%
Private House Approvals (Dec) decreased from 6.0% to -0.1%
Indonesia:
Nikkei Manufacturing PMI (Jan) decreased from 49.5 to 49.3
Core Inflation (YoY) decreased from 3.02% to 2.88%
Inflation (MoM) increased from 0.34% to 0.39%
Inflation (YoY) decreased from 2.72% to 2.68%
Some economic news from today:
Australia:
Commodity Prices (YoY) decreased from -1.9% to -3.6%
Singapore:
Manufacturing PMI (Jan) increased from 50.1 to 50.3
Hong Kong:
GDP (YoY) (Q4) decreased from -2.9% to -3.0%
GDP (QoQ) (Q4) remain the same at -0.4%
India:
Nikkei Markit Manufacturing PMI (Jan) increased from 52.7 to 55.3
EUROPE/EMEA:
The sterling dropped 1.4% today over concerns with UK-EU trade deals. They have an 11-month transition period now to sort out the finer details. Michel Barnier, EU chief negotiator, requested the UK offer a level playing field in negotiations, also vowing the UK must respect EU standards when discussing any form of a free-trade deal. He also mentioned that the UK PM Boris Johnson last year accepted to stick with EU rules and regulations.
The Ukrainian President Zelenskiy said that the Ukrainian passenger plane that was shot down in Tehran at the beginning of the year was known by the government of Iran immediately after it happened, contrary to the government denying it for days.
French President Macron has called for Germany to team up with Poland and France to reshape the EU after Brexit. He said the countries will have to bear the responsibility of supporting Europe.The German government has decided to cancel a 2.5 billion USD orders of US-made spy drones, instead opting for manned aircraft instead.
The UAE announced on Monday the suspension of all flights to and from China, with the exception of the country's capital, Beijing, which will remain unaffected. The General Civil Aviation Authority, GCAA, said in a statement that the suspension would come into force on the 5th of February until further notice. They also added that the decision is part of precautionary measures undertaken by the UAE to confront the outbreak of the new coronavirus.
The major Europe stock markets had a green day today:
CAC 40 increased 26.17 points or 0.45% to 5,832.51
FTSE 100 increased 40.30 points, or 0.55% to 7,326.31
DAX 30 increased 63.22 points or 0.49% to 13,045.19
The major Europe currency markets had a mixed day today:
EURUSD decreased 0.0032 or -0.28% to 1.1063
GBPUSD decreased 0.0213 or -1.61% to 1.29920
USDCHF increased 0.0026 or 0.27% to 0.9660
Some economic news from Europe today:
Norway:
Manufacturing PMI (Jan) decreased from 55.0 to 50.9
Spain:
Spanish Manufacturing PMI (Jan) increased from 47.4 to 48.5
Swiss:
procure.ch PMI (Jan) decreased from 48.4 to 47.8
Italy:
Italian Manufacturing PMI (Jan) increased from 46.2 to 48.9
France:
French Manufacturing PMI (Jan) increased from 51.0 to 51.1
Germany:
German Manufacturing PMI (Jan) increased from 43.7 to 45.3
Euro Zone:
Manufacturing PMI (Jan) increased from 46.3 to 47.9
UK:
Manufacturing PMI (Jan) increased from 47.5 to 50.0
US/AMERICAS:
US manufacturing strengthened in January, according to data released by the Institute for Supply Management (ISM) this Monday. The ISM's January reading came in at 50.9, indicating an expansion, compared to December's reading of 47.8. January marks the first month of manufacturing growth in the US since July 2019.
According to unnamed sources who spoke with Bloomberg News, China is requesting leniency in their fulfillment of phase one of the trade deal due to the coronavirus outbreak. Phase one of the signed trade deal contains a clause that could impede the agreement in the event of "in the event that a natural disaster or other unforeseeable event." Neither Washington nor Beijing has released further statements.
Tonight the state of Ohio will select their desired Democratic presidential nominee at the Iowa caucus. The 2016 Iowa caucus caused a nation-wide uproar after Hillary Clinton narrowly beat Bernie Sanders by 0.3%. Unlike 2016, candidates will have the opportunity to see the raw data after voting occurs and contest any questionable discrepancies.
Over 300 Canadian citizens are asking their government to evacuate them from Wuhan, China, the epicenter of the coronavirus outbreak. Health Minister Patty Hajdu announced that those seeking to return will be placed under a mandatory 14-day quarantine to ensure that the virus does not spread.
US Market Closings:
Dow advanced 143.78 points or 0.51% to 28,399.81
S&P 500 advanced 23.40 points or 0.73% to 3,248.92
Nasdaq advanced 122.47 points or 1.34% to 9,273.40
Russell 2000 advanced 18.14 points or 1.12% to 1,632.21
Canada Market Closings:
TSX Composite advanced 61.27 points or 0.35% to 17,379.76
TSX 60 advanced 3.03 points or 0.29% to 1,036.00
Brazil Market Closing:
Bovespa advanced 868.64 points or 0.76% to 114,629.21
ENERGY:
Crude has dropped to the lowest level in 12 months after fears of the coronavirus is having a negative impact on the global economy. Still, China is battling to contain the virus with many flights being canceled to and from the mainland.
The oil markets had a negative day today:
Crude Oil decreased 1.38 USD/BBL or -2.68% to 50.1380
Brent decreased 1.78 USD/BBL or -3.17% to 54.5339
Natural gas decreased 0.0215 USD/MMBtu or -1.17% to 1.8206
Gasoline decreased 0.0291USD/GAL or -1.94% to 1.4718
Heating oil decreased 0.0557 USD/GAL or -3.41% to 1.5804
Top commodity gainers: Sugar (1.98%), Palladium (1.90%), Platinum (0.97%), and Ethanol (0.90%)
Top commodity losers: Steel (-7.87%), Rubber (-6.11%), Bitumen (-5.16%), and Coffee(-3.95%)
The above data was collected around 15:15 EST on Monday.
BONDS:
Japan -0.06%(+1bp), US 2's 1.35% (+2bps), US 10's 1.53%(+1bps); US 30's 2.01%(-1bps), Bunds -0.43% (+4bp), France -0.17% (+2bp), Italy 0.95% (+3bp), Turkey 10.02 % (+2bp), Greece 1.21% (-41bp), Portugal 0.24% (-0bp) Spain 0.25% (+2bp) and UK Gilts 0.52% (-1bp).
French 3-Month BTF Auction decreased from -0.577% to -0.596%
French 6-Month BTF Auction decreased from -0.576% to -0.595%
French 12-Month BTF Auction decreased from -0.575% to -0.596%
US 3-Month Bill Auction increased from 1.530% to 1.550%
US 6-Month Bill Auction decreased from 1.535% to 1.520%