Blog/Market Talk
Posted Feb 3, 2017 by Martin Armstrong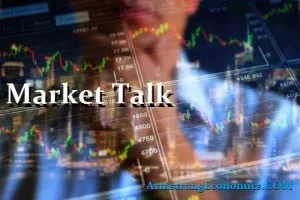 One of the main topics of conversation overnight was the fact that the Shanghai market reopened, after the week long holiday, to a surprise reverse-repo hike (10bp's to 2.35%) which resulted in a -0.6% decline in the Shanghai Index. The CNH traded back up through the 6.82 mark but in late US trade saw core Asian futures making solid 1% gains also. The Nikkei cash closed almost unchanged ahead of the US NFP's report but talk surrounded the BOJ's discussion about JGB's yields edging higher.
A positive morning for European equity markets ahead of the US data with core up between +0.4% and +0.8%. Spanish bank Banco Popular however was down 7.5% having reported a 3.5bn loss in 2016 (shares are down 54% for the past 12 months). A strong day overall with most core markets closing +0.5% stronger.
Upon the release of NFP's stocks added to earlier gains despite the Iran measures announced by the US. The headline print was far better than forecast (+227k against +180k) and with the rate unchanged at 4.8%. However, the impact came from the Hourly Earnings release which was marked down to 0.2% previous +0.4%. We were expecting a +0.3% print with the market interpreting it as implying better job creation with no inflation concerns, just yet. Lots of talk also surrounding President Trump and his advisors discussing Dodd-Frank (named after Democrats Christopher Dodd and Barney Frank who pushed the act through) the financial reform act. Lots of changes are expected to be announced soon but many are awaiting news on potential corporate tax changes. Fiduciary rules will also be discussed which will help with low and moderate earnings (aimed more at Financial Advisors) is the talk. Stocks continued the march as they close with very strong momentum near their days highs moving into the weekend.
Bonds had a whippy day but tend to anyway for NFP's. After the initial sell-off the outlook for the less inflationary news was good for the long end of the curve but that was lost by the close of business with 30's closing on their lows (price) – This move too late for European players. 2's were almost unchanged at 1.2% with 10's gaining 1bp at 2.48%. German Bunds closed unchanged at 0.42%. Italy 2.25% (+3bp), Greece 7.35% (-4bp), France 1.07% (+3bp), Turkey 10.55% (-1bp), Portugal 4.12% (+6bp) and Gilts 1.35% (-3bp).