Blog/Market Talk
Posted Feb 28, 2017 by Martin Armstrong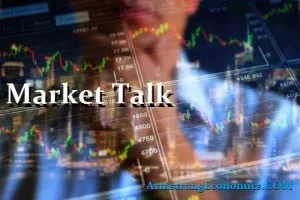 Much of the talk surrounded the 12 days of fresh highs for the US markets, but even so Asia closed mixed with focus well and truly on President Trump's speech. The congress address will not take place until late in the US evening which will be just ahead of the Asian opening. The safe-haven assets and currencies continue to benefit from the uncertainty with JPY playing close to 112, Nikkei and Shanghai close to unchanged on the day, but we did see weakness again (fourth day in a row) for the Hang Seng which closed down -0.75%. Chinese PMI later this evening/early Asia with market expectations for continued growth. India reported 7% growth for Q4 which was marginally lower than estimates but better than the previous 6.4%. A host of economic data will be released
tomorrow
but let's see what shape Mr Trump leaves the markets in later this evening.
Europe had a quiet day also awaiting news, but what news there was failed to have an impact – yet – on markets. The talk surrounding the LSE/Deutsche Boerse deal looks as though it may be quashed by the EU and the UK ex-Chancellor George Osborne claiming that the UK leaving the EU without a trade deal would be "the biggest act of protectionism in British history". GBP traded heavy most of the day, eventually closing close to its low down 0.4%. Most core markets closed better but all could change if President Trump is to disappoint this evening in front of Congress. Oil bounced from a 1.5% fall to almost unchanged on the day. However, still below the monthly closing level (54.25).
US market took a bit of a breather this evening and is interesting as we look at month end numbers. All core indices took a rest for month end but have set an impressive start to the new year. Economic data was better than expected with PMI and Consumer Confidence showing good gains but Q4 GDP missed by 0.2% at 1.9%. This remains the most unloved rally with many talking of an expectant retracement but only so that they can buy it! Looks like a 50% chance the FED is in play for the March meeting.
Much talk of the new Bail-in-able Bonds that many of the banks are issuing. These are the new proposed "senior non-preferred bonds" or senior junior, subordinated or Tier 3 debt. In the pecking order of cash they are roughly stocks, but are offering yield, however they qualify as Bail-in-able bonds. Spanish banks have issued over €8bn so far this year with much talk that Deutsche will join the rush to issue as soon as been regulatory approved. This will likely impact government bond markets and probably bank share prices. Be careful, a good chance these will be hitting a pension fund near you very soon.
US 2's closed 1.23% (+3bp), 10's 2.36% (u/c), Germany 0.20% (+1bp), US/Bund spread at +216bp. France 0.88% (+1bp), Italy 2.07% (-5bp), Greece 6.97% (u/c), Turkey 10.59% (+7bp), Portugal 3.83% (+1bp) and Gilts 1.15% (also u/c).