Blog/Market Talk
Posted Feb 27, 2020 by Martin Armstrong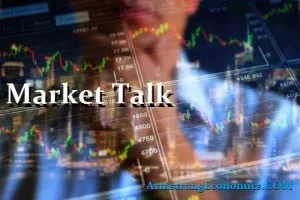 ASIA:
The Indian government is planning a data protection bill that will require tech companies to tell users what data they are collecting and, in most cases, get consent from users to collect that data. It also imposes restrictions on what kind of data can be stored outside the country. The bill, currently making its way through India's Parliament, is being compared to the European Union's data protection law, the GDPR, passed in 2018. And while it shares the aim of protecting user privacy and giving users more control over their data, advocates and experts are warning against the sweeping powers it gives the Indian government. The proposed rules allow the government to exempt its own agencies from following them, meaning Indian authorities can effectively collect any personal data that they deem necessary.
Apple has announced to open its first brick-and-mortar store in India in 2021. Apple has also announced that they will start online sales in India this year. Currently, Apple products are available online only on e-Commerce platforms such as Amazon and Flipkart.
Now 85% of the Starbucks cafes in China have started their operation again after temporarily closing to stop the spread of the COVID-19 outbreak. The global coffee chain closed more than half of its Chinese cafes in January in response to the COVID-19 outbreak. Starbucks has roughly 4,300 cafes in the Asian country, which is its second-largest market. The company did not share any updates on the expected financial impact of the temporary closures.
Apple has set a deadline for app developers to comply with Chinese laws around mobile video games, a move that could hurt some smaller companies. The regulation, introduced by China in 2016, requires mobile game makers wishing to have in-app purchases or paid content to get a license from a unit of the country's censorship machine. The 2016 law is part of China's bigger push to get tighter control over the mobile games market.
Singapore has issued a warning that it will take strong action against people who break the special rules to counter the spread of coronavirus. Singapore's government has recently passed a rule to tackle the coronavirus outbreak, requiring citizens and residents returning from mainland China to stay at home at all times for a 14-day period. Previously, returning Singaporeans and residents with the right to work and live in the city state could leave their homes to buy food or household supplies during their two-week enforced absence from work or school.
The major Asian stock markets had a mixed day today:
NIKKEI 225 decreased 477.96 points or -2.13% to21,948.23
Shanghai increased 3.40 points or 0.11% to 2,991.33
Hang Seng increased 82.13 points or 0.31% to 26,778.62
ASX 200 decreased 50.20 points or -0.75% to 6,657.90
Kospi decreased 21.88 points or -1.05% to 2,054.89
SENSEX decreased 143.30 points or -0.36% to 39,745.66
The major Asian currency markets had a mixed day today:
AUDUSD increased 0.00325 or 0.50% to 0.65775
NZDUSD increased 0.0034 or 0.53% to 0.6320
USDJPY decreased 0.34 or -0.31% to 110.06
USDCNY decreased 0.01451 or -0.21% to 7.00639
Precious Metals:
Gold increased 10.02 USD/t oz. or 0.61% to 1,652.85
Silver decreased 0.1036 USD/t. oz or -0.58% to 17.8638
Some economic news from last night:
South Korea:
Interest Rate Decision (Feb) remain the same at 1.25%
Auatralia:
Building Capital Expenditure (MoM) (Q4) decreased from 2.7% to -5.9%
Plant/Machinery Capital Expenditure (QoQ) (Q4) increased from -3.5% to 0.8%
Private New Capital Expenditure (QoQ) (Q4) decreased from -0.4% to -2.8%
New Zealand:
ANZ Business Confidence (Jan) decreased from -13.2 to -19.4
NBNZ Own Activity (Jan) decreased from 17.2% to 12.0%
Exports (Jan) decreased from 5.50B to 4.73B
Imports (Jan) decreased from 5.12B to 5.07B
Trade Balance (MoM) (Jan) decreased from 384M to -340M
Trade Balance (YoY) (Jan) increased from -4,460M to -3,870M
EUROPE/EMEA:
European markets continued to slide today over the fear of the coronavirus; throughout the continent, many events were canceled due to fears of the virus spreading. A report from CNN stated that many companies were banning business travel in order to limit risk to personnel.
With trade talks expected to start on Monday between the UK and the EU, some news revealed that UK PM Boris Johnson is already willing to walk from the deal. The UK PM was concerned that if not enough progress is done by June they will have no choice but to walk away from a prospective deal and stick with a trade deal on WTO terms.
There is some positive synergy already occurring between the two with the UK and EU already agreeing to be part of the 100 bn Euro EU science research program.
The major Europe stock markets had a negative day today:
CAC 40 decreased 188.94 points or -3.32% to 5,495.60
FTSE 100 decreased 246.07 points, or -3.49% to 6,796.40
DAX 30 decreased 407.42 points or -3.19% to 12,367.46
The major Europe currency markets had a mixed day today:
EURUSD increased 0.00906 or 0.83% to 1.09736
GBPUSD decreased 0.00356 or -0.28% to 1.28664
USDCHF decreased 0.0056 or 0.58% to 0.9711
Some economic news from Europe today:
Norway:
Core Retail Sales (MoM) (Jan) increased from -2.1% to 0.5%
Spain:
Spanish CPI (MoM) (Feb) increased from -1.0% to -0.1%
Spanish CPI (YoY) (Feb) decreased from 1.1% to 0.8%
Spanish HICP (MoM) increased from -1.4% to 0.0%
Spanish HICP (YoY) (Feb) decreased from 1.1% to 0.9%
Spanish Business Confidence increased from -5.6 to -3.7
Italy:
Italian Business Confidence (Feb) increased from 100.0 to 100.6
Italian Consumer Confidence (Feb) decreased from 111.8 to 111.4
Euro Zone:
M3 Money Supply (YoY) (Jan) increased from 5.0% to 5.2%
Loans to Non Financial Corporations (Jan) remain the same at 3.2%
Private Sector Loans (YoY) remain the same at 3.7%
Business and Consumer Survey (Feb) increased from 102.6 to 103.5
Business Climate (Feb) increased from -0.19 to -0.04
Consumer Confidence (Feb) increased from -8.1 to -6.6
Consumer Inflation Expectation (Feb) increased from 20.7 to 21.1
Selling Price Expectations (Feb) increased from 2.9 to 3.8
Services Sentiment (Feb) increased from 11.0 to 11.2
Industrial Sentiment (Feb) increased from -7.0 to -6.1
US/AMERICAS:
Today marked the Dow's largest single-day decline in history after it plummeted 1,190.95 points (-4.42%). Aside from 3M (+1.12%) all 30 listing experienced losses this Thursday, most notably Microsoft (-6.40%), Apple (-6.06%), Intel (-5.72%), ExxonMobil (-5.56%), and Boeing (-5.35%). The S&P 500 fell beneath the 3,000 level for the first time since October, with substantial losses in FLIR Systems (-17.87%), Perrigo (-14.59%), Chipotle (-10.83%), and ANSYS (-9.64%). The Nasdaq sank as well with losses in Tesla (-12.81%), American Airlines (-7.66%), Western Digital (-7.46%), and AMD (-7.33%)
Chicago Federal Reserve Bank President Charles Evans stated this Thursday that the Federal Reserve "must be prepared to rely on unconventional tools" in the event of a recession. Evans believes that the Fed should employ Quantitative Easing and forward guidance if conditions permit. In regards to inflation, the bank president notes that the 2% objective is attainable, but stated that "periods with above-target inflation are essential to achieving the dual mandate goals over the long run."
President Trump held a press conference on Wednesday night to address the widespread panic over the coronavirus. Trump assured the American public that the outbreak in the country is low. Vice President Mike Pompeo, who is now in charge of the coronavirus taskforce, said that state and local governments must work in unison to combat the spread of the virus.
The US Treasury Department granted a conditional license to a humanitarian agency to begin working with Iran in spite of sanctions. The license will permit food, medical, and other essential supplies to be exported to Iran, Reuters reported. US Special Representative to Iran Brian Hook previously voiced concerns regarding US aid to Iran being diverted to the ruling class. "The Iranian regime's corruption and economic mismanagement frequently diverts resources away from the Iranian people, so it can finance warfare in the gray zone," Hook commented.
US Market Closings:
Dow declined 1,190.95 points or -4.42% to 25,766.64
S&P 500 declined 2,978.76 points or -4.42% to 2,978.76
Nasdaq declined 414.30 points or -4.61% to 8,566.48
Russell 2000 declined 54.89 points or -3.54% to 1,497.87
Canada Market Closings:
TSX Composite declined 324.48 points or -1.9% to 16,717.44
TSX 60 declined 18.44 points or -1.81% to 997.73
Brazil Market Closing:
Bovespa declined 2,734.75 points or -2.59% to 102,983.54
ENERGY:
Due to the global standstill from coronavirus fears, Crude oil today fell to the lowest point since January 2019, with Brent holding onto the 50 USD level.
The oil markets had a negative day today:
Crude Oil decreased 1.13 USD/BBL or -2.32% to 47.5734
Brent decreased 0.85 USD/BBL or -1.59% to 52.6853
Natural gas decreased 0.0688 USD/MMBtu or -3.58% to 1.8506
Gasoline decreased 0.0187 1USD/GAL or -1.30% to 1.4189
Heating oil decreased 0.0107 USD/GAL or -0.71% to 1.4894
Top commodity gainers: Palm Oil (1.70%), Coal (1.32%), Soybeans (0.86%), and Gold (0.61%)
Top commodity losers: Cotton (-8.47%), Natural Gas (-3.58%), Lumber (-3.56%), and Bitumen (-2.87%)
The above data was collected around 13.20 am EST on Thursday.
BONDS:
Japan -0.10%(-4bp), US 2's 1.07% (-10bps), US 10's 1.27%(-7bps); US 30's 1.76%(-4bps), Bunds -0.50% (+2bp), France -0.24% (-4bp), Italy 1.08% (+6bp), Turkey 12.44 % (+24bp), Greece 1.23% (+7bp), Portugal 0.24% (+4bp); Spain 0.26% (+6bp) and UK Gilts 0.48% (-4bp).
US 4-Week Bill Auction decreased from 1.575% to 1.530%
US 8-Week Bill Auction decreased from 1.570% to 1.500%
US 7-Year Note Auction decreased from 1.570% to 1.247%