Blog/Market Talk
Posted Feb 27, 2019 by marty armstrong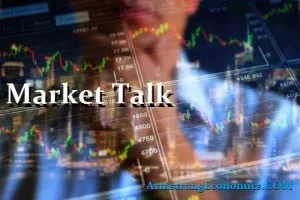 Asia:
Most of the Major Asian stock indexes increased today apart from the Hang Seng dropping 30.79 points (-0.11%) to 28,740. The Nikkei 225 gained 107 points or 0.5% to 21557; the Shanghai Composite added 12 points or 0.4% to 2954; the Kospi went up 8 points or 0.4% to 2235 and the ASX 200 closed 22 points or 0.4% higher at 6150.  Indian Shares Drop amid Tensions with Pakistan, SENSEX loss 68.28 points (-0.19%) and closed at 35,905.
The Asian currency markets were mixed today – given the rise against the USD yesterday.
The AUDUSD decreased 0.0053 or 0.74% to 0.7133, NZDUSD decreased 0.0049 or 0.72% to 0.6837, USDCNY lost 0.01% to 6.6846.  The USDJPY and the USDHKD took the opposite route rising 0.3980 or 0.36% to 110.9680 and 0.0005 or 0.01% to 7.8494 respectfully. This being more of a flight to quality to the JPY.
Gold and Silver both decreased today, losing 0.64% to 1,317.64 and 1.26% to 15.70 respectfully.
Other developments today, Investors await further announcements in the second summit between the US and North Korea – Trump seemingly very positive about North Korea, liking future development with that of Vietnam.
Economic news was expected to be released shortly from China, Japan and South Korea. China with its Manufacturing PMI (Feb) expected the same as previous month with a figure of 49.5. China's Non-Manufacturing PMI (Feb) expected to be 54.5, 0.2 points lower than the previous session.
Japan-Retail Sales (YoY) (Jan) stands at 1.3% waiting for the final January numbers, the expectations is a small increase to 1.4% in the following session. Japan-Industrial Production (MoM) (Jan) expected at -2.4%, much lower than previous-0.1%, due to the industrial slowdown. Foreign Investments in Japanese Stocks was -52.9B and Japan Foreign Bonds Buying was at 193.7B at previous session.
South Korea-Interest Rate Decision (Mar) expected to be a no change decision leaving rates at 1.75%. The Industrial Production (MoM) (Jan) expected to rise from previous level of -1.4% to expectation of 0.2%. However, it's Industrial Production (YoY) (Jan) expected to be 1.0% lower than the previous 1.6%.
Indian, M3 Money Supply increased to 10.8% from previous 10.4%.
Europe:
Most of the major European stocks were in the red today, the main news being Prime Minister Theresa May's pledge for a vote on extending negotiations with the EU if her withdrawal agreement is rejected by Parliament and a no-deal Brexit is formally ruled out next month.
The FTSE 100 dropped 44 points, or 0.6% to 7,107; CAC 40 and DAX decreased 14 points or 0.27% to 5230 and 56 points or 0.48% to 11485 respectfully. On the currency side, the British Pound (GBP) rose above $1.33 for the first time since July on Wednesday, USDCHF also increased 0.0014 or 0.14% to 1.0010. The EURUSD took the opposite decreased 0.0017 or 0.15% to 1.1368, as capital flows seemed to be exiting the Euro zone today.
Economic news from the UK- Gross Mortgage Approvals is at 40.6k higher than forecasted at 38.5k and 39.4k, also UK- GfK Consumer Confidence (Feb) was at -15 lower than the previous session.
French, Jobseekers total dropped from 3419.2k to 3414.0k – with small signs of an improving economy. It has been one of the better performers over the last few months.
European business confidence seems to be slipping, with Spain releasing its Business Confidence at -4.9, lower than previous round at -4.3. Italian's Business Confidence (Feb) at 101.7, lower than previous (102.0) but higher than expectations at 101.4. Consumer Confidence was no different with the (Feb) number being 112.4, lower than the expectation 113.0 and previous session 113.9.  Italy also released it Non-EU trade balance for Jan, which stands at -0.58B, much lower than the previous 4.28B.
Below is some aggregated Eurozone economic data to give you a sense of the Economy:
M3 Money Supply (YoY) (Jan) actual at 3.8% lower than expectations0% and previous 4.1%.
The Private Sector Loans (YoY) is at 3.2%, lower than forecast 3.4% and 3.3%.
The Business and Consumer Survey (Feb) is at 106.1 higher than forecast 106.0 but lower than previous 106.3.
The Business Climate (Feb) actual at 0.69, same as previous session.
The Consumer Confidence (Feb) is the same as expectationsof -7.4, higher than previous at -7.9.
The Consumer Inflation Expectations(Feb) actual at 18, higher than previous 15.5.
The Selling Price Expectations (Feb) actual at 8.9, lower than previous at 10.7.
The Services Sentiment (Feb) has increasedfrom 11.0 to 12.1, however the Industrial Sentiment (Feb) dropped from 0.6 to -0.4.
U.S./Americas:
Today was a very active day on the news front. President Trump kicked off his summit with North Korean leader Kim Jung-Un while three separate congressional sessions took center stage back home: Fed Chairman Jerome Powell testified in front of a House committee; U.S. Trade Representative Robert Lighthizer testified in front of the House Ways and Means committee; and former personal attorney to President Trump, Michael Cohen testified before the House Oversight committee as well.
Stocks dipped during early trading after U.S. Trade Representative Robert Lighthizer cautioned the U.S.-China trade deal was not yet a certainty. The Dow closed down -0.28% after dropping by over 70 points (25985.16 close). The S&P 500 closed relatively flat (-0.05%, 2792.38 close) as did the Nasdaq (+0.07%, 7554.51 close). The Russell 2K meanwhile increased by +0.23% today, closing at 1581.05.
While reports are China has agreed to purchase $1.2 trillion in goods from the U.S., Lighthizer said the gesture is not enough to ease trade war concerns. "Much still needs to be done both before an agreement is reached and, more importantly, after it is reached, if one is reached," he noted in a statement Wednesday. A date has not been set for the Mar-a-Lago meeting between President Trump and President Xi Jinping, but the goal would presumably be to use such a meeting to arrive at a more clear framework of agreement.
The Commerce Department released more disappointing data today, noting that the demand for U.S. produced goods underperformed expectations during December. A sluggish growth in manufacturing aroused concerns as it composes around 12% of the U.S. economy.
In Canada, both major indices closed in the green today: the TSX Composite closed at 16074.30 (+0.04%) while the TSX 60 had a stronger day, closing at 959.33 (+0.20%).
The Bovespa backtracked from the prior day's session after closing at 97307.31 (-0.30%).
Energy:
An EIA report showed crude inventories in the US decreased 8.647M in latest week,  the biggest drop since July 2018, the oil price ended in the green today. Crude Oil added 1.62USD/BBL(2.92) to 57.22. Brent also increased 1.38 USD/BBL or 2.12% to 66.63. Gasoline increased 0.04 USD/GAL or 2.39% to 1.63 and heating oil increased 0.03 USD/GAL or 1.53% to 2.03. However, natural gas took the opposite decreased 0.08 USD/MMBtu or 2.73% to 2.78.
Top commodity losers are; Palm Oil (-3.13%); Oats (-2.26%); Neodymium (-2.01%) and Palladium (-2.40%). Gains are led by Cheese (12.39%),  Milk (10.26%) and coffee (2.94%).
Bonds:
Germany released it's 10-year Bund Auction at 0.120%, 8bps lower than previously.
Italian 5-year and 10-year BTP Auction yields are 1.59% and 2.81%, higher than the previous session at 1.49% and 2.60% respectfully.
Japan -0.02%(+0bp), US 2's 2.51% (+2bps), US 10's 2.68%(+5bps), US 30's 3.06%(+5bps), Bunds 0.15% (+4bp), France 0.56% (+3bp), Italy 2.81% (+10bp), Turkey 14.47% (-9bp), Greece 3.70% (-3bp), Portugal 1.45% (+1bp), Spain 1.18% (+4bp) and UK Gilts 1.28% (+7bp).