Blog/Market Talk
Posted Feb 27, 2018 by Martin Armstrong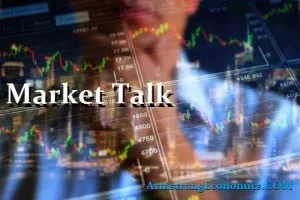 Not such a convincing day today for Asia as Shanghai and Hang Seng returned yesterday gains, whilst the Nikkei and ASX added to the move. Both the mainland and HSI attempted gains but were quickly rejected soon after the open. These moves have reversed only some of the recent gains but probably expected ahead of the first of two speeches expected by the new FED Chair Jerome Powell. The Nikkei however, hit three week highs adding another 1% to the YTD returns.
Another broad based rally with aid from financials, manufacturing and exporters. Volumes were light but probably waiting to watch FED, it will be interesting to see volumes the rest of the week.
Europe was equally unsure awaiting the first FED's comments under Powell. Early gains were rejected hitting the days lows around mid morning. Early afternoon saw the Europe-wide bounce after the US cash markets opened positive. All core finished in the red, but fortunately only marginally lower. Comcast's bid for Sky was much of the talk which also lifted the sector. Europe still appears to be confused as to whether it follows bonds or equity markets. We are still in this huge transition stage of deciding if rate hikes are good or bad for equity markets! Keep an eye on currency movements, especially now that the DXY appears to have finally put a bottom in place.
US responded initially to the hiking comments by trading lower, but now the debate will be between "stable" and "overheating"! So, does this imply we are going from three to four hike expectations and also, IF the economy is improving that much, why is that bad for stocks? This will be the bigger debate for the talking heads over the rest of the week ahead of Powell's next speech. The initial 150 point decline in the DOW was reversed by mid-afternoon session but proved only temporary. The final 90 minutes saw selling accelerate to close down 228pts almost 1%. The wider Russell, NASDAQ and S+P all lost around 1.25% on the day. Currency will the one to watch for the rest of this week – DXY continues to recover.
Japan 0.04%, US 2's closed 2.27% (+5bp), 10's 2.91% (+5bp), 30's 3.19% (+4bp), Bunds 0.68% (+2bp), France 0.96% (+2bp), Italy 2% (-1bp), Greece 4.32% (-3bp), Turkey 11.51% (-3bp), Portugal 2% (+3bp), Spain 1.55% (+1bp) and Gilts 1.56% (+5bp). Don't forget these markets closed ahead of the Powell's address, so will have an impact only once Wednesday trading session opens.