Blog/Market Talk
Posted Feb 27, 2017 by Martin Armstrong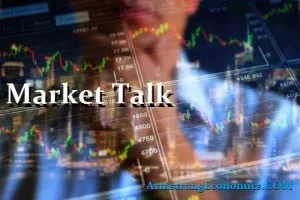 A few stories over the weekend from a potential vote for Scotland to a Le Pen victory could create a "worse than Lehman" moment. Asian equity mood and markets reacted to nervous weekend press as they watched the GBP lose 0.5% (before a mid-day bounce) and watched most core indices lose close to -1%. The Nikkei was also responding to a strong JPY, trading down to just below the 112 handle, but by close of the US session had seen it back up to 113; the Nikkei futures last seen +0.4% on the day. On the balance, many are deliberating President Trump's first budget address to Congress Tuesday evening. Late talk in US hours is for a 10% increase in defense spending with cuts coming from a leaner and more accountable government, they say. Asia was not too sure what to make of these headlines and as a result, risk off the table was the order of the day. Futures have marginally made back lost ground but it will be interesting to see the monthly closing numbers from close of business Tuesday.
You would have thought that after Brexit and Trump the markets would act a little more nervous than normal as nerves begin to mount. However, that was not the case today after polls suggested Macron will beat Le Pen. The 10yr OAT tightened (against the Bund) as a result but hardly moved the CAC. A lot of market talk surrounded the LSE/Deutsche Boerse merger but even that could be overshadowed if we hear some surprises from President Trump tomorrow. Core indices are nervous even as the US markets continue to go from strength to strength. All core closed around unchanged ahead of month end.
After the initial wobble and the fun and games around unchanged, by the close of business it was a similar pattern to Friday's price action. Closing towards the days highs in the final hour has certainly provided a small boost for Asian futures and a recovery in the USD. Gold prices are seeing a small drift away fro recent highs as has oil and treasuries. Tomorrow will be the main event when many are hoping we hear some clear direction on plans, procedure and expectations. We also see a host of economic data reads Tuesday but Consumer Confidence and Chicago PMI will draw the most attention (Expectations are for 111 and 53 respectively).
US 2's close 1.20% (+6bp), 10's at 2.36% (+4bp) with Bunds at 0.19% (+1bp); this expands the US/Germany spread to +217bp. Italy 2.12% (-6bp), France 0.87% (-5bp), Greece 6.97% (-1bp), Turkey 10.52% (u/c), Portugal 3.83% and Gilts at 1.15% (+8bp).