Blog/Market Talk
Posted Feb 26, 2018 by Martin Armstrong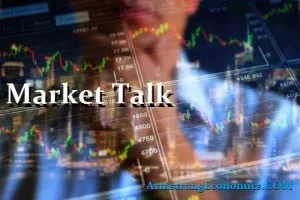 After the strong close in the US on Friday, we open the week with an equally impressive Asian session. It was the Shanghai index that shone bright today with a 1.25% return, not bad for a Monday and with month end so close. Domestic markets were boosted by the removal of the two-term limit on its presidency; a positive move on sentiment also helping matters. Notably the CNY is a touch firmer yet again 6.3129 today. The Hang Seng closed +0.75% which was a good performance considering large real estate names lost after the weak data release Saturday. A strong performance was seen in the Nikkei today, closing with a 1.2% gain. Interesting that the Yen continues to see good inflow keeping it bid with late trading seen around the mid 106's. It was a general advance for the Nikkei but an edge was seen for industrials and pharmaceuticals as confidence built throughout the day. SENSEX, ASX and KOPSI all continuing the impressive run up between +0.25 and +0.75% today. News that North Korea are keen to talk has brought gold back in line, but also we can not ignore the impact of the strengthening USD.
Running off of the back of Asia, Europe saw a constructive day as we await new FED Chair Powell, inflation and the Italian vote next weekend. FTSE (+0.65%) led the pack but did see GBP weaker, so probably not quite the prominence it was awarded. Don't forget we heard fro Powell twice this week. Other core had been higher midday but returned some of the euphoria after Draghi commented that inflation remains in an upward trend. Also, as a consequence of this weekends Italian vote, the FTSE MIB was less than many hoped for today and rallied just +0.2%. After a brief wobble into the close – probably the talk over possible tech tax claim discussions, indices recovered to close or near their days highs following more positive US movement.
DOW futures were already up 200 points just as cash was opening and it wasn't that long before cash had joined them. Tech and financials are leading the whole market firmer and with this results in reclaiming over half of the recent losses. Steel producers obviously doing well following the Trump announcement on possible import tariffs. The balance of the day saw the buying pressure mount and we closed up at the days highs. A good day for the DOW gaining over 400 points (1.5%) but also the S+P (+1.15%) and NASDAQ 1.1%. We did give a little back to in the final few minutes but still an overall productive day closing near their highs. Worth keeping an eye on cable tomorrow and ahead of Theresa May BREXIT discussions at the end of the week.
Japan 0.045%, US 2's closed 2.22% (-2bp), 10's closed 2.86% (-1bp), 30's 3.15% (-1bp), Bunds 0.66% (+1bp), France 0.94% (+1bp), Italy 2.01%(-5bp), Greece 4.35% (+4bp), Turkey 11.54% (-2bp), Portugal 1.97% (-4bp), Spain 1.54% (-4bp), and Gilts 1.51% (-1bp).