Blog/Market Talk
Posted Feb 27, 2016 by Martin Armstrong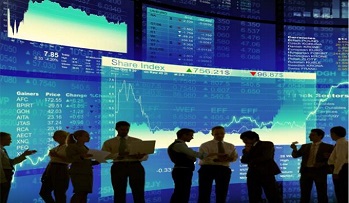 We saw healthy performances across all Asian Indices amongst the G20 headlines. There is much talk about additional fiscal stimulus coming from China whilst Germany takes the opposite view (expressed by Wolfgang Schaeuble) stating that easy monetary policy "risks serious side effects." Core indices closed higher on the day (Nikkei +0.3% and Shanghai +1%) but it was Hang Seng that saw a strong rally in the last hour of the week to close up 2.3%.
The rally in oil prices is being talked by European equity traders as the primary reason for today's rally in stocks. We are seeing some big names (RBS for example down 8%) having a difficult day but the vibes coming out of G20 are all positive – so far. The Italian finance minister is at odds with Mr. Schaeuble, but I'm sure Mario Draghi will address that one on March 10 (next ECB meeting). DAX, CAC, FTSE and IBEX all closed around 1.75% up on the day.
In the US, we saw some good sentiment numbers (Michigan 91.7 against a forecast of 91) and some better inflation numbers (compared to the Eurozone looking at zero) but added to the late turn in oil and dealers are concerned the FED may be in play again, later in the year. Stocks reversed their early triple-digit gains to close the day little changed (DOW, S+P small down and NASDAQ small higher). The more the US markets react to this kind of data the more pressure it piles onto Emerging Market countries that import and/or are running USD deficits. The FED will have to decide (again) against domestic or international responsibilities.
The race for USDs is beginning to heat up. Friday's money markets are always USD illiquid but are becoming even more so now that the EM capital flows have decreased so much. The USD remains the pride of the fleet with almost not competition in sight. The euro, GBP, JPY and INR all lost around 1% in late US trading, taking the DXY up to 98.11 (+0.9%).
The reversal in stocks came a little too late in the day for the Bond markets but they will show their reaction on Monday morning. The question there is do they follow domestic data or is the international demand large enough to lift prices and lower the yield? There is a very good argument for curve flatteners so it will be interesting to watch 2/10's in the coming few weeks (closed this evening at 97BP). US 10's closed tonight at 1.76% with Bonds at 2.63%.
German Bunds closed 10's at 0.145%, closing the TY/RX spread at 161.5BP. Italy 10yr closed 1.47% (-4BP), Greece 10's closed 10% (-24BP), Turkey 10.38% (-8BP) and UK Gilt at 1.40% (+3BP).