Blog/Market Talk
Posted Feb 26, 2019 by marty armstrong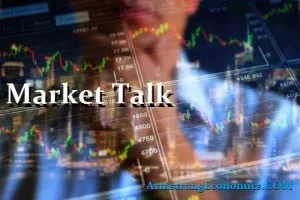 Asia:
Most of the major Asian stocks decreased today after yesterday's impressive rise, particularly in the Shanghai Composite. The Shanghai dropped 63bps to 2943 today. Nikkei decreased -0.37bps to 21449; Kospi decreased 25bps to 2227; Hang Seng and ASX 200 decreased 65bps and 94bps to 28772 and 6128 respectfully.
Gold did not absorb any of the capital flows today as the price decreased 1.51 USD to 1,327.35 with a weakening dollar. The silver price also decreased 2bps to 15.89.
We kick off economics for the region with the Indian Federal Fiscal Deficit (Jan), the actual value being 7,708.45B, which is much higher than the previous of 7,014.57B. Singapore Industrial Production (MoM) (Jan) is at 0.9%, however lower than expectations of 2.0% but much higher than previous -5.2% months, showing although the slowdown in manufacturing is still present, it is in an improving situation in the region.
Economic news is due shortly in Asia with South Korea expected to released its "Manufacturing BSI Index" numbers with the previous being 67. New Zealand's trade balance expectations are at -300M having a previous session at +264M. New Zealand will also release its export/import data from January. Australian-Construction Work Done (QoQ) expected at 0.6%, a big increase comparing with its previous session of -2.8%.
Europe:
UK's Prime Minister Theresa May pledged for a vote on extending negotiations if her withdrawal agreement is rejected by Parliament and a no-deal Brexit is formally ruled out next month. Followed by the news, the pound hit a 21-month high against the euro.
She mentioned with her speech, "Let me be clear, I do not want to see Article 50 extended." "Our absolute focus should be on working to get a deal and leaving on 29 March." She added that any extension should not go beyond the end of June and "would almost certainly have to be a one-off."
So the next date of interest will be the 13th of March, where members will vote on a no deal, if a no deal is rejected then a subsequent vote will be whether to extend article 50 or not.
European stocks were mixed today. The DAX and CAC40 ended up in the green by increasing 50 points (+0.43%) to 11551 and 15 points (0.28%) to 5245 points respectfully. The FTSE 100 however decreased 20 points(0.27%) to 7156.
Capital flows seem to be reentering the European economy today as FX markets were all positive against the dollar, leading by GBP , increasing more than 1% to $1.327, the highest level since Sep/2018. EUR and CHF also increased 0.0018(0.16%) and 0.0006(0.06%) to 1.1358 and 1.0006 respectfully.
Economic news from the European countries, German released its GfK German Consumer Climate (Mar), this was of no surprise at 10.8, which was the same as the industry forecast and as the previous session. French Consumer Confidence in (Feb) actual value is 95, higher than the forecast and previous (both are at 92). UK- BRC Shop Price Index (YoY) forecast was 0.3%, slight lower than the previous 0.4% and finally Norway's Consumer Confidence (Q1) actual value was 12.70, lower than previous session of 14.20.
U.S./Americas:
Stocks traded in a choppy pattern this Tuesday. The Dow closed down -0.13% at 26057.98, after being up nearly 100 points earlier in the day. The S&P 500 and Nasdaq also closed slightly down at 2793.90 (-0.08%) and 7549.3 (-0.07%) respectfully. The Russell 2K followed, closing down -0.71% at 1577.48. Volatility crept up with the Vix closing +2.15% higher at 15.17.
Fed Chairman Jerome Powell testified to a U.S. Senate Committee on Banking, Housing, and Urban Affairs today, stating economic conditions appear "healthy". However, he noted that the past few months have presented "conflicting signals" and current conditions appear "less supportive of growth than they were earlier last year."
The Fed is closely observing uncertain economic and political conditions internationally, most notably in China and Europe. On a positive note, the U.S. added over 300k new jobs this year, aiding higher wage growth and steadying the unemployment number at around 4%. Powell will conclude his testimony tomorrow before the House of Representatives.
The Commerce Department released new data showing new housing developments fell by over 11% in December – a two-year low. Ironically, it comes the same day Home Depot reported below expectations Q4 earnings and issued weak guidance for 2019. Last year, 30-year mortgage rates rose to nearly 5% and now stand around 4.3%. Although the Fed announced that wage growth was on the rise, home prices within the U.S. are outpacing wage growth.
The USD decreased 0.23% to 96.1885 on Tuesday from 96.4130 on Monday.
The USD/CAD remained stable from the prior trading session (1.3182 on Tuesday from 1.3188 on Monday), while the TSX 60 closed nearly flat (-0.01%, 957.44 close) and the broader TSX Composite closed slightly higher (+0.07%, 16067.91).
The Bovespa closed the day on a fairly positive note at 97602.50 (+0.37%).
Energy:
Oil prices increased today, recovering from Trump's tweet yesterday. Crude Oil increased 0.34 USD/BBL or 0.61% to 55.72; Brent increased 0.60 USD/BBL or 0.93% to 65.49; Gasoline increased 0.04 USD/GAL or 2.38% to 1.58; Heating oil increased 0.03 USD/GAL or 1.38% to 2; and Natural gas increased 0.01 USD/MMBtu or 0.21% to 2.84.
Agricultural sector had a "red" day with only a few agriculture products increasing. Top commodity losers are Uranium (-2.1%); Coffee (-3.32%), Palm Oil (-1.88%); Sugar (-1.68%) and Rubber (-1.91%). Gains are led by rice (2.87%) and Gasoline (2.63%)
Bonds:
US 52-week bill auction was sold at a yield of 2.470%, lower than the previously 2.525%. US 7- year Note Auction previous was at 2.625%. German 2-year Schatz auction at -0.540%, slightly higher than previously at -0.580%; Finally, Italian 6 – month BOT auction was at -0.007%, higher than previous at -0.025%.
Japan -0.03%(+1bp), US 2's 2.49% (-2bps), US 10's 2.65%(-2bps), US 30's 3.02%(-1bps), Bunds 0.12% (+1bp), France 0.53% (+0bp), Italy 2.71% (-5bp), Turkey 14.56% (-6bp), Greece 3.72% (-6bp), Portugal 1.44% (-3bp), Spain 1.15% (-2bp) and UK Gilts 1.21% (+3bp).