Blog/Market Talk
Posted Feb 25, 2019 by marty armstrong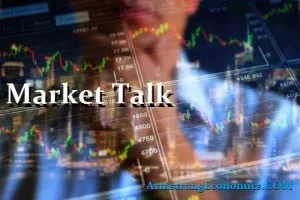 Asia:
Major global news today regarding the US China trade talks. President Trump tweeted on Sunday that the US and China have made substantial progress with the trade talks, extended trade talks were made during the weekend and the deadline for the tariff increase has subsequently been postponed. However, he did stress that an agreement could still not be met.
The Shanghai Composite index reacted very positively jumping 5.6% to 2,961 Monday, its highest close since June last year and the largest daily percentage gain since July 2015. Also the major stock indexes in the Asia-Pacific region closed higher than the previous trading sessions. The Nikkei 225 increased 102.72 points or 0.48% to 21,528; the Hang Seng rose 143 points or 0.5% to 28,959; the Kospi increased 1 points or 0.06% to 2,232; and the ASX 200 was up 19 points or 0.31% to 6,186.
Most of the major currencies increased on Monday. CNY increased 0.0197 or 0.29% to a 32 weeks high of  6.6812. AUD and NZD rose 0.0043 (or 0.61%) to 0.7170 and 0.0047 (or 0.68%) to 0.6890 respectfully. However the JPY and HKD decreased 0.2920 or 0.26% to 110.9720 and 0.0006 or 0.01% to 7.8486.
Gold price decreased 0.61 USD/t oz. or 0.05% to 1,329.77, and silver price decreased 0.02 USD/t. oz or 0.13% to 15.86.
Some economic news form Asia with Singapore releasing its CPI YoY figures for January: the actual rate was 0.4%, slightly lower than expectation of 0.6% and previous month at 0.5%. Elsewhere, New Zealand have released its Core Retail Sales QoQ over the weekend: The actual rate was 2.0%, much higher than the expectation of 0.8% and a previous rate of 0.7%. The Retail Sales QoQ Q4 stood at 1.7% much higher than the forecast 0.5% and previous quarter of 0.0%.
Europe:
European markets were excited by the advanced talks of the US-China postponement. In the UK, some ministers stated that Brexit could be delayed as much as two years. It certainly seems possible as Mrs. May has a lot of work to do prior to the March 29th deadline.
In Italian politics, Economy Minister Giovanni Tria stated that nobody was allowed to use Italy's gold reserves bar except the ECB. "Nobody can use the gold reserves except the ECB, for its monetary policy maneuvers," Tria told an Italian television station. "No state can exert influence or give instructions because the Bank of Italy is independent, and neither can the Bank of Italy give gold to the Italian government, because that would be state aid" and therefore against EU rules.
FTSE 100 rose 3 bps (0.04%) to 7181 , DAX and CAC40 rose 48 bps (0.42%) to 11504 and 13 (0.26%) to 5229 respectfully. IBEX35 and OMXS30 are on the other directions with 7 bps and 2 bps decreased respectfully. The major currencies in Europe were also in the green, the EURUSD increased 0.02% to 1.1343; GBPUSD increased 0.01% to 1.3053 and USDCHF increased 0.08% to 1.0009 compared with the previous trading session.
Not too much news economic statics from Europe today with the Swiss releasing its Employment Level for Q4. The current level is at 5.068M, lower than the previous 5.070M and the Spanish PPI (YoY) is at 1.8%, higher than the previous month 1.7%.
U.S./Americas:
Wall Street maintained the positive momentum seen late last week, which was aided by President Trump's decision to push back the U.S.-China trade deal deadline (shocker!). The S&P 500 closed in at 2796.11 (+0.12%), but had been over 2800 earlier in the day. Similar to the S&P, the Dow closed just over 60 points higher at 26091.95 (+23%), but was over a hundred points higher earlier in the day. The Nasdaq closed +0.36% higher today as well (7554.46 close), while the Russell 2K closed ever-so-slightly in the red at 1588.81 (-0.08%). All in all, U.S. equities have had a strong comeback thus far, and are once again approaching price points seen back in the fall, 2018 (the Dow is less than 800 points away from its record close of 26,828.39 on October 3).
Turning to the latest on U.S. – China trade, March 1 was in fact not a "magical date" as President Trump previously alluded. "I am pleased to report that the U.S. has made substantial progress in our trade talks with China on important structural issues including intellectual property protection, technology transfer, agriculture, services, currency, and many other issues," Trump noted in his two-part tweet. Chinese President Xi Jinping will reportedly meet with Trump in Mar-a-Lago, Florida, in the coming weeks to potentially finalize negotiations.
Federal Reserve Chairman Jerome Powell will testify this week on the Fed's monetary policies after releasing meeting minutes last week regarding its decision not to raise rates. New media will no doubt hang on every word.
On the corporate beat, General Electric shares had a strong day after announcing plans to sell off its GE BioPharma company for ~$21 billion. This comes as good news for the beat down company that was displaced from the Dow last year.
Kraft Heinz Co. continued its decline today after reporting underwhelming earnings and an ongoing SEC probe. The company also reduced its dividend by 36% to $0.40 per share. Warren Buffet's company Berkshire Hathaway owns a large share of the company, but admitted to reporters that he overpaid when he purchased the stock in 2015 – but plans to hold (for now).
The Canadian markets also started the week on a positive note. The TSX Composite and TSX 60 both rose +0.27% after closing at 16057.03 and 957.49 respectively.
Brazil's Bovespa meanwhile lost some footing today after declining -0.66% (97239.90 close).
Energy:
US President Trump said in a tweet, "Oil prices are getting too high. OPEC, please relax and take it easy. World cannot take a price hike – fragile." Whether it was a cause from that tweet alone, Crude oil dropped 3.3% to $55.4 a barrel and the Brent crude declined 3.2% to $65 a barrel in the day.
Bonds:
The United States 6 Month Bill Yield stayed the same from previous session at 2.455%, and 3 Month Bill Yield increased to 2.405% from 2.395%. 2-Year and 5 year Note Auction decreased from 2.600% to 2.503% and from 2.576% to 2.489%.
French 3; 6; and 12-Month BTF Auction have a decreased from -0.505% to -0.518%; -0.501% to -0.523% and from -0.501% to -0.517%.
Japan -0.03%(+0bp), US 2's 2.51% (+2bps), US 10's 2.68%(+2bps), US 30's 3.04%(+2bps), Bunds 0.11% (+1bp), France 0.52% (+11bp), Italy 2.77% (-11bp), Turkey 14.62% (-16bp), Greece 3.77% (-49bp), Portugal 1.47% (-1bp), Spain 1.16% (-14bp) and UK Gilts 1.17% (+1bp).