Blog/Market Talk
Posted Feb 24, 2017 by Martin Armstrong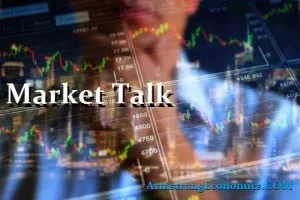 Another lacklustre session for Asian equity markets as we approach both the end of week closely followed by the end of the month. The Nikkei and Hang Seng both lost around 0.6% on the day with a small gain registered for Shanghai, but the big talking point remains the bond market and specifically the west. A few people talking about HSBC's number and Standard Charter expected later but sadly they were to disappoint after Asia closed. SC missed estimates by a country mile and in late trading saw its shares down around 4.5%. They have rallied and were actually the best performing over the past 12 months so today's fall is a small correction at these levels. Energy and Miners were other weak spots as concerns start to rise as data starts a destabilising display (BHP down 3% today). In late US trading the Nikkei had lost near 0.8% and the JPY trades into the 111 handle.
This was still the hotly debated topic when Europe opened seeing energy prices fall along with core indices. CAC and DAX (-1.2%) had their worst days in a while as concerns over growth rippled the markets as dealers watched the bonds rallying to their lows for this year. IBEX (-1%) and FTSE did not fare that well as UK shares were hit upon the RBS announcement. RBS posted an £6.96bn ($8.66bn) loss for 2016 against an estimated number of £3.79bn. They have also stated that 2017 could be another tough year; once RMBS matters are out of the way. Cost cutting were highlighted as one measure to say going forward but that could prove extremely difficult given added clearing expenditure ahead of Brexit negotiations. RBS shares closed down a little over 4%. GBP did not like the news and fell 1% into the US close.
US markets opened weaker but bounced into the close. The talk continues to focus on President Trumps expected proposed reforms with much being discarded even before we know what they are! He addresses Congress next week, so the weekend press will be very dismissive of everything, which is probably why stocks have struggled the past couple of days given the current levels. The bond markets were again the top topic as yields grind lower and lower. The 30yr Treasury broke below the 3% handle, 30yr Bunds breaching 0.93% and the 10yr Bund has gone sub 20bp again. In the final 30 minutes of the trading the DOW and S+P have gone positive closing on a very constructive run. This will be interesting to watch next week's events as we have NFP's on Friday also.
The bid for safety continued as Le Pen vote continues to grow. Some of the big names are quoting low odds for the vote but many remain wary especially after Brexit and Trump's surprises. The bids for bonds into the weekend was relentless which shows how nervous the markets are becoming. US 2's closed 1.14% (-4bp) and 10's 2.32% (-5bp); with Bunds 0.18% (-5bp) puts spread unchanged at +214bp. Italy 2.18% (-2bp), Greece 6.98% (-11bp), France 0.92% (-5bp), Turkey 10.52% (+9bp) and Gilts 1.07% (-8bp).