Blog/Market Talk
Posted Feb 23, 2017 by Martin Armstrong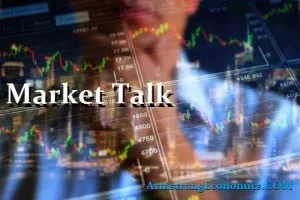 A little rest and relaxation is a good thing and that is what Asian equity markets gave us today. Having seen the US markets set even more new highs rather than retrace the nerves were truly set after the comments alluding to the March rate rise. All core indices drifted with Nikkei, Shanghai, and Hang Seng all settling marginally softer, down roughly -0.3%. With a stronger Yen in late US trading (mid 112's), the Nikkei has lost an additional -0.35% but again volumes remain light.
Even in Europe markets felt like they were treading water as economic data was soft, at best and at worst was disappointing. German Sentiment Index was released at 10 but was forecast at 10.1 (previous was 10.2) and GDP YoY was unchanged from previous at 1.2%, but had been expected at 1.6%. GBP was not alone rallying against the USD today (+0.75%) with the Euro showing small signs of a recovery together with TRY, JPY, A$ and RUB although many gave back just ahead of the US close. FED minutes were digested overnight and the market interpretation was apparently a little softer than first envisaged and coupled with later tax changes than first thought, has seen USD weakness today. Much of this came from Treasury Secretary Steven Mnurchin in an interview at the start of the day's trading. A lot of talk also surrounding the clearing of financial products in London as negotiations over Brexit continue to heat up. There has also been talk of a Euro 60bn fine allocated to the UK because it dare decide to leave – I guess we can expect a lot more of this in the hope of scaring French voters!
US initially hit new highs but drifted into the close. What was interesting today was that both stocks and bonds rallied, even into supply, whilst other core currencies rallied. Money still appears to be going to the US even on quiet trading days. Normally, the longer we wait for news the less effect it has. However, that's when the media is working for you. In today's market, we see the opposite in action so the longer it takes it is more likely the larger the impact. Tax reforms, regulation changes, and infrastructure spending are all anxiously awaited by all.
A good day for fixed-income as the flight to safety returned, as did the curve flattening. 2's closed 1.18% (-4bp), 10's at 2.37% (-5bp) and Bunds at 0.23% (-5bp) closes the spread at +214bp. ITALY 2.20%, Greece 7.09% (U/C), France 0.97% (-4bp), Turkey 10.43% (-3bp), Portugal 3.92% (+1bp) and UK Gilts 1.15% (-5bp).