Blog/Market Talk
Posted Feb 22, 2018 by Martin Armstrong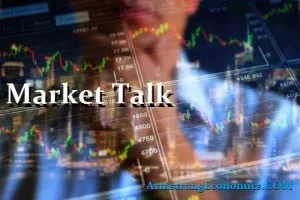 We saw a mixed session in Asia which is not so surprising having seen a total reversal of US stocks gains in the final hour of trading. Yesterday's 300 point gain ended with a 167 point decline proved the uncertainty Asia really didn't need. The Yen continues to be the harbor of safety gains on every wobble and even now trades around the 107 level. The Nikkei lost 1% having opened around that level and was only a matter of a couple of small moves that we closed at opening levels.
The currency is telling us more of what is going on than stocks recently. The confusion persists with even the FED Minutes showing signs of doubt. The US short-term rates (2yrs) hit 2.28% yesterday which sounds cheap against Japan 2's (-0.15%) but are not that far away after the currency hedge cost. Even in late US trading stocks are seeing buyers appear as Asian and European shares continue to suffer.
The capital flow is alive and kicking but many only saw the day to day movements and attempt to explain away without addressing the theme/trend. China is seeing strong domestic demand but continues to play catch-up with investments into the Hang Seng expanding. Volumes remain low but are having an increased efficiency as the theme is to discourage equity speculating.
Europe spent much of today's trading in negative territory but rallied only at the close reflecting the strength seen in US markets. Despite the 4% rally in Barclays shares today upon the announcement of results, the FTSE still closed down -0.4%. It continues to look as though capital continues to leave the UK even as the currency bounces. Even the utility sector over performed but the general weakness was due mostly to the decline in retail.
Much of core Europe spent the morning lower after the German IFO data disappointed with a below market consensus. Interesting some of the moves seen in the peripheral bond markets today. Seemed as though it was only the core that was really supported whilst the periphery, noticeably Italian BTP's) were weaker across the spectrum.
Talk in the US markets apparently still seems to the discussions surrounding the FED's next move. The minutes were not compelling in either direction as the street continued the topic today. From early losses, the DOW recovered over 300 points and a small positive for the S&P, but similar to yesterday we witnessed a decline for the NASDAQ into the close.
One of the most talked arenas today was the bond market and the fact 10's rejected, with conviction, the psychological 3% level.
Japan 0.05%, US 2's closed 2.25% (-2bp), 10's 2.92% (-3bp), 30's 3.20% (-3bp), Bunds 0.7% (-4bp), France 0.98% (-3bp), Italy 2.07% (+3bp), Greece 4.28% (-4bp), Turkey 11.58% (+4bp), Portugal 2% (+3bp), Spain 1.51% (+1bp), and Gilts 1.54% (-1bp)