Blog/Market Talk
Posted Feb 22, 2017 by Martin Armstrong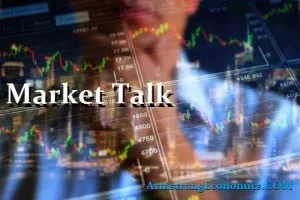 Having seen the US markets set new record highs, most Asian indices followed the momentum. Many dealers said the euphoria can take us only so far, then we look for substance and they were hoping for that from tonight's FED minutes release. The Nikkei retraced much of Wednesday strength but interestingly enough remained within the range. Late in US trading, the index lost ground after the reports that FED hike is edging closer to a done deal for March to hit the recovery. The JPY however, continues to play around the 113 level – the stronger end of the day's range. Despite Toshiba shares rallying 22.45%, the Nikkei managed an almost unchanged close. The Hang Seng closed strong (+0.9%) as confidence support from large cap's drifted eastward from the west, which also boosted Shanghai but only +0.2% firmer. Currency is the main driver for much of the US indices move which is confusing a lot of players around the globe. Why bonds and stocks are moving together is a recurring question we receive daily.
UK and European data was mildly better than expected today which helped sentiment, temporarily. The German IFO came in better than the 109.6 expected and printed at 111 instead. While in the UK the Q/Q GDP was released at 0.7% with expectations at +0.6%. However, the Y/Y figure came in at 1.8% rather than the expected 2%; which provided mixed messages. It did also push the UK back into second place within Europe, as Germany's 1.9% manages a first. GBP understandably came under some pressure but held in reasonably well, for now, closing just 0.5% lower on the day (against the Euro). DAX, CACA and FTSE all closed around +0.3% firmer setting fresh yearly highs. Nerves and geopolitical uncertainty continue to weigh on peripheral markets and today IBEX lost ground as the government attempted to reissue 15yr paper. Interestingly, the Bund market traded higher (price terms) as flight to safety remains the name of the game especially as we see the Euro trades at six week lows (104.90). Nine weeks to go until the French elections, markets hate uncertainty.
A nervous equity market awaited the FED minutes only to rally into the close "after" further speculation the FED raises in March. Indices closed with little movement (DOW up just 20 points) but that was good considering oil dropped over 1.4% late in the day. Even after the 5yr note auction didn't spur much action but prices were drifting anyway.
US 2yrs closed 1.22% (+1bp), 10's closed 2.42% (-1bp) and Bunds at 0.28% (-2bp) – this closes the US/Bund spread at +214bp. Greece 10's 7.09% (+10bp), France 10's closed 1.01% (-7bp), Turkey 10.46% (-9bp), Portugal 3.92% (-5bp) and UK 10's at 1.20% (-3bp).