Blog/Market Talk
Posted Feb 21, 2019 by marty armstrong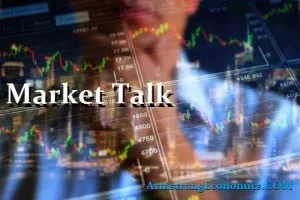 Asia:
Reports from Asia state that China is proposing an agricultural deal worth up to 30 bn a year. This would mean that China would have to source products from the US such as soybeans, corn and wheat. However, this news has failed to inspire any excitement in the Chinese markets today as the Shanghai slipped 34 bps, however the Japanese Nikkei rose 15 bps.
The KOSPI lost 5bps today and the Hang Seng rose 41 bps.
Other news from China was that the Dalian port banned coal imports from Australia today and it plans to cap imports to 12 million tons in 2019. This potentially was one of the causes which sent the Aussie Dollar down 1.1% against the dollar. This could be the start of recent tensions between the two countries as Australia's recent move to block Huawei and ZTE from building 5G infrastructure with cyber security concerns being cited as the reason.
Asian currencies were mixed today, with the JPY, HKD increasing against the dollar but the CNY, NZD and AUD failing to do so.
Gold and silver slipped 53 and 85bps accordingly, but in effect increased the gold/silver ratio.
Not so much economic news from the region today, as Indonesia was the only country to report, leaving interest rates maintained at 6%.
Europe:
The FTSE was the big mover today losing 85bps today, in contrast we saw DAX increase by 19 bps. The CAC found itself in the middle moving up around 7bps.
More Brexit news out today, where Trade Secretary Liam Fox has reported that the Japanese Trade deal will be late in time for Brexit. Other news was Income from taxes beat public spending by £14.9bn in January, the largest monthly surplus since records began in 1993.
The euro and the GBP strengthened against the dollar today, with the euro gaining 13bps and the GBP 18 bps.
Lots of economic news released in the Eurozone – CPI in France slipped another half a percentage point in the month of January. This brings the YoY figure to 1.2%. The French Manufacturing PMI increased slightly from 51.2 to 51.4, where experts believed it would have declined. This a positive welcomed turnaround from what seems to be an international manufacturing decline.
German CPI decreased 0.8% MoM and increased 1.4%. In contrast to the French Manufacturing PMI, the German slipped from 49.7 to 47.6 again defying those experts who suggested a number of 50. The services sector did increase from 53.0 to 55.1.
Italian CPI increased 0.1% MoM and 0.9% YoY. UK public spending as mentioned above did very well and lastly the Spanish trade balance is -3.25Bn.
U.S./Americas:
Some more weak U.S. economic data led to most major U.S. indexes declining during today's trading session. The Dow (25850.63 close, -0.40%) and S&P 500 (2774.88, -0.35%) both closed lower, but off the lows of the day. After barley notching an eight-day winning streak yesterday, the Nasdaq Composite closed the day down -0.39% (7459.71 close). The mid-caps weren't spared, as the Russell 2000 also dropped by -0.39% (1575.55 close).
Leading economic indicators declined 0.1 percent in January. Some are blaming the 35-day government shutdown that lasted from late December into January for decline in economic activity. This news comes just one day after the Federal Reserve announced a pause on rate hikes.
Chinese and American trade negotiators are still working to outline terms ahead of the March 1 deadline before tariffs would supposedly increase to 25% (but, as President Trump said earlier this week, there's no "magical date" for the U.S. – China trade deal). The latest has both sides are attempting to solidify a memorandum of understanding (MOU) around key issues such as intellectual property, currency, agriculture, cyber security, and non-tariff trade barriers. While MOU's aren't really the same as a legally binding, ratified agreement, it is a common first step. We'll continue to see how things progress.
The USD increased 0.14% to 96.5914 from 96.4540 in the previous trading session. The USD/CAD increased slightly by 0.16% to 1.3196 from 1.3174.
Bank of Canada Governor Stephen Poloz's announced that current interest rates, below the inflation level of 1.75%, could help to stimulate the Canadian economy. Poloz also stated that future rate hikes remain "highly uncertain" at the moment.
The TSX Composite (-0.19%) and TSX 60 (-0.20%) both declined, closing at 16000.86 and 955.18 respectfully.
The Bovespa mostly recovered from yesterday's decline, rising by +0.40% and closing at 96932.27.
Energy:
Crude increased 25bps and Brent was flat today, residing at 57.03 and 66.97 per barrel. EIA report issued stated that oil inventories rose by 3.67m barrels last week. This shows that inventories were rising two weeks in a row, suggesting an oversupply in the market.
Bonds:
3,5,10-year Spanish Bonds were on offer today, all selling below 10 bps of the previous auction. French BTAN 3 and 5 year were sold at -0.34% and -0.09%.
The US 4– week bill auction today sold at 2.390%. 8 week and 30 year due to be issued today.
Japan -0.04%(-0bp), US 2's 2.53% (+3bps), US 10's 2.69%(+4bps), US 30's 3.04%(+5bps), Bunds 0.12% (+2bp), France 0.54% (+1bp), Italy 2.85% (-1bp), Turkey 14.84% (+20bp), Greece 3.79% (+2bp), Portugal 1.52% (+0bp), Spain 1.22% (+1bp) and UK Gilts 1.20% (+2bp).