Blog/Market Talk
Posted Feb 21, 2018 by Martin Armstrong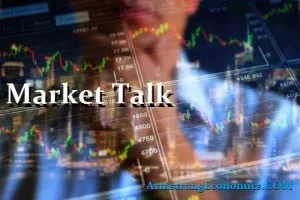 On the whole a positive session for Asia with the Hang Seng probably the stand-out performer on the day. Closing up almost 2% gains were led by financials, bouncing after yesterdays nerves, but also a strong performer were energy/chemicals and property sector's with Country Garden (+5.6%) and China Petro-Chem (+3.7%). Shanghai market remains closed for holidays. The Yen was very quiet overnight and even now still plays mid 107's, so did not have too much direct impact or influence on the Nikkei. having spent all morning trending higher we saw a reverse into negative territory after lunch on more BOJ talk. However, by close of business we settled just a smidgen better up +0.2% with utilities lending a hand. SENSEX traded relatively well with tech and consumers lifting gains. Talk is the RBI is showing concerns around companies overseas borrowing and its relationship with the Rupee's increased volatility! Maybe they will also look at BITCOIN activity too.
Interesting that the UK's FTSE bounced back (+0.6% – ok, only a little) but at the detriment of the currency (GBP -0.5%). The big topic is always going to be BREXIT and that is obviously here for another year yet! Headlines will continue to drive prices but looks as though the negative appears news appears to be creeping in. Other core Europe hit their lows mid morning and benefitted off the back of the positive US opening. IBEX however, did not join the rally and closed down almost 1%, Iberdrola and Acciona both trading over 2% lower. DAX and CAC almost off-set each other with FTSE MIB also closing small down. At the close much of the talk surrounds the FED minutes due after European trading hours and so will be reflected in closing US and Asia's overnight trading.
Early futures losses were quickly reeled back-in once the cash market opened and the DOW raced up around 150 points before levelling back around +75. As we await the FED minutes, the USD continues to climb with DXY now pushing higher towards with the 90 handle for a couple of days now. FED Minutes release saw a whip-saw reaction with the DOW rallying over 300 points. However, that was to be short lived and soon the DOW was back in negative territory and the close (-160 points) does not look constructive! Sentiment remains focused on the bond market and there yields are being hit on both wings of the curve. DXY looking to have confirmed its timing….
Japan 0.05%, US 2's closed 2.27% (+5bp), US10's 2.95% (+6bp), 30's 3.23% (+8bp), Bunds 0.74% (u/c), France 1.01% (+1bp), Italy 2.04% (-2bp), Greece 4.32% (+3bp), Turkey 11.54% (-5bp), Portugal 1.97% (-5bp), Spain 1.50% (-2bp), Gilts 1.55% (-6bp). Remember that European yields closed before FED Minutes were released. We will need to see Thursdays open before we see the extent that spreads have moved. It will be interesting to see how the battle between the Central Banks plays out! Worth keeping a very close eye on High Yield funds, but especially ETF funds. Can't imagine there is much new cash destined for that market!