Blog/Market Talk
Posted Feb 20, 2020 by Martin Armstrong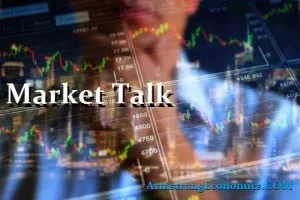 ASIA:
The slowdown in India's economy has taken a toll on the savings of its citizens and that has resulted in the country's savings rate falling to a 15-year low. India's gross savings fell to 30.1% of the GDP in 2018-19 from 34.6% in 2011-12 and 36% in 2007-08. The previous low was 29% in 2003-2004. Indian households contribute to about 60% of the country's savings, but household savings as a percentage of GDP have fallen from 23% in 2012 to 18% last year. The reason for this could be either Indian citizens are buying more things (but slowing down in consumption is one of the reasons for the economic slowdown) or paying more for services like health and education which have become costlier. The country's gross savings plays a huge role for the economy to grow at a higher rate by making investments using low cost funds.
India's Reliance Industries Limited, a key buyer of Venezuelan oil, said it was assessing the impact of the latest US sanctions on Rosneft Trading SA (RTSA), the Geneva-based trading unit of Rosneft that supplies oil to the private refiner. US President Donald Trump on Tuesday imposed sanctions on the trading arm of Russian oil major Rosneft which has been the largest intermediary of Venezuelan oil, as Washington targeted Moscow over its backing of Venezuelan President Nicolas Maduro's government.
Nearly half of China's population (more than 780 million people) are currently living under various forms of travel restrictions as authorities race to contain the spread of a deadly coronavirus. The virus has killed 1,770 people and infected another 70,000 in mainland China.
The International Air Transport Association (IATA) has said the total global lost revenue for airlines could be $29.3 billion due to coronavirus. IATA announced that its initial assessment of the impact of the novel coronavirus 2019 outbreak shows a potential 13% full-year loss of passenger demand for carriers in the Asia-Pacific region.
Pakistan declared a national emergency after the nation's worst locust onslaught in two decades, which battered 40% of the crops in the country that is already grappling with its highest inflation rate in 12 years. India and China have joined hands to help Pakistan in this matter. After considering importing insecticides from India, Pakistan may get neighboring China's help in fighting one of its worst locust outbreaks by importing pesticides.
The Japanese government partnered with leaders of the auto industry in an attempt to mitigate any damage done to the industry due to the coronavirus. They have called this new group "New Coronavirus Countermeasures Automobile Council."
The major Asian stock markets had a mixed day today:
NIKKEI 225 increased 78.45 points or 0.34% to 23,479.15
Shanghai increased 54.75 points or 1.84% to 3,030.15
Hang Seng decreased 46.65 points or -0.17% to 27,609.16
ASX 200 increased 17.90 points or 0.25% to 7,162.50
Kospi decreased 14.84 points or -0.67% to 2,195.50
SENSEX decreased 152.88 points or -0.37% to 41,170.12
The major Asian currency markets had a mixed day today:
AUDUSD decreased 0.0067 or 1.00% to 0.6616
NZDUSD decreased 0.0054 or 0.85% to 0.6334
USDJPY increased 0.8360 or 0.75% to 112.0650
USDCNY increased 0.0376 or 0.54% to 7.04582
Precious Metals:
Gold increased 8.51 USD/t oz. or 0.53% to 1,617.22
Silver decreased 0.0557 USD/t. oz or -0.30% to 18.3577
Some economic news from last night:
Australia:
Employment Change (Jan) decreased from 28.9K to 13.5K
Full Employment Change (Jan) increased from -0.3K to 46.2K
Participation Rate (Jan) increased from 66.0% to 66.1%
Unemployment Rate (Jan) increased from 5.1% to 5.3%
New Zealand:
PPI Input (QoQ) (Q4) decreased from 0.9% to 0.1%
PPI Output (QoQ) (Q4) decreased from 1.0% to 0.4%
China:
PBoC Loan Prime Rate decreased from 4.15% to 4.05%
Japan:
Foreign Bonds Buying decreased from 1,635.1B to 1,420.5B
Foreign Investments in Japanese Stocks decreased from 283.7B to -214.4B
South Korea:
PPI (MoM) (Jan) decreased from 0.3% to 0.2%
PPI (YoY) (Jan) increased from 0.7% to 1.0%
Some economic news from today:
India:
FX Reserves, USD remain the same at 473.00B
Indonesia:
Deposit Facility Rate (Feb) decreased from 4.25% to 4.00%
Lending Facility Rate (Feb) decreased from 5.75% to 5.50%
Interest Rate Decision decreased from 5.00% to 4.74%
China:
Chinese Total Social Financing (Jan) increased from 2,103.0B to 5,070.0B
M2 Money Stock (YoY) (Jan) decreased from 8.7% to 8.4%
New Loans (Jan) increased from 1,140.0B to 3,340.0B
Outstanding Loan Growth (YoY) (Jan) decreased from 12.3% to 12.1%
Hong Kong:
CPI (YoY) (Jan) decreased from 2.90% to 1.40%
EUROPE/EMEA:
European Union is pushing to promote technology companies to thrive in the union after they recognized they are falling behind the likes of Google, Microsoft, as well as Chinese companies. They recently held a summit where they said they wish to regulate data and AI more effectively.
The UK gave the green light to Chinese company Huawei to start developing on the 5G network. Huawei has since opened up a 5G innovation center in London, with a spokesman boasting they are the only vendor in the world who can viably offer 5G networks for limited site usage.
Sadiq Khan the Mayor of London has met with officials in Brussels this week as he discusses the impact of Brexit on the city of London. He stressed to the politicians that he hopes London still plays a vital role in Europe. He also tried to pitch the idea of allowing UK citizens to opt into a European citizenship program which would allow the freedom of movement within the EU.
The major Europe stock markets had a negative day today:
CAC 40 decreased 48.94 points or -0.80% to 6,062.30
FTSE 100 decreased 20.38 points, or -0.27% to 7,436.64
DAX 30 decreased 125.00 points or -0.91% to 13,664.00
The major Europe currency markets had a mixed day today:
EURUSD decreased 0.0021 or 0.20% to 1.0787
GBPUSD decreased 0.0043 or 0.34% to 1.2878
USDCHF increased 0.0005 or 0.05% to 0.9841
Some economic news from Europe today:
Euro Zone:
Consumer Confidence (Feb) increased from -8.1 to -6.6
UK:
Core Retail Sales (MoM) (Jan) increased from -0.8% to 1.6%
Core Retail Sales (YoY) (Jan) increased from 0.7% to 1.2%
Retail Sales (MoM) (Jan) increased from -0.5% to 0.9%
Retail Sales (YoY) (Jan) decreased from 0.9% to 0.8%
Spain:
Spanish Trade Balance decreased from -1.86B to -2.09B
France:
French CPI (YoY) remain the same at 1.5%
French CPI (MoM) (Jan) decreased from 0.4% to -0.4%
French HICP (MoM) (Jan) decreased from 0.5% to -0.5%
French HICP (YoY) (Jan) increased from 1.6% to 1.7%
Germany:
German PPI (YoY) (Jan) increased from -0.2% to 0.2%
German PPI (MoM) (Jan) increased from 0.1% to 0.8%
GfK German Consumer Climate (Mar) decreased from 9.9 to 9.8
Swiss:
Trade Balance (Jan) increases from 1.975B to 4.778B
US/AMERICAS:
Robinhood, the commission-free trading app, announced plans to combine their platform into a social media-trading hybrid. Users will soon have the ability to create profiles, complete with pictures and bios, and share their portfolios with other users. The idea behind the role of social media is to crowdsource trading strategies, but this certainly comes with a heightened risk as misinformation could easily spread among the mostly young and inexperienced user base. "The stock market is inherently social," co-CEO Baiju Bhatt said. "From the days of open outcry in the pit it's always been about humans interacting and transacting. What we've got in our product right now is the beginning of a much longer product focused on social."
Morgan Stanley will acquire E-Trade to the tune of $13 billion. E-Trade currently hosts five million clients with a combined $360 billion in assets. The acquisition is an attempt to target retail clients, especially after many brokerages turned to commission-free trading platforms. CEO James Gorman told reporters at CNBC that he was first "intrigued" with the fact that "there was always going to be segments of clients who only want to do [trades] electronically and digitally. It was always buy verses build."
The Federal Bureau of Investigation (FBI) purchased $40,000 worth of face masks and hand sanitizers this Thursday. The materials will be distributed and stored throughout the nation to prepare for a potential pandemic. Although there have only been a few cases of the virus in the US, the agency wants to be prepared if matters worsen.
US Market Closings:
Dow declined 128.05 points or -0.44% to 29,219.98
S&P 500 declined 12.92 points or -0.38% to 3,373.23
Nasdaq declined 66.21 points or -0.67% to 9,750.96
Russell 200 advanced 3.5 points or 0.21% to 1,696.07
Canada Market Closings:
TSX Composite advanced 18.7 points or 0.1% to 17,944.06
TSX 60 advanced 1.01 points or 0.09% to 1,069.29
Brazil Market Closing:
Bovespa declined 1,931.35 points or -1.66% to 114,586.24
ENERGY:
EIA reported a build in Crude of 414k barrels compared to an estimate of 2.4m barrels, which helped sustain the rally with Brent crude nearing 60 USD per barrel.
The oil markets had a mixed day today:
Crude Oil increased 0.44 USD/BBL or 0.83% to 53.7178
Brent increased 0.17 USD/BBL or 0.29% to 59.2700
Natural gas decreased 0.0539 USD/MMBtu or -2.74% to 1.9100
Gasoline decreased 0.0115 1USD/GAL or -0.69% to 1.6636
Heating oil decreased 0.0143 USD/GAL or -0.84% to 1.6936
Top commodity gainers: Crude Oil (0.83%), Steel (1.43%), Bitumen (0.84%), and Lumber (0.54%)
Top commodity losers: Platinum (-2.76%), Palm Oil (-6.76%), Natural Gas (-2.74%), and Coffee (-2.53%)
The above data was collected around 16.15 EST on Thursday.
BONDS:
Japan -0.04%(+1bp), US 2's 1.39% (-3bps), US 10's 1.52%(-5bps); US 30's 1.97%(-4bps), Bunds -0.44% (-2bp), France -0.21% (-3bp), Italy 0.92% (-2bp), Turkey 11.71 % (+37bp), Greece 0.98% (+1bp), Portugal 0.22% (-0bp); Spain 0.24% (+2bp) and UK Gilts 0.58% (-2bp).
French 3-Year BTAN Auction decreased from -0.53% to -0.59%
French 5-Year BTAN Auction decreased from -0.38% to -0.50%
Spanish 10-Year Obligacion Auction decreased from 0.347% to 0.240%
US 4-Week Bill Auction increased from 1.560% to 1.575%
US 8-Week Bill Auction increased from 1.565% to 1.570%
US 30-Year TIPS Auction decreased from 0.501% to 0.261%