Blog/Market Talk
Posted Feb 20, 2017 by Martin Armstrong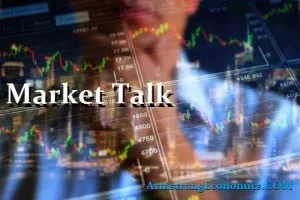 A fairly quiet start to the week for most of Asia with the Nikkei closing with virtually no movement. The Nikkei was weak just after the opening down just over -0.5% but as the JPY lost ground, the index recovered. Initial price action was poor given the Trade data release (-1.3% given forecasts were 4.7%) with the actual Trade Balance forecast at JPY -636.8Bn but the actual release came in at JPY -1086.9Bn. The Yen initially gained ground but as the day wore-on lost most of it from mid 112's to current mid 113's. Shanghai had one of its best days in a long while today (+1.2%) after talk that the pension industry may be moving larger amount of money into this area, after late news Friday that the government had taken measures to halt excessive corporate fund raising. Talk is that companies private share placement plan must not exceed 20% of its share capital. Chinese companies continue to hit the news after todays announcement that CNPC had been awarded a 4% stake in the onshore oil venture by ADNOC (Abu Dhabi National Oil Company). This creates a combined 12% share in the project which leaves Adnoc still with a 60% holding.
Despite two of the most volatile shares being in the UK's FTSE today, the index closed little changed. Initially, RBS shares rose over 7% this morning after it was announced that the bank would not be selling Williams and Glyn banking unit, which removes a big obstacle and may allow it to pay dividends once again (cutting government stake). This is especially good this morning as European banks have been weak with Soc Gen, BNP Paribas and Deutsche Bank all down around 2.5%/3%. Talk is the loss expected for RBS in 2016 should be in the order of £6.5bn and estimates the total loss since the 2008 crisis to around £58bn. The other turbulent share was Bovis (Home builder) on low profits and poorer expectations; shares closed down 10.23% at 755. DAX and IBEX both finished better whilst CAC closed small down. Eurozone Consumer Confidence continues to disappoint with a negative 6.2% compared to the previous -4.7. Lots of headlines surrounding the Greece crisis but very much along the same old lines.. Change whatever rules we have to in order they pay – but don't let them leave! Extremely sad situation continues.
In the US the sentiment continues to be questioned despite ever more record highs being set for futures trading. More and more talk of buyers waiting for the correction – but only for them to buy! So many have missed this rally and can't bring themselves to jump aboard. Futures markets looking good late this evening.
Last seen US 2's 1.19% (u/c), 10's 2.41%. Bund 0.29% (-1bp), Italy 2.16% (-1bp), Greece 7.27% (-31bp), Turkey 10.56% (-9bp), France 1.05% (+2bp), Portugal 3.94% (-2bp) and Gilts 1.23% (+2bp).