Blog/Market Talk
Posted Feb 19, 2020 by Martin Armstrong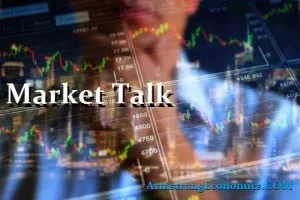 ASIA:
US President Donald Trump has said Washington is in no hurry to sign a big trade deal with India and he is saving the big deal for later on. There was an expectation that India and the US would sign a trade deal next week during President Trump's maiden visit to Asia's second-largest economy. During this visit, President Trump will also inaugurate the largest cricket stadium in the world, Sardar Vallabh Bhai Patel Stadium in Motera, Gujrat, which is the home state of India's prime minister Narendra Modi.
Indian business leaders are calling for cuts in import duties on antibiotic drugs, mobile parts, and other items to help cope with the fallout from the coronavirus outbreak which has disrupted supplies from China, government and industry officials said. According to the Confederation of Indian Industries (CII) the outbreak of the virus in China has hit India's manufacturing and exports of medicines, electronics, textiles, and chemicals as China is the biggest source of intermediate goods, worth $30 billion a year.
China has decided to expel three Wall Street Journal (WSJ) reporters from the country, marking a sharp escalation in pressure on foreign media in the country. This is the first incident in more than two decades since China directly expelled foreign reports. The expulsions come amid a domestic crackdown on freedom of speech as China battles the coronavirus epidemic. The Chinese foreign ministry said it had ordered the reporters to leave within five days after their paper declined to apologize for an opinion piece calling China the "real sick man of Asia," which was widely seen as racist. None of the trio had any role in writing or editing the article.
German sportswear firm Adidas experienced a drop of 85% in their business activity in China when compared to the same period a year earlier, citing a material negative impact from the coronavirus outbreak. It comes at a time when many in the sporting goods industry are deeply concerned about the potential economic impact of China's fast-spreading virus. Puma has also reported that the coronavirus outbreak has negatively impacted their business since the beginning of February.
Singapore has ordered Facebook to block news site page States Times Review as the news site had broken a newly introduced "fake news" law and repeatedly conveyed "falsehoods." The law known as the Protection from Online Falsehoods and Manipulation bill (POFMA) – came into effect in October. Facebook has raised concerns on this order and said this directive could stifle "freedom of expression."
The major Asian stock markets had a mixed day today:
NIKKEI 225 increased 206.90 points or 0.89% to 23,400.70
Shanghai decreased 9.57 points or -0.32% to 2,975.40
Hang Seng increased 125.61 points or 0.46% to 27,655.81
ASX 200 increased 30.90 points or 0.43% to 7,144.60
Kospi increased 1.46 points or 0.07% to 2,210.34
SENSEX increased 428.62 points or 1.05% to 41,323.00
The major Asian currency markets had a mixed day today:
AUDUSD decreased 0.0014 or 0.21% to 0.6675
NZDUSD decreased 0.0006 or 0.10% to 0.6379
USDJPY increased 1.47 or 1.34% to 111.35
USDCNY increased 0.0084 or 0.12% to 7.0130
Precious Metals:
Gold increased 7.38 USD/t oz. or 0.46% to 1,609.84
Silver increased 0.1614 USD/t. oz or 0.89% to 18.3392
Some economic news from last night:
Australia:
MI Leading Index (MoM) increased from 0.0% to 0.1%
Wage Price Index (YoY) (Q4) remain the same at 2.2%
Wage Price Index (QoQ) (Q4) remain the same at 0.5%
Japan:
Core Machinery Orders (YoY) (Dec) decreased from 5.3% to -3.5%
Core Machinery Orders (MoM) (Dec) decreased from 18.0% to -12.5%
Exports (YoY) (Jan) increased from -6.3% to -2.6%
Imports (YoY) (Jan) increased from -4.9% to -3.6%
Trade Balance (Jan) decreased from -154.6B to -1,312.6B
EUROPE/EMEA:
The EU has asked the UK to give back some marble sculptures to Greece as part of a trade deal that will be signed between the two. The sculptures called Elgin Marbles are currently housed in the British museum and were taken lawfully more than 200 years ago, according to the UK. The UK indicates that the request shows the EU's unwillingness to seek an amicable arrangement.
The European Commision is entering a 12 week period of discussions surrounding the regulations of AI. The US will also be monitoring the talks to see if they will also impose measures on the new developments of AI to protect its citizens. Also regarding data, the EU is proposing that big tech firms will be required to share data.
The EU budget is causing some discomfort with those richer nations who are being asked to stump up more funds in order to fulfill the funds lost from Brexit, equating to approximately 70 billion euros. Currently, the nations are being asked to up their allocation to 1.11% from 1%.
The major Europe stock markets had a green day today:
CAC 40 increased 54.42 points or 0.90% to 6,111.24
FTSE 100 increased 75.01 points, or 1.02% to 7,457.02
DAX 30 increased 107.81 points or 0.79% to 13,789.00
The major Europe currency markets had a mixed day today:
EURUSD increased 0.0002 or 0.02% to 1.0806
GBPUSD decreased 0.00868 or -0.67% to 1.29152
USDCHF increased 0.0017 or 0.18% to 0.9838
Some economic news from Europe today:
Euro Zone:
Construction Output (MoM) (Dec) decreased from 0.74% to -3.10%
Current Account (Dec) increased from 32.4B to 32.6B
Current Account n.s.a. (Dec) increased from 35.2B to 51.2B
UK:
Core CPI MoM (MoM) (Jan) decreased from 0.2% to -0.6%
Core CPI (YoY) (Jan) increased from 1.4% to 1.6%
Core PPI Output (YoY) (Jan) decreased from 0.9% to 0.7%
Core PPI Output (MoM) (Jan) increased from -0.1% to 0.1%
Core RPI (MoM) (Jan) decreased from 0.3% to -0.4%
Core RPI (YoY) (Jan) increased from 2.2% to 2.8%
CPI (MoM) (Jan) decreased from 0.0% to -0.3%
CPI (YoY) (Jan) increased from 1.3% to 1.8%
CPI, n.s.a (Jan) decreased from 108.50 to 108.20
PPI Input (MoM) (Jan) remain the same at 0.9%
PPI Input (YoY) (Jan) increased from 0.9% to 2.1%
PPI Output (YoY) (Jan) increased from 0.9% to 1.1%
PPI Output (MoM) (Jan) increased from -0.2% to 0.3%
RPI (YoY) (Jan) increased from 2.2% to 2.7%
RPI (MoM) (Jan) decreased from 0.3% to -0.4%
US/AMERICAS:
The Federal Reserve released their minutes report this Wednesday in which they reiterated their decision to hold the benchmark rate, but stated they will remain flexible to change course if conditions alter drastically. The central bank anticipates the economy growing, albeit at a "modest pace." The volatility due to trade uncertainties has diminished compared to last year when the US-China trade war tugged at the global markets. However, global growth stabilization is of high concern due to the coronavirus outbreak in China. Furthermore, the Fed would like inflation to return to 2% and are still deliberating over potential strategies to achieve that goal.
Corroborating Dallas Fed President Robert Kaplan's comments yesterday, Minneapolis Federal Reserve Bank President Neel Kashkari stated this Wednesday that he anticipates rates to remain in place for "a while." Some analysts have stated they expect the Fed to lower rates before September. Kashkari voiced concerns over the coronavirus, stating that the US will not be immune to the global slowdown that occurred this quarter.
Wikileaks whistleblower Julian Assange made headlines again today after his lawyer claimed that President Trump offered Assange if he denied that Russia hacked the Democratic National Committee (DNC) during the 2016 presidential election. White House Press Secretary Stephanie Grisham denied the claim and stated that it was likely "another never-ending hoax and total lie from the DNC."
CEO of the Ontario Chamber of Commerce Rocco Rossi admitted Canada's economy has been hit by the coronavirus, but the full impact has yet to be seen. "The outbreak of the coronavirus (COVID-19) has so far had a minimal effect on both the Canadian and Ontario economies. However, given the length of supply chain cycles, we may not see the full impact of the disruption for some months," Rossi commented.
US Market Closings:
Dow advanced 115.84 points or 0.40% to 29,348.03
S&P 500 advanced 15.86 points or 47% to 3,386.15
Nasdaq advanced 84.44 points or 0.87% to 9,817.18
Russell 2000 advanced 9.05 points or 0.54% to 1,692.57
Canada Market Closings:
TSX Composite advanced 67.02 points or 0.38% to 17,925.36
TSX 60 advanced 4 points or 0.40% to 1,068.28
Brazil Market Closing:
Bovespa advanced 1,540.30 points or 1.34% to 116,517.59
ENERGY:
The EIA is estimating a surplus of 3.3 million barrels as well as slashing the 2020 global damand for oil.
Meanwhile, the US imposed sanctions on Russian company Rosneft for being in breech of dealing with Venezuela, which helped pushed the crude oil price to 3 week highs.
The oil markets had a mixed day today:
Crude Oil increased 1.29 USD/BBL or 2.48% to 53.3498
Brent increased 1.37 USD/BBL or 2.37% to 59.0779
Natural gas decreased 0.0002 USD/MMBtu or -0.01% to 1.9720
Gasoline increased 0.0542 1USD/GAL or 3.37% to 1.6629
Heating oil increased 0.0386 USD/GAL or 2.31% to 1.7031
Top commodity gainers: Crude Oil (2.48%), Brent (2.37%), Gasoline (3.37%), and Lumber (3.27%)
Top commodity losers: Coal (-1.12%), Palm Oil (-1.67%), Rubber (-1.64%), and Ethanol (-0.91%)
The above data was collected around 15:30 EST on Wednesday.
BONDS:
Japan -0.04%(+1bp), US 2's 1.42% (+1bps), US 10's 1.57%(+1bps); US 30's 2.01%(+1bps), Bunds -0.42% (-1bp), France -0.18% (-1bp), Italy 0.93% (-0bp), Turkey 11.25 % (+8bp), Greece 0.97% (-58bp), Portugal 0.23% (-0bp) Spain 0.27% (+3bp) and UK Gilts 0.61% (-1bp).
     German 30-Year Bund Auction decreased from 0.310% to 0.070%