Blog/Market Talk
Posted Feb 18, 2020 by Martin Armstrong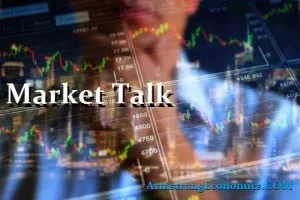 ASIA:
President Donald Trump strongly objected to efforts being taken by his own administration to restrict the sales of American technology to China over national security concerns. Contradicting his advisors, he insisted that such fears were an "excuse" and reaffirmed his commitment that the United States is open for business.
Singapore's Finance Minister Heng Swee Keat on Tuesday said that it has reserved USD 4 billion aside in the coming year to help businesses and households tide through the ongoing coronavirus outbreak. Singapore has reported one of the highest numbers of coronavirus — now known as COVID-19 — infections outside China. As of Monday at noon, Singapore has had 77 confirmed cases, 24 of which have been discharged, said its Ministry of Health.
India's Supreme Court has delivered a landmark decision on Tuesday which now makes all women officers in the Indian Army eligible for permanent commissions, allowing them to be in commanding roles. The ruling means that all women officers will now be on par with men when it comes to promotions, ranks, benefits, and pensions. This ruling is another step towards the equality in the Indian Army.
US-based software development website Git Hub will start its operations in India soon. Over the next few months, the company will start hiring across functions such as engineering, sales, support, marketing, and services. This team will be headed by India's country general manager Maneesh Sharma.
The major Asian stock markets had a mixed day today:
NIKKEI 225 decreased 329.44 points or -1.40% to 23,193.80
Shanghai increased 1.35 points or 0.05% to 2,984.97
Hang Seng decreased 429.40 points or -1.54% to 27,530.20
ASX 200 decreased 11.40 points or -0.16% to 7,113.70
Kospi decreased 33.29 points or -1.48% to 2,208.88
SENSEX decreased 161.31 points or -0.39% to 40,894.38
The major Asian currency markets had a mixed day today:
AUDUSD decreased 0.0019 or 0.28% to 0.6690
NZDUSD decreased 0.0049 or 0.76% to 0.6387
USDJPY increased 0.0350 or 0.03% to 109.8800
USDCNY increased 0.0183 or 0.26% to 7.0051
Precious Metals:
Gold increased 16.73 USD/t oz. or 1.06% to 1,604.14
Silver increased 0.4834 USD/t. oz or 2.73% to 18.1839
Some economic news from last night:
New Zealand:
RBNZ Offshore Holdings (Jan) increased from 48.90% to 49.80%
Some economic news from today:
Hong Kong:
Unemployment Rate (Jan) increased from 3.3% to 3.4%
New Zealand:
GlobalDairyTrade Price Index increased from -4.7% to -2.9%
EUROPE/EMEA:
The UK PM Boris Johnson and UK chief trade negotiator David Frost said that the UK would be happy with a trade agreement similar to what Canada and the EU currently have. However, Michel Barnier said that it was not possible due to the closeness of the UK to Europe. The two sides are expected to start negotiations next week.
Albanian PM has cast doubts over a quick joining of EU after saying joining the EU is like preparing for a wedding where the other side does not show up.
The EU industry standard chief said yesterday that Facebook needs to adhere to EU standards not the other way around.
UK car manufacturer Jaguar Land Rover has said due to coronavirus in China the company is running out of spare parts.
Meanwhile, a study on UK average wages have now topped pre-financial crisis when adjusted for inflation.
The major Europe stock markets had a negative day today:
CAC 40 decreased 29.12 points or -0.48% to 6,056.82
FTSE 100 decreased 51.24 points, or -0.69% to 7,382.01
DAX 30 decreased 102.70 points or -0.75% to 13,681.19
The major Europe currency markets had a mixed day today:
EURUSD decreased 0.00308 or -0.28% to 1.08042
GBPUSD decreased 0.00027 or -0.02% to 1.30023
USDCHF increased 0.0013 or 0.13% to 0.9822
Some economic news from Europe today:
Italy:
Italian Car Registration (MoM) (Jan) increased from -7.0% to 11.0%
Italian Car Registration (YoY) (Jan) decreased from 12.5% to -5.9%
Germany:
German Car Registration (MoM) (Jan) decreased from -5.3% to -13.1%
German Car Registration (YoY) (Jan) decreased from 19.5% to -7.3%
German ZEW Current Conditions (Feb) decreased from -9.5 to -15.7
German ZEW Economic Sentiment (Feb) decreased from 26.7 to 8.7
France:
French Car Registration (MoM) (Jan) decreased from 22.3% to -36.4%
French Car Registration (YoY) (Jan) decreased from 27.7% to -13.4%
Euro Zone:
ZEW Economic Sentiment (Feb) decreased from 25.6 to 10.4
UK:
Car Registration (YoY) (Jan) decreased from 3.4% to -7.3%
Car Registration (MoM) (Jan) increased from -4.9% to 0.2%
Average Earnings ex Bonus (Dec) decreased from 3.4% to 3.2%
Average Earnings Index +Bonus (Dec) decreased from 3.2% to 2.9%
Claimant Count Change (Jan) increased from 2.6K to 5.5K
Employment Change 3M/3M (MoM) (Dec) decreased from 208K to 180K
Labour Productivity increased from 0.1% to 0.3%
Unemployment Rate (Dec) remain the same at 3.8%
US/AMERICAS:
Dallas Fed President Robert Kaplan stated this Tuesday that he foresees interest rates remaining steady for the remainder of the year. "It is my view that, based on my base-case outlook for the U.S. economy, the current setting of the federal funds rate at 1.5 to 1.75 percent is roughly appropriate," Kaplan stated. Although he noted that changes to rates can play a role in boosting the economy, it is "not a substitute for structural reforms and policies that can improve the level of potential growth in the U.S."
The White House placed sanctions on a Russian brokerage this Tuesday after alleging that the company aided Maduro's regime in breaching a US oil embargo in Venezuela. Secretary of State Mnuchin claimed the company was "looting Venezuela's resources." Rosneft Trading S.A. is now effectively blacklisted from operating in the US. Russia supports Nicolás Maduro, who questionably won reelection in 2018. However, the US and at least 59 other nations see opposition leader Juan Guaidó as the true leader of Venezuela. Hyperinflation, unemployment, and crime run rampant under Maduro's regime, which has caused nearly 5 million citizens to flee the nation. It is unclear how these sanctions will impact US-Russian relations going forward.
"The United States is opened for business," President Trump tweeted this afternoon. The president stated that he would like to make it easier for other nations to conduct business with the US, and blamed Congress for excessive regulations that make it difficult for other nations to trade with the US. "We don't want to make it impossible to do business with us. That will only mean that orders will go to someplace else," he stated.
Apple, America's most valuable company, announced today that they will not meet their Q1 forecast due to the coronavirus causing a production slowdown. Although the company said it's manufacturing bases in China have reopened, they admitted that it occurred at a slower than anticipated pace. Furthermore, there is currently a supply shortage of iPhones due to the manufacturing delay.  Barclays reduced its Q1 forecast of Apple iPhone shipments to 40.8 million vs the initially anticipated 44 million. Apple's stock declined 1.83% at the closing bell.
US Market Closings:
Dow declined 165.89 points or -0.56% to 29,232.19
S&P 500 declined 9.87 points or -0.29% to 3,370.29
Nasdaq advanced 1.57 points or 0.02% to 9,732.74
Russell 2000 declined 4.06 points or -0.24% to 1,683.52
Canada Market Closings:
TSX Composite advanced 9.98 points or 0.06% to 17,858.34
TSX 60 declined 0.60 of a point or -0.60% to 1,064.28
Brazil Market Closing:
Bovespa declined 331.79 points or -0.29% to 114,977.29
ENERGY:
Saudi Arabia's oil exports dropped 11% as of 2019 compared to 2018. Meanwhile, the IEA reported that global demand for oil will be down for the first quarter of 2020. This will the first time in over a decade where growth in demand was negative.
The oil markets had a mixed day today:
Crude Oil decreased 0.33 USD/BBL or -0.63% to 51.6216
Brent increased 0.01 USD/BBL or 0.02% to 57.2564
Natural gas increased 0.13 USD/MMBtu or 7.08% to 1.9674
Gasoline increased 0.0239 1USD/GAL or 1.51% to 1.6091
Heating oil decreased 0.0148 USD/GAL or -0.88% to 1.6684
Top commodity gainers: Natural Gas (7.08%), Wheat (4.22%), Silver (2.73%), and Oat (2.46%)
Top commodity losers: Coal (-3.32%), Coffee (-2.38%), Copper (-1.06%), and Cocoa (-1.03%)
The above data was collected around 13.03 am EST on Tuesday.
BONDS:
Japan -0.05%(-1bp), US 2's 1.40% (-2bps), US 10's 1.55%(-3bps); US 30's 2.00%(-5bps), Bunds -0.41% (-1bp), France -0.16% (-0bp), Italy 0.90% (-0bp), Turkey 11.15 % (+11bp), Greece 0.98% (-51bp), Portugal 0.24% (-1bp) Spain 0.30% (+6bp) and UK Gilts 0.62% (-3bp).
Spanish 3-Month Letras Auction decreased from -0.450% to -0.503%
German 2-Year Schatz Auction decreased from -0.580% to -0.660%
US 3-Month Bill Auction decreased from 1.550% to 1.545%
US 6-Month Bill Auction remain the same at 1.510%