Blog/Market Talk
Posted Feb 17, 2017 by Martin Armstrong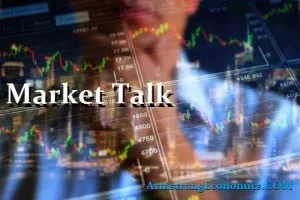 The week ended with Asia happy to see consolidation as the name of the game. All core indices closed weaker in Friday's trading, but it was interesting to see that the Nikkei has lost ground whilst both Shanghai and Hang Seng continue to make ground on the week. The JPY is back flirting with the mid 112 handle which is impacting automakers and technology companies. In today's market all core were lower around -0.5%,  with the exception of the Nikkei has been constructive. Asia remains happy to follow the US markets sentiment but will expect a little more as we head towards March and end of Q1. Many refer to the USD strength as problematic for commodities but that is only likely to aggravate matters if the FED moves in March.
Most core European indices were around -0.4% lower in todays trading with the exceptions being DAX and UK's FTSE. Financials seemed to be the weakest today with large names like Deutsche Bank, BNP, Soc. Gen all down close to 3%. The UK announced Retail Sales for January -0.3%, way off of the +0.9% forecasted; the worst quarter  in nearly five years. Talk is that Britons are finally feeling their purchasing power decline as sterling depreciates and commodities climb.  GBP fell so the balance became the FTSE negating currency effect whilst gilts played unchanged. The DAX did fall initially but as the Euro declined so the DAX recovered, highlighting the benefit of an exporting nations. The Euro lost around 0.6% with GBP falling around 0.5% to the USD. The DXY closed the day around the 101 level (+0.6% on the day). In France rumours of a potential pact between Benoit Hamon and Jean-Luc Melenchon to form an united front in an attempt to challenge Le Pen, failed to revive the OAT's market, however, still early days yet but this will certainly keep the market on its toes.
More politics than fundamentals for Europe, whereas the States looks for more and more news everyday. Talk today was that the expected regulatory reductions within the finance world may be somewhat delayed, which has a dampening affect more than negative. Oil has flat-lined for the past few days and now nerves are appearing that stocks have been pricing too optimistically. This is likely to remain unless the black gold price bounces soon. Stocks came off their Asian highs (20, 625 futures) hitting sessions lows in US trading (20,527 futures) lows mid-afternoon and kept going into the close. In the final hours of trading we bounced to produce an encouraging price action for next week, with S+P and NASDAQ actually closing higher on the day, with DOW just inches away. GBP and EURO closed near their day's lows as selling pressure starts to mount.
Treasuries lost some early strength as the equity markets recovered into the close. 2's closed 1.19% (-2bp), 10's 2.42% (-3bp) and Bunds 0.30% (-4bp); this closes the US/Bunds spread at +212bp. Italy closed 2.17% (+5bp), Greece 7.58% (+1bp), Turkey 10.65% (+2bp), France 1.03% (+2bp), Portugal 3.96^ (+3bp) and Gilts 1.21% (-5bp)