Blog/Market Talk
Posted Feb 16, 2018 by Martin Armstrong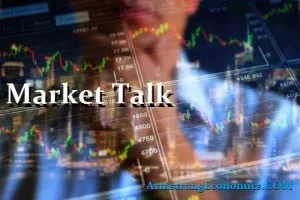 Most of Asia are closed due to holidays and so it was left to Japan to reflect Wall Streets strength. The Nikkei closed with a positive return of 1.2% for the day. The news that BOJ Governor Kuroda, is to sit for another term was taken as positive news as he supports continued easing. We saw strong gains in utilities with TEPCO and Chubu Electric Power Company closing +4.4% and +6.5% respectively. TOPIX also helped sentiment with a 1% gain on the day. However, much of the talk surrounded the continued Yen strength as it hit near six-month highs. The Australian ASX was the only other core market open and that closed small down. Having opened at the days highs and spent most of the day in positive territory, it was the final hour that prices traded heavy resulting in a small (-0.1%) loss. SENSEX lost around -0.9% in todays trading as long liquidation and the Trade deficit continues to weigh on markets.
Reflecting Asia's performance we saw positive momentum all across European core indices. Again, the CAC and IBEX were the stars of the core registering a 1.2% and 1.3% gains in todays trading. The DAX and UK's FTSE both around +0.8% but will be interesting to see the press over the weekend after May and Merkel meeting in Germany today. BREXIT will dominate headlines for sure and has been talked in Europe as one of the reasons the US Dollar has benefited in todays trading. All this as we have seen largely mixed earnings reports, but ahead of a long weekend in the US also much is being revaluated. Worth keeping an eye on Allianz next week. They reported a 22% decline in net numbers for Q4'17 blaming the US Dollar and US tax changes for affecting results.
The US started the session climbing around 200 points but was hit upon the indictment news. The headline and news conference initially cost the rally around 250 points which took us into negative territory. Guess many will spend their time on Twitter watching for updates. However, even within the final 30 minutes of the weeks trading, we tested both sides of that range yet again. The long weekend, continued uncertainty and the Weekly technical level took their toll on settlement prices as we drifted back to almost unchanged on the day. NASDAQ finished lower but returns well on the week. Even as we have backed away from the Weekly number (for the DOW), the S+P has closed up around 4.5% on the week – a relief after last weeks rollercoaster ride. US Dollar has bounced today, making most of its ground against the Euro and cable.
Japan 0.055%. US 2's closed 2.19% (+1bp), 10's 2.85% (-4bp), 30's 3.12% (-3bp), Bunds 0.71% (-6bp), France 0.95% (-7bp), Italy 1.98% (-8bp), Greece 4.19% (-15bp), Turkey 11.61% (-8bp), Portugal 1.98% (-4bp), Spain 1.45% (-5bp), Gilts 1.58% (-6bp). Worth keeping an eye on short term yields next week, we have very large issuance of T-Bills due and will be interesting to see how retail takes this supply.