Blog/Market Talk
Posted Feb 16, 2017 by Martin Armstrong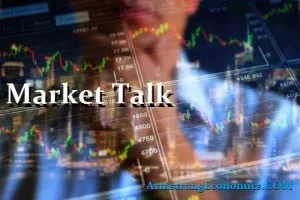 It was a mixed story in Asia today with the Nikkei still cooling after its recent performance, but given Toshiba's performance, -3.5% again today – having missed its publishing deadline, certainly did not help confidence. The Nikkei ended the session down almost 0.5%, but we do have the Tankan to be released later this evening; the previous release was at 18 and we shall see this data ahead of the cash market opening. Both Shanghai and the Hang Seng closed around +0.5% in today's trading with strong price action seen for bank, healthcare, and IT stocks. The news that we heard earlier in the week on record levels of credit is aiding this rally in Chinese confidence. Even Asian dealers were quoting that this may be the most expected hike in Fed rates in a long time as we start to re-price March Fed Funds rate. In late US trading, the Nikkei is down around -0.5% as the Yen flirts with the 112 handle.
Europe was an interesting story today even as stocks slid. The main talking point was around the ECB January minutes. The news was that ministers feel it is still too early to withdraw the stimulus measures, so now there is a race between an economic recovery or political confidence. With the US clearly about to raise rates due to the recent improvement, the European Union struggles with the South's underperformance and even changes rules to adapt, political uncertainty and growing concerns even more debt will be issued – just to be sold to the big buyer. Many speak of a broken bond market in Europe with yields artificially low with only one main buyer! All key indices closed between -0.3% and -0.5%.
Having seen seven days of stronger and stronger gains today, US core indices took a little rest. This is probably still the most unloved rally for a long time with retail participating rumoured to remain thin. Interesting that the best performing sectors remain Financials, Consumers and Tech, all reaching all time highs. It's probably time we saw some fresh stocks coming to the market, given 2016 was a poor year for IPO's. Many are lining-up to take advantage of recent highs with reasonable projections priced to place. Today's data saw Building Permits and Housing Starts better than expected. Core indices took a breather with little price deviation from overnight.
As stated earlier the ECB Minutes certainly helped bond markets today, including Treasuries. US 2's closed 1.21% (-4bp), 10's 2.45% (-6bp), Bunds 0.34% (-3bp) which closes the US/Germany spread at +211bp. Italy down 10bp today after the ECB's comments closing at 2.12%, Greece 7.57% (+5bp), France 1.01% (-4bp), Turkey 10.63% (-6bp), Portugal 3.93% and Gilts 1.26% (-3bp)