Blog/Market Talk
Posted Feb 15, 2017 by Martin Armstrong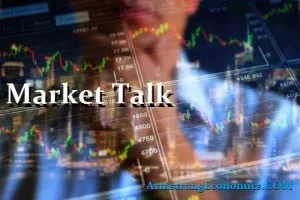 Following from the constructive message the market was hearing from the FED, the Nikkei regained the 1.05% it lost yesterday. This proved to be an impressive performance when considering Toshiba shares dropped 9% amid a potential book write-down of $6.3bn to its US nuclear unit. Hang Seng built on yesterday's gain adding another +1.2% reaching a 15 month high on news of record bank loans. Yesterday's China data beat for both CPI and PPI was still a discussion point even today. CPI forecasted at 2.4% and was released at 2.5% beating the previous 2.1%, whilst PPI performed even better with expectations at 6.3% came in at 6.9% way better than the previous 5.5%. With CNH again breaching the 6.850 level again many believe the market has much more to run. In late US trading futures, there was little change after the final day of the FED address.
Core Europe did perform today as FED Chair Janet Yellen spoke and even hinted the hike may well come in March, but has decided to worry about Le Pen and the consequences if and when! Until recently only the odd news headline has hit sentiment and many dealers are of the opinion it is just too big of a problem to worry about ahead of time. The mere thought that France could leave the EU is just unthinkable, said one key trader! The DAX was the straggler today closing just +0.2% whilst the CAC, FTSE and IBEX all closed around +0.6% higher. It was Greece ASE that dropped the most (-1.11%) with Norway -1% and Italy's FTSE MIB closing lower (-0.7%) was where the weakness came from.
In the US, Janet Yellen completed the two day address with increased speculation that March is a done deal. The talking issue now however is that a rate hike implies things are getting better and so is constructive for stocks, which is a turnaround from previous thinking. Finally, the closing is another great day for core US indices with new record highs for the fifth consecutive day. Economic data was better than expected with both CPI and Retail Sales beating forecasts. The previous CPI was 2.1% but release came in at 2.5% whilst Retail Sales expected at 0.1% released at 0.4%. The core stock indices rallied whilst Treasuries suffered through fear of the next hike. The Treasury market followed the speculation starting pricing in a March move which also pushed 10's through the psychological 2.5% mark.
2's closed 1.25% (+3bp), 10's closed 2.51% (+4bp). Bunds 0.37% (+1bp), Italy 2.22% (u/c), Greece 7.52% (+21bp), France 1.05% (+1bp), Turkey 10.69% (+10bp), Portugal 4.04% (+5bp) and finally UK Gilts 1.29% -2bp)