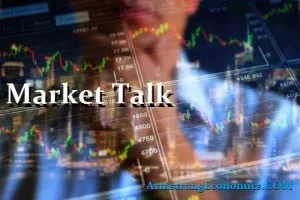 ASIA:
A meeting is being planned between US President Trump and Indian executives, especially those focusing on job creation and manufacturing in the United States, on February 25 when President Trump visits India.
Vodafone's Indian business Vodafone Idea Ltd reported its sixth straight quarterly loss. Revenue fell 5.8% to 1.55 billion USD in the reported quarter. Vodafone Idea had reported a loss of 7.12 billion USD in the second quarter of 2019, the biggest loss ever by a company in Indian corporate history. The quarterly results come as Vodafone Idea and other Indian telecom firms are pressured by government demands to pay $13 billion in overdue levies in a long-contested dispute.
India has offered to partially open up its poultry and dairy markets in a bid for a limited trade deal during U.S. President Donald Trump's first official visit to the country this month, people familiar with the protracted talks say. India, the world's largest milk-producing nation, has traditionally restricted dairy imports to protect the livelihoods of 80 million rural households involved in the industry. But Prime Minister Narendra Modi is trying to pull all the stops for the US president's Feb. 24-25 visit, aimed at rebuilding bonds between the world's largest democracies.
Chinese Investment Bank China International Capital Corp. published a survey report which says of 163 companies of all sizes across China found that less than half were able to get back to work this week. Even more alarming: a third of roughly 1,000 small and medium-sized companies surveyed by academics from Tsinghua University and Peking University last week said they could only survive for a month with the cash they have. That could spell terrible news for China's entrepreneurs — and an even worse reality for the country's economy. About 30 million small and medium-sized businesses contribute more than 60% of the country's GDP, according to government statistics published last September. The taxes they pay account for more than half of government revenue, and they employ more than 80% of China's workers.
The major Asian stock markets had a mixed day today:
NIKKEI 225 decreased 140.14 points or -0.59% to 23,687.59
Shanghai increased 10.93 points or 0.38% to 2,917.01
Hang Seng increased 85.60 points or 0.31% to 27,815.60
ASX 200 increased 27.00 points or 0.38% to 7,130.20
Kospi increased 10.63 points or 0.48% to 2,243.59
SENSEX decreased 202.05 points or -0.49% to 41,257.74
The major Asian currency markets had a mixed day today:
AUDUSD decreased 0.0004 or 0.06% to 0.6711
NZDUSD decreased 0.0003 or 0.04% to 0.6435
USDJPY decreased 0.0260 or 0.02% to 109.7470
USDCNY increased 0.0081 or 0.12% to 6.9946
Precious Metals:
Gold increased 7.21 USD/t oz. or 0.46% to 1,580.30
Silver increased 0.0949 USD/t. oz or 0.54% to 17.7676
Some economic news from last night:
China:
China Thomson Reuters IPSOS PCSI (Feb) decreased from 70.22 to 59.86
Japan:
Foreign Bonds Buying increased from -150.2B to 1,633.8B
Foreign Investments in Japanese Stocks increased from -295.6B to 282.9B
Thomson Reuters IPSOS PCSI (Feb) decreased from 41.02 to 40.41
Tertiary Industry Activity Index (MoM) decreased from 1.4% to -0.2%
South Korea:
M2 Money supply (Dec) decreased from 8.10% to 7.50%
Export Price Index (YoY) (Jan) increased from -3.1% to -2.7%
Import Price Index (YoY) (Jan) decreased from 3.4% to 2.7%
New Zealand:
Business NZ PMI (Jan) increased from 49.3 to 49.6
FPI (MoM) (Jan) increased from -0.2% to 2.1%
Some economic news from today:
India:
WPI Food (YoY) (Jan) decreased from 13.24% to 11.51%
WPI Fuel (YoY) (Jan) increased from -1.46% to 3.42%
WPI Inflation (YoY) (Jan) increased from 2.59% to 3.10%
WPI Manufacturing Inflation (YoY) (Jan) increased from -0.25% to 0.34%
Bank Loan Growth decreased from 7.2% to 7.1%
Deposit Growth increased from 9.5% to 9.9%
FX Reserves, USD increased from 471.30B to 473.00B
Exports (USD) decreased from 27.36B to 25.97B
Imports (USD) increased from 38.61B to 41.14B
Trade Balance decreased from -11.25B to -15.17B
EUROPE/EMEA:
According to the FT, Europe's largest members have been asked to add more funds into the union to cover up the shortfall from Brexit.
Mark Zuckerberg has said he is happy to pay more taxes in Europe. In his speech, he understood the frustrations of the EU and said there should be a global solution that all tax giants will adhere to, which will require companies to distribute taxes fairly.
Italy has reached out to the US in advance to get ahead of the curve due to upcoming planned tariffs between the bloc and the US. Italian ministers stressed they have no involvement with the airbus ordeal and should not be penalized for it.
Secretary of State Mike Pompeo has called for action against Iran after they were found sending a shipment of weapons and missiles to Yemeni rebels.
The major Europe stock markets had a negative day today:
CAC 40 decreased 23.78 points or -0.39% to 6,069.35
FTSE 100 decreased 42.90 points, or -0.58% to 7,409.13
DAX 30 decreased 1.22 points or -0.01% to 13,744.21
The major Europe currency markets had a mixed day today:
EURUSD increased 0.0003 or 0.03% to 1.0844
GBPUSD decreased 0.0006 or 0.05% to 1.3039
USDCHF increased 0.0027 or 0.27% to 0.9820
Some economic news from Europe today:
Germany:
German GDP (QoQ) (Q4) decreased from 0.2% to 0.0%
German GDP (YoY) (Q4) decreased from 1.1% to 0.3%
German WPI (YoY) (Jan) increased from -1.3% to 0.3%
Swiss:
PPI (YoY) (Jan) increased from -1.7% to -1.0%
PPI (MoM) (Jan) decreased from 0.1% to 0.0%
Spain:
Spanish CPI (YoY) (Jan) increased from 0.8% to 1.1%
Spanish CPI (MoM) (Jan) decreased from -0.1% to -1.0%
Spanish HICP (YoY) (Jan) remain the same at 1.1%
Spanish HICP (MoM) (Jan) decreased from -0.1% to -1.4%
Italy:
Italian Trade Balance (Dec) increased from 4.890B to 5.013B
Italian Trade Balance EU (Dec) decreased from 0.72B to -0.75B
Euro Zone:
Employment Change (YoY) remain the same at 1.0%
Employment Change (QoQ) increased from 0.1% to 0.3%
Employment Overall (Q4) increased from 160,147.7K to 160,584.6K
GDP (YoY) (Q4) decreased from 1.2% to 0.9%
GDP (QoQ) (Q4) decreased from 0.3% to 0.1%
Trade Balance (Dec) increased from 20.7B to 23.1B
US/AMERICAS:
In a rare moment of bipartisanship in the United States, House Speaker Nancy Pelosi agreed with the Trump administration's stance on blacklisting Huawei. "China is seeking to export its digital autocracy through its telecommunication giant Huawei," Pelosi stated this Friday. Yesterday, the Department of Justice and FBI charged the company with 16 counts including racketeering, theft of intellectual property, violating sanctions, and breaking the RICO Act. It was recently reported that UK Prime Minister Boris Johnson canceled his trip to the White House after President Trump criticized PM Boris for allowing Huawei to assist in expanding the UK's 5G network.
Cleveland Federal Reserve Bank President Loretta Mester is concerned that the effects of the coronavirus could "spillover" into US economy. Mester anticipates China, and possibly other Asian nations, will experience a decline in growth during the first quarter. However, she has not yet made her forecast for the US as more data is needed for an appropriate assessment.
Mexico's central bank, Banxico, lowered its interest rate by 25 basis points to 7.0% in a unanimous vote. Governor Alejandro Diaz de Leon told Reuters that the bank is keeping a close eye on inflation, which rose 3.24% YoY this January, as well as trade. "The Mexican economy has been facing challenges and risks beyond those exclusive to its (economic) cyclical, associated with the uncertainty of the free trade agreement, with monetary policy in advanced economies, and also domestic risk factors," Diaz de Leon commented.
US Market Closings:
Dow declined 25.23 points or -0.09% to 29,398.08
S&P 500 advanced 6.22 points or 0.18% to 3,380.16
Nasdaq advanced 19.21 points or 0.20% to 9,731.18
Russell 2000 declined 6.15 points or -0.36% to 1,687.58
Canada Market Closings:
TSX Composite advanced 27.19 points or 0.15% to 17,848.36
TSX 60 advanced 1.31 points or 0.12% to 1,064.88
Brazil Market Closing:
Bovespa declined 1,281.69 pointas or -1.11% to 114,380.71
ENERGY:
Crude oil had another positive day after rebounding from a difficult January due to the coronavirus. Still, news about diminishing demand from China regarding the outbreak persists.
The oil markets had a mixed day today:
Crude Oil increased 0.57 USD/BBL or 1.11% to 51.9512
Brent increased 0.85 USD/BBL or 1.51% to 57.1353
Natural gas increased 0.0233 USD/MMBtu or 1.27% to 1.8540
Gasoline decreased 0.0035 1USD/GAL or -0.22% to 1.5806
Heating oil increased 0.0206 USD/GAL or 1.23% to 1.6982
Top commodity gainers: Ethanol (2.07%), Brent (1.51%), Coffee (4.02%), and Feeder Cattle (1.37%)
Top commodity losers: Sugar (-1.06%), Rubber (-1.02%), Cocoa (-3.65%), and Lumber (-0.88%)
The above data was collected around 14.03 am EST on Friday.
BONDS:
Japan -0.03%(+1bp), US 2's 1.42% (-2bps), US 10's 1.58%(-4bps); US 30's 2.03%(-4bps), Bunds -0.40% (-2bp), France -0.16% (-2bp), Italy 0.93% (+4bp), Turkey 11.25 % (+7bp), Greece 0.95% (-60bp), Portugal 0.24% (-1bp) Spain 0.29% (+3bp) and UK Gilts 0.63% (-2bp).