Blog/Market Talk
Posted Feb 14, 2019 by marty armstrong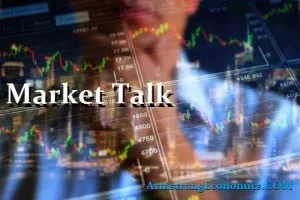 Asia:
Asian markets were mostly flat today with the exception of the KOSPI index (+1.1%) and the Hang Seng (23 bps decrease). The Chinese Shanghai stock market slipped 10 bps, even with good economic data regarding their trade numbers in January. The concern is still with the US-Chinese trade deal as negotiations continue. The Nikkei closed flat, with economic data showing an upturn in the Q4 GDP numbers.
Alibaba signaled expansion plans today by taking an 8% stake in the Chinese video platform Bilibili. In addition, they are reportedly in talks to take a stake in Metro, a German supermarket chain with 95 stores worldwide. This move comes at a slight surprise given German Chancellor Angela Merkel's concern at the Chinese telecommunications giant Huawei increasingly taking share of the German smartphone industry.
As for currencies, The Aussie dollar rose 6 bps against the dollar. The NZD rose again for the second day by 49 bps, showing a return of close to 3% against the greenback over the last two days. Capital flowed back into Asia today as the USD weakened against the JPY by 23 bps.
Vietnam will begin to become the center point as Trump sets to meet with President Kim at the end of the month.
Gold and silver parted ways today with gold increasing by 23 bps and silver decreasing by 10 bps.
More economic news is due this evening (Chinese morning) regarding CPI and PPI, as well as industrial production and foreign investment summaries from Japan.
Europe:
Similar story in Europe with the stocks mostly mixed. The CAC and FTSE were on the winning side today, increasing by a mere 2 bps and a relatively good 34 bps respectfully. The German DAX index decreased 48 bps. These numbers come into perspective when you look at the forex; the GDP slid a further 52 bps to 1.2777 when you compare it with the dollar. The euro and Chf both strengthened against the dollar, making the real loser of the day the UK. Clearly the issue being the topic of Brexit, with political parties in the UK at a large divide over the outcome. Even German politicians are in disbelief that it will happen. Perhaps a second referendum will take place, given the UK public are better "informed" of the consequences this time around. We shall wait and see.
Some economic news came out from the Eurozone. French unemployment stands at 8.8%, and improvement of a previous figure of 9.1% last quarter. German GDP showed 0% growth for Q4, which is up from a previous figure of -0.2% but worse than expectations. The YoY figure stands at 0.9%, which illustrates why the Dax hasn't been performing well of late.
Employment changes as a whole from the Eurozone rose 0.3% QoQ and 1.2% YoY. The GDP of the region as a whole remains at 1.2% YoY.
U.S./Americas:
A relatively noisy day in the States as stocks and U.S. Treasuries slumped during early trading after a surprisingly bad retail sales decline for December (-1.2% compared to the expected +0.10% gain). According to the Commerce Department, December marked the lowest monthly drop in retail sales since September 2009. This has been an outlier to other economic data of late.
PPI data was also disappointing for January, citing -0.1% versus +0.1% expected. Jobless claims are up for the week ending in February 9, with an estimate of 239,000. The four-week moving average for jobless claims stand at 231,750, which is the highest it has been in a year. While some analysts cite the five-week government shutdown for the alarming data, any federal employee claims would not be grouped into the jobless number – but displaced contractors and businesses may have contributed.
All this while congress continues to push to secure a federal budget deal. President Trump tweeted earlier this afternoon that he was reviewing the funding bill with his team. The thinking at this point is he will sign the deal, but then declare an emergency to divert additional funds necessary for his border wall. A budget deal must be signed by tomorrow to avoid another government shutdown.
In U.S. business news, JP Morgan Chase announced that will create the first cryptocurrency backed by a major U.S. bank, which they have dubbed the "JPM Coin." JPM has stated it plans to first utilize its new product to enable large corporate clients to send faster payments in real time over blockchain – an example many have called out as a "real" business use case of blockchain over time. Keep in mind, blockchain is not Bitcoin, it is the underlying technology Bitcoin and other cryptocurrencies, including the new JPM Coin, are built on top of.
Elsewhere, Amazon announced it will no longer expand its headquarters to Queens, New York, due to local political opposition. This was a highly debated process and decision from the outset – if the proposed plans for development and jobs were anywhere near accurate, N.Y. residents may have cut off their nose in this one. In any event, Amazon's plans to expand into Virginia and Tennessee are still underway.
The Dow, what had been down over 200 points earlier in the day, closed down -103.88 points (25,439.39 close, -0.41%). The S&P 500 also slipped by -0.27% (2,745.73 close, -7.30), while the Nasdaq Composite (+0.09%, 7,426.96 close, +6.58) and Russell 2k (+0.14%, 1,545.11 close, +2.16) produced better results this trading session.
Canadian indexes had a strong performance today. The TSX Composite jumped +69.25 points (15,695.98 close, +0.44%), while TSX 60 increased +4.43 (936.04 close, +0.28%). The Brazilian Bovespa rose 2,172.68 (+2.27%) today as well.
Energy:
Oil seems to have stabilized around the 50-60 dollar regions for some time now, however, there are increasing worries over government spending in the Gulf regions, especially that of the kingdom of Saudi Arabia. Crude oil increased by 22 bps to 54.12 and Brent increased 93 bps to 64.24.
Bonds:
A few auctions occurred today with the UK 10-year gilts being sold at 1.160%, down by 11 bps from the previous. The US 4- and 8-week bills yielded 2.39% and 2.4% respectfully.
Japan -0.01%(-1bp), US 2's 2.50% (-4bps), US 10's 2.66%(-4bps), US 30's 3.01%(-2bps), Bunds 0.10% (-2bp), France 0.53% (-2bp), Italy 2.81% (+2bp), Turkey 14.56% (+5bp), Greece 3.86% (-5bp), Portugal 1.58% (-2bp), Spain 1.24% (+1bp) and UK Gilts 1.14% (-4bp).