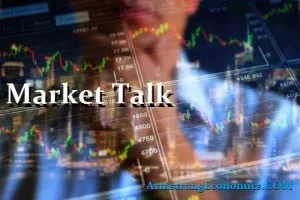 ASIA:
Economic activity has almost come to a standstill in China as major businesses and investors remain spooked about the future impact of the coronavirus outbreak. The coronavirus has already claimed over 1,300 lives and caused over 48,000 infections. Major retail chains to automobile and smartphone manufacturing firms have been shut down in mainland China.
Analysts at S&P have said that Chinese production activities are likely to remain subdued for nearly two quarters before a revival. They also said the virus outbreak in China could also reduce global GDP by almost 0.3%.
India's Chief Economic Advisor said on Wednesday that the coronavirus outbreak provides a good opportunity for India to expand its exports and follow an export driven model for economic growth. After the coronavirus outbreak in China, Indian traders have seen a surge in demand to supply small components and parts for smartphone manufacturing. This provides a very good opportunity for foreign investments in emerging markets. India has a good chance of becoming an attractive manufacturing hub given the present situation, provided the government tweaks some of its trade policies to bring down commodity prices, experts said.
Global rating agency S&P today affirmed India's sovereign ratings at 'BBB-/A-3' with a stable outlook, saying that it expects GDP growth to recover towards the longer-term trend rates over two-three years. It also said that India is experiencing a cyclical, rather than a structural, economic slowdown.
Malaysia is planning to announce a stimulus package early next month as analysts slash their growth forecasts to account for the impact of the coronavirus outbreak. The package will involve all ministries. Different government ministries said this stimulus package will seek to support those affected by exports due to the coronavirus, including tourism and manufacturing.Singapore has reported 50 cases of the virus, and the government has stepped up measures to detect and contain its spread.
The major Asian stock markets had a mixed day today:
NIKKEI 225 decreased 33.48 points or -0.14% to 23,827.73
Shanghai decreased 20.83 points or -0.71% to 2,906.07
Hang Seng decreased 93.66 points or -0.34% to 27,730.00
ASX 200 increased 15.00 points or 0.21% to 7,103.20
Kospi decreased 5.42 points or -0.24% to 2,232.96
SENSEX decreased 106.11 points or -0.26% to 41,459.79
The major Asian currency markets had a mixed day today:
AUDUSD decreased 0.00122 or -0.18% to 0.67228
NZDUSD decreased 0.00209 or -0.31% to 0.6442
USDJPY decreased 0.3 or -0.27% to 109.77
USDCNY increased 0.01191 or 0.17% to 6.98701
Precious Metals:
Gold increased 11.02 USD/t oz. or 0.70% to 1,579.31
Silver increased 0.1557 USD/t. oz or 0.89% to 17.6402
Some economic news from last night:
Australia:
MI Inflation Expectations decreased from 4.7% to 4.0%
Japan:
PPI (MoM) (Jan) increased from 0.1% to 0.2%
PPI (YoY) (Jan) increased from 0.9% to 1.7%
EUROPE/EMEA:
President of the European Parliament David Sassoli has said that Members of the European Parliament will not accept any agreements that cut to key programs that are integral to Europeans. It has been said that up to 15 billion euros will be lost a year from the budget due to Brexit, as MEPs scramble for ways to reduce spending.
Meanwhile, ECC head Ursula von der Leyen said that she will not be accepting any proposals on the budget if less than 25% is awarded for tackling climate change.
The EU and UK are considering a visa-free agreement which will allow citizens to travel for short-term trips as well as short-term business trips.
UK chancellor of the Exchequer Sajid Javid surprisingly resigned today over refusing to dismiss all his advisers at the will of Boris Johnson, as Boris Johnson reshuffles his cabinet. Rishi Sunak his deputy will step up to replace Sajid Javid.
US President Trump had his wish dismissed as the senate passes a bill which will restrict his ability to go into war with Iran without their permission. The vote was passed 55-45.
The major Europe stock markets had a negative day today:
CAC 40 decreased 11.58 points or -0.19% to 6,093.14
FTSE 100 decreased 82.34 points, or -1.09% to 7,452.03
DAX 30 decreased 4.35 points or -0.03% to 13,745.43
The major Europe currency markets had a mixed day today:
EURUSD decreased 0.00293 or -0.27% to 1.08417
GBPUSD increased 0.00997 or 0.77% to 1.30527
USDCHF increased 0.0004 or 0.04% to 0.9789
Some economic news from Europe today:
UK:
RICS House Price Balance (Jan) increased from -2% to 17%
Thomson Reuters IPSOS PCSI (Feb) decreased from 52.6 to 51.6
Italy:
Italy Thomson Reuters IPSOS PCSI (Feb) decreased from 42.89 to 38.40
Germany:
Germany Thomson Reuters IPSOS PCSI (Feb) increased from 53.60 to 54.27
German CPI (YoY) (Jan) remain the same at 1.7%
German CPI (MoM) (Jan) remain the same at -0.6%
German HICP (YoY) (Jan) remain the same at 1.6%
German HICP (MoM) (Jan) remain the same at -0.8%
France:
France Thomson Reuters IPSOS PCSI (Feb) increased from 42.89 to 44.51
US/AMERICAS:
The FBI and Department of Justice have reportedly filed 16 separate charges against Chinese tech giant Huawei. Huawei allegedly violated the Racketeer Influenced and Corrupt Organizations Act (RICO) by misusing US intellectual property. The agencies have accused Huawei of stealing the source code of an unnamed company, with rumors stating the company in question may be Cisco. Additionally, the company is being charged with engaging in industrial espionage. Allegedly, during a trade show in Chicago, a Huawei employee was found photographing the inside components of a competitor's device. On top of those charges, the company has allegedly broken international sanctions by working in secret with Iran and North Korea.
The number of confirmed coronavirus cases in the US climbed to 15 this Thursday. White House economic advisor Larry Kudlow revealed his disappointment with Bejing's handling of the outbreak, citing a lack of transparency and the dismissal of the Center for Disease Control's (CDC) aid.
The Senate passed new legislation today that will limit the president's ability to wage war. The Senate voted 51-44 in favor of curtailing the president's power. The vote was prompted by President Trump's remarks toward Iran after the nation struck a US military base in Iraq. Going forward, Congress must vote before the US can engage in an act of war.
US Market Closings:
Dow declined 128.11 points or -0.43% to 29,423.32
S&P 500 declined 5.51 points or -0.16% to 3,373.94
Nasdaq declined 13.99 points or -0.14% to 9,711.97
Russell 2000 advanced 4.36 points or 0.26% to 1,694.74
Canada Market Closings:
TSX Composite declined 11.68 points or -0.07% to 17,821.17
TSX 60 declined 1.02 points or -0.1% to 1,063.57
Brazil Market Closing:
Bovespa declined -1,011.73 points or -0.87% to 115,662.4
ENERGY:
Crude continued to push higher despite the coronavirus spiking in Hubei, China. Now as many as 25 countries have infected citizens, however, globally it has been pretty well contained.
The oil markets had a mixed day today:
Crude Oil increased 0.21 USD/BBL or 0.41% to 51.3014
Brent increased 0.37 USD/BBL or 0.66% to 56.0521
Natural gas decreased 0.0067 USD/MMBtu or -0.36% to 1.8427
Gasoline decreased 0.0212 1USD/GAL or -1.32% to 1.5827
Heating oil decreased 0.0125 USD/GAL or -0.74% to 1.6794
Top commodity gainers: Ethanol (3.10%), Rubber (10.21%), Coffee (3.43%), and Cocoa (2.41%)
Top commodity losers: Sugar (-3.93%), Oat (-2.15%), Bitumen (-1.57%), and Gasoline (-1.32%)
The above data was collected around 13.43 am EST on Thursday.
BONDS:
Japan -0.03%(+1bp), US 2's 1.44% (-1bps), US 10's 1.62%(-1bps); US 30's 2.08%(-2bps), Bunds -0.39% (-2bp), France -0.15% (-1bp), Italy 0.90% (-2bp), Turkey 11.18 % (+30bp), Greece 0.95% (-61bp), Portugal 0.25% (-1bp) Spain 0.30% (+3bp) and UK Gilts 0.66% (+4bp).
Italian 3-Year BTP Auction decreased from 0.18% to -0.10%
Italian 7-Year BTP Auction decreased from 0.94% to 0.48%
US 4-Week Bill Auction increased from 1.540% to 1.560%
US 8-Week Bill Auction increased from 1.550% to 1.565%
US 30-Year Bond Auction decreased from 2.341% to 2.061%