Blog/Market Talk
Posted Feb 13, 2019 by marty armstrong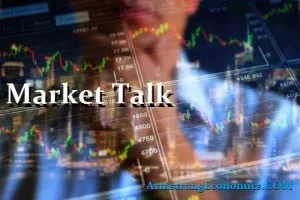 Asia:
The Asian markets had another good day today with the Nikkei increasing 1.34%. This puts the 12-month rolling value at minus 5 bps. Compare this to the Shanghai index, which was down 14.94%! Regardless, all Asian indices find themselves in positive territory for the last 30 days with the Hang Seng climbing 8.36%. Today, the Shanghai composite climbed 1.79% and the Hang Seng 1.16%. The ASX was not so fortunate today losing 26 bps.
The dollar pulled back from yesterday's advance by the Asian currencies. The HKD was flat, but the USDJPY increased 39 bps to 110.4800. The big mover today was the NZD which rose as much as 1.7% against the USD. This came about after the central bank governor announced he expected to keep the rates unchanged for a considerable period of time in order to maximize sustainable employment and stable inflation rate. The AUD rose 14 bps, but at a fraction of that of the NZD.
Gold and silver both posted gains, albeit slim at 18 and 9 bps accordingly. Gold remains above the 1300 level at 1310.93. Some analyst state that they expect the gold value to remain as talks are ongoing with US and China.
A few economic numbers are expected from China. Exports YoY and imports YoY which thus gives the Trade Balance. Japan GDP numbers as well as South Korean M2 supply also due shortly.
Europe:
The European markets followed that of Asia, posting decent returns for the day. Namely the UK FTSE 100 which gained 81 bps today. The European currencies were not as fortunate as that of Asia with the pound declining 20 bps against the dollar, slipping further away from that 1.30 level to 1.2864. The euro also lost 34 bps, residing at a level of 1.1285. Still it suggests risk is still on for European equities as the Dax rose 47 bps and the CAC 40 rose 42 bps.
UK PM May and her Brexit campaign is the central focus here in Europe. May pledged more time is needed for a concrete plan. Opposition leaders are demanding she makes up her mind or evoke an extension for article 50.
Some more economic news from the UK, the Core CPI YoY is 1.9% which is largely what was expected. UK House price, the most coveted asset for the British was marginally lower for year rising 2.5% instead of a 2.6% expectation. Still being above the Core CPI is acceptable.
The European industrial production was down 4.2% YoY compared to a forecast of -3.2%.
US/Americas:
Choppy day in U.S. markets with ongoing efforts to close a new federal budget deal by weeks-end. Meanwhile, top negotiators continued discussions in Beijing today. President Trump's March 1 deadline for finalizing negotiations with the Chinese was always unrealistic for such a deal to be completed. "We have a big team over in China right now, and they're working very hard dealing with the Chinese," Trump announced at a cabinet meeting on Tuesday. "We want very much to make a deal. We'll see what happens." We still expect an extension for March 1 deadline, which would delay a tariff increase to 25%, but let's see how things progress.
Regarding the tentative federal budget plan, President Trump remains resolute on his desire for a border wall but is signaling a willingness to consider lower amount of funds to avoid a second government shutdown. "The bottom line is — on the wall — we're building the wall." Trump firmly declared during his Tuesday meeting. He also noted he would not rule out the possibility of declaring an emergency national shutdown if a decision was not reached. At the moment, nothing is off the table.
The Dow jumped another +117 points today (25,543.27 close, +0.46%), while the S&P 500 (2,753.03 close, +8.30) and Russell 2000 (1,542.94 close, +4.71) both rose by +0.30% and +0.31% respectfully. The Nasdaq closed the day relatively flat (7,420.32, +5.76, +0.08%).
The U.S. dollar increased 0.37% to 97.0652 on Wednesday, February 13, from 96.7090 in the previous trading session.
Major Canadian indexes had a less than stellar midweek performance with both the TSX Composite (-15.37, -0.10%) and TSX 60 (-1.54, -0.17%) both closing slightly in the red.
The Brazilian Bovespa dropped -326 points today (-0.34%).
Energy:
Oil prices rose this afternoon, even with the EIA report suggesting an increase of 3.6 million (vs 2.66 M expectations) barrels of crude oil in stock. The market took the main news as being the Saudi and Russian plan to cut production to try and balance the market. Crude rose 2% to 54.1 USD and Brent rose 1.8% to 63.5 USD a barrel.
Bonds:
The German 30-year Bunds were at auction today and sold for a yield of 0.72%. The Italian 3 & 7 years were also sold for lower yields than previous.
Japan -0.01%(+1bp), US 2's 2.53% (+3bps), US 10's 2.70%(+2bps), US 30's 3.03%(+1bps), Bunds 0.13% (-0bp), France 0.55% (-1bp), Italy 2.80% (-5bp), Turkey 14.51% (+24bp), Greece 3.90% (-5bp), Portugal 1.61% (-4bp), Spain 1.24% (-1bp) and UK Gilts 1.18% (-0bp).