Blog/Market Talk
Posted Feb 13, 2018 by Martin Armstrong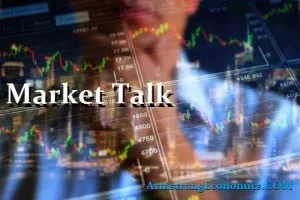 Asia rallied, initially, with all core indices making solid progress in early trading following reflecting strong US markets. However, the Nikkei di not get into the mood opening lower and trending weaker into the close. Eventually finishing down -0.65% we saw a rush into the Yen against the USD also. Shanghai and the Hang Seng both hit their days highs at the end of the morning sessions, They then tended to drift into the close, but both still returned over 1% for the day. Volumes were light as you would expect in a holiday shortened week. Better economic data helped the ASX (Business conditions index), accompanied a bounce in commodity prices to aid a +0.5% return for the day.
There were glimmers of hope for core European markets that they may finish in the positive but sadly, they were only glimmers! The CAC and FTSE both flirted temporarily with the idea but eventually the CAC was hit towards the end of the day to close -0.6%. FTSE managed just a -0.15% decline and even that was a result as the currency did see more support (+0.3%). UK inflation released better than anticipated which has many now expecting Bank rates to reach 1% by the end of the year. The DAX was not so fortunate as it opened lower and after a brief mid afternoon attempt to rally simply collapsed to close on the days lows -0.7%. Tel comm's, financials and manufacturing all declined in the broad based weakness. The US markets were already down as Europe closed to it will be interesting to see how far they bring it back after Mondays 400 point rally in the DOW. Volumes again light but should be interesting Wednesday as we will see the US inflation number released. Core bonds were relatively well bid, but you are seeing weakness return for the periphery (see below spread increases).
The US market experienced the quietest session it has seen in weeks. From having opened around 100 points weaker, the DOW did drift further (-200) but seemed calmly controlled. We do have the CPI release tomorrow (Wednesday) which is probably one of the most significant numbers in a while. Interesting that the curve has returned to flattening mode with 2's back on the hiking expectations and the long end seen as yield acceptable. The CPI will reset this theme tomorrow depending upon the expectation.
Japan 0.06%, US 2's closed 2.10% (+2bp), 10's 2.83% (-3bp), 30's 3.12% (-3bp), Bunds 0.74% (-2bp), France 0.99% (u/c), Italy 2.07% (+4bp), Greece 4.32% (+13bp), Turkey 11.81% (+14bp), Portugal 2.11% (+6bp), Spain 1.51% (+4bp), and Gilts 1.62% (+2bp)