Blog/Market Talk
Posted Feb 13, 2017 by Martin Armstrong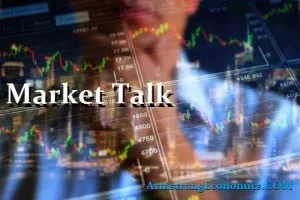 Another strong opening session for the week in Asia with equity markets improving from where they left-off on Friday. The news over the weekend that North Korea had tested weapons failed to scare markets as much as it did the media. Japan's GDP was a touch under expectation but the Nikkei was pulled along with the euphoria with the JPY taking another back seat. After the initial surge the Yen managed a small respite but by end of the days trading was still flirting with the 114 level. All core indices closed around +0.5% firmer on the day which led very nicely into the European session. The CNH remains on the back-foot as it continues to drift above the 6.8750 level. In late US trading indices trade better with all futures around +0.3% better from the close.
All core European markets performed stronger following the Asian session and despite the concerned outlook from data. The revision to the blocks GDP outlook was only marginal for 2017 but remains optimistic for 2018 at 1.8%. Immediate concerns surround France, Holland, Brexit and the late summer German elections are all very much on portfolio managers vision. Equally, given the uncertainty for the US's plans, which we hear more about tomorrow, it is no surprise key markets trade nervously. Today was a great start for the week but there is plenty on the horizon that could upset proceedings. DAX, CAC and IBEX were all around 1% better but the currency has lost 0.6% of that in todays trading. FTSE was small better but off-set by the currency. A quiet day for GBP but feel the Euro made-up for that.
Janet Yellen starts the semi-annual testimony before Congress tomorrow with many hoping she clears market thinking. Will she address the employment/Fed Funds mismatch, also address the failed "Dot Plot" agenda and will be looking for guidance on whether the market is pricing the 3/4 rate hike scenario correctly. March has the probability around 17% the likely-hood for a possible move. The core US indices continue to trade on infrastructure spending, tax incentives and regulation relaxation; the more we have to wait the larger the expectations become. DOW, S+P and NASDAQ all score record highs
US 2yrs closed +1bp at 2.20, 10's at 2.43% (+1bp). Bunds closed +1bp at 0.33% which leaves the US/Germany spread unchanged. Italy 10's closed 2.21% (-5bp), Greece 7.29%, France 1.02% (-2bp), Turkey 1.64% (-3bp) and UK Gilts at 1.29% (+4bp).