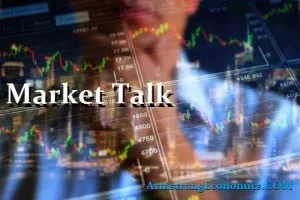 ASIA:
China's central bank has declared the country's economic health as their first priority. President Xi Jinping has reportedly warned the country's top officials that coronavirus containment efforts are hurting the economy. President Xi Jinping told officials during a February 3 meeting to balance their economic duties with their humane responsibilities. The pressure is on them in the form of free speech protests by China's populace, particularly among its younger generations. The closing down of factories, railways, roads, and schools appears to have already shaken the nation's economic health. The coronavirus death toll recently reached 1000 while confirmed cases now exceed 40,000.
A campaign on Chinese social media with the hashtag "I want freedom of speech" quickly reached 2 million views. The post in question was subsequently removed by censors. China's Zhejiang province recently told its local authorities to refrain from restricting access to basic necessities, such as meat, vegetables, and dairy.
India's economic growth is poised to bounce back after slipping to a more than six-year low of 4.5% in July-September quarter. A top government adviser has said that the government has taken various measures such as corporate tax reductions, the Insolvency and Bankruptcy Code, and banking sector reforms that will prop up investments and consumer demand.
US President Donald Trump will make his maiden visit to India from February 24 to 25, 2020. This visit will provide an opportunity to further strengthen the strategic partnership between the two countries.
India's Chief Economic Advisor Krishnamurthy Subramanian has said that India's economy may face some unknown risks from the coronavirus outbreak. The virus epidemic is seen as curbing growth in China and the global economy, which will weigh on India's outlook at a time when the government is forecasting a rebound. Asia's third-largest economy will likely expand at 6%-6.5% in the year beginning April, an improvement from an estimated 5% this year, Subramanian wrote in a report last month.
Singapore's tourism board slashed visitor arrivals for this year by 25%-30% due to the coronavirus outbreak. The coronavirus outbreak puts Singapore's hub status into question as coronavirus infections mount in the city. A cluster of local and overseas coronavirus cases have been traced to a multinational business meeting involving more than 100 local and overseas participants at Grand Hyatt Singapore three weeks ago.
Nissan announced they will temporarily shut down a plant in Japan due to a shortage of Chinese parts due to the coronavirus.
The major Asian stock markets had a green day today:
Shanghai increased 11.19 points or 0.39% to 2,901.67
Kospi increased 22.05 points or 1.00% to 2,223.12
ASX 200 increased 42.80 points or 0.61% to 7,055.30
NIKKEI 225 closed
Hang Seng increased 342.54 points or 1.26% to 27,583.88
SENSEX increased 236.52 points or 0.58% to 41,216.14
The major Asian currency markets had a mixed day today:
AUDUSD increased 0.0039 or 0.58% to 0.6727
NZDUSD increased 0.0026 or 0.41% to 0.6411
USDJPY increased 0.1280 or 0.12% to 109.8960
USDCNY decreased 0.0191 or -0.27% to 6.96398
Precious Metals:
Gold decreased 3.6 USD/t oz. or -0.23% to 1,571.42
Silver decreased 0.0884 USD/t. oz or -0.50% to 17.6973
Some economic news from last night:
Australia:
Home Loans (MoM) increased from 1.8% to 3.5%
Invest Housing Finance (MoM) increased from 2.2% to 2.8%
NAB Business Confidence (Jan) increased from -2 to -1
NAB Business Survey (Jan) remain the same at 3
Indonesia:
Retail Sales (YoY) (Dec) decreased from 1.3% to -0.5%
EUROPE/EMEA:
European Commission head Ursula von der Leyen expressed she is willing to look at all trade possibilities with the UK. New analysis shows that the newly suggested border checks could have large repercussions on fresh produce.
A Bank of England official said that the city of London cannot guarantee to keep in line with EU regulations as they may need to deviate.
With the Brexit transition period now in motion, ideas surrounding a unified Ireland are starting to emerge as some Irish politicians are looking toward the EU to support a unification. Scotland themselves are touting the possibility of a second referendum.
Italy's second biggest airline, Air Italy, entered into liquidation today after the owners decided to pull the plug. Qatar Airways who owned 49% of the shares made a public announcement that they were ready to invest more into the company but were overruled with the liquidation verdict.
Italy and Egypt are mulling over a potential $9.8 billion USD arms deal. The first phase is a 1.3 billion dollar deal in which Italy will supply Egypt with warships.
The major Europe stock markets had a green day today:
CAC 40 increased 39.09 points or 0.65% to 6,054.76
FTSE 100 increased 52.56 points, or 0.71% to 7,499.44
DAX 30 increased 133.81 points or 0.99% to 13,627.84
The major Europe currency markets had a mixed day today:
EURUSD increased 0.00081 or 0.07% to 1.09171
GBPUSD increased 0.00379 or 0.29% to 1.29509
USDCHF decreased 0.0001 or 0.01% to 0.9773
Some economic news from Europe today:
Norway:
Consumer Confidence (Q1) decreased from 14.80 to 14.50
UK:
Business Investment (QoQ) (Q4) decreased from 0.2% to -1.0%
Business Investment (YoY) (Q4) decreased from 1.3% to 0.9%
Construction Output (MoM) (Dec) decreased from 2.4% to 0.4%
U.K. Construction Output (YoY) (Dec) increased from 2.6% to 5.0%
GDP (MoM) increased from -0.3% to 0.3%
GDP (QoQ) (Q4) decreased from 0.5% to 0.0%
GDP (YoY) (Q4) decreased from 1.2% to 1.1%
Index of Services remain the same at 0.1%
Industrial Production (YoY) (Dec) increased from -2.5% to -1.8%
Industrial Production (MoM) (Dec) increased from -1.1% to 0.1%
Manufacturing Production (MoM) (Dec) increased from -1.6% to 0.3%
Manufacturing Production (YoY) (Dec) increased from -3.3% to -2.5%
Monthly GDP 3M/3M Change decreased from 0.1% to 0.0%
Trade Balance (Dec) increased from -4.95B to 0.85B
Trade Balance Non-EU (Dec) increased from 2.36B to 6.72B
US/AMERICAS:
Federal Reserve Chairman Jerome Powell addressed Congress this Tuesday and exclaimed the US economy is "in a very good place." There are a few areas of concern, including the outstanding federal budget deficit that is expected to exceed $1 trillion this year. "Putting the federal budget on a sustainable path when the economy is strong would help ensure that policymakers have the space to use fiscal policy to assist in stabilizing the economy during a downturn," Powell declared, stating the Federal Reserve is focusing on long-term policies. Questions regarding the global impact of the coronavirus arose as well, but Powell admitted it is too early to tell and urged policymakers not to speculate.
President Trump tweeted during Powell's testimony that the Fed's stance on maintaining the benchmark rate caused the Dow to turndown midday. Trump reiterated his belief that the "dollar [is] too tough on exports" and pointed to other economies that employ negative interest rates. The Federal Reserve chair briefly responded to criticism by stating that the central bank is not considering dropping rates, and in fact, the US has never employed negative rates.
Household debt rose for the 22 consecutive quarter in Q4, according to data released by the Center for Microeconomic Data this Tuesday. Total household debt reached $14.15 trillion, a $193 billion increase, toppling the Great Recession high of $12.68 trillion during Q3 of 2008. Mortgage originations also peaked during Q4 of 2019, rising by $224 billion (42%) to $752 billion.
US Market Closings:
Dow declined -0.48 of a point or 0% to 29,276.34
S&P 500 advanced 5.66 points or 0.17% to 3,357.75
Nasdaq advanced 10.55 points or 0.11% to 9,638.94
Russell 2000 advanced 9.85 points or 0.59% to 1,677.51
Canada Market Closings:
TSX Composite advanced 36.54 points or 0.21% to 17,777.11
TSX 60 advanced 1.55 points or 0.15% to 1,060.47
Brazil Market Closing:
Bovespa advanced 2,800.31 points or 2.49% to 115,370.61
ENERGY:
The oil markets had a mixed day today:
Crude Oil increased 0.79 USD/BBL or 1.59% to 50.4203
Brent increased 1.08 USD/BBL or 2.03% to 54.2737
Natural gas decreased 0.0034 USD/MMBtu or -0.19% to 1.7717
Gasoline increased 0.0011 1USD/GAL or 0.07% to 1.5290
Heating oil increased 0.017 USD/GAL or 1.05% to 1.6350
Top commodity gainers: Cocoa (1.56%), Brent (2.03%), Crude Oil (1.59%), and Coal (1.71%)
Top commodity losers: Bitumen (-1.92%), Palladium (-0.68%), Wheat (-0.85%), and Lean Hogs (-1.30%)
The above data was collected around 10.48 am EST on Tuesday.
BONDS:
The sales of green bonds are hitting record highs with sales expected to hit 400bn USD this year up nearly 25% from last year.
Japan -0.06%(-2bp), US 2's 1.42% (+4bps), US 10's 1.59%(+5bps); US 30's 2.05%(+3bps), Bunds -0.39% (+3bp), France -0.14% (+2bp), Italy 0.97% (+1bp), Turkey 11.15 % (+27bp), Greece 1.04% (-57bp), Portugal 0.27% (+2bp) Spain 0.28% (+2bp) and UK Gilts 0.58% (+2bp).
Spanish 6-Month Letras Auction decreased from -0.457% to -0.476%
Spanish 12-Month Letras Auction decreased from -0.450% to -0.454%
US 3-Year Note Auction decreased from 1.567% to 1.394%