Blog/Market Talk
Posted Feb 10, 2021 by Martin Armstrong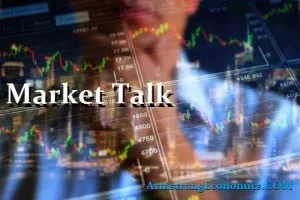 ASIA:
China's factory gate prices rose in annual terms in January for the first time in a year, as months of strong manufacturing growth in the world's second-largest economy pushed raw material costs higher, Reuters reported. China's the national Bureau of Statistics (NBS) said in a statement the producer price index (PPI) rose 0.3% from a year earlier, the fastest pace of increase since May 2019 but slightly lagging a 0.4% gain tipped by a Reuters poll of analysts. PPI declined 0.4% in December. Consumer prices, however, unexpectedly slipped into deflation in January, the first-time upstream prices have risen faster than downstream costs in more than two years. The consumer price index (CPI) fell 0.3% in January from a year earlier, the statistics bureau said in a separate statement.
India will be the main driver of rising demand for energy over the next two decades, accounting for 25% of global growth, and is set to overtake the European Union as the world's third-biggest energy consumer by 2030, the International Energy Agency (IEA) said. India's energy consumption is expected to nearly double as the nation's gross domestic product expands to an estimated $8.6 trillion by 2040 under its current national policy scenario, the IEA said in its India Energy Outlook 2021 released on Tuesday. India's growing energy needs will make it more reliant on fossil fuel imports as its domestic oil and gas production has been stagnant for years despite government policies to promote petroleum exploration and production and renewable energy.
The major Asian stock markets had a mixed day today:
NIKKEI 225 increased 57.00 points or 0.19% to 29,562.93
Shanghai increased 51.60 points or 1.43% to 3,655.09
Hang Seng increased 562.53 points or 1.91% to 30,038.72
ASX 200 increased 35.70 points or 0.52% to 6,856.90
Kospi increased 15.91 points or 0.52% to 3,100.58
SENSEX decreased 19.69 points or -0.04% to 51,309.39
Nifty50 decreased 2.80 points or -0.02% to 15,106.50
The major Asian currency markets had a mixed day today:
AUDUSD decreased 0.0012 or -0.16% to 0.77291
NZDUSD decreased 0.00257 or -0.35% to 0.72167
USDJPY increased 0.12 or 0.11% to 104.67
USDCNY increased 0.01385 or 0.22% to 6.43233
Precious Metals:
Gold increased 4 USD/t oz. or 0.22% to 1,841.06
Silver decreased 0.177 USD/t. oz or -0.65% to 27.023
Some economic news from last night:
China:
CPI (MoM) (Jan) increased from 0.7% to 1.0%
CPI (YoY) (Jan) decreased from 0.2% to -0.3%
PPI (YoY) (Jan) increased from -0.4% to 0.3%
Japan:
PPI (YoY) (Jan) increased from -2.0% to -1.6%
PPI (MoM) (Jan) decreased from 0.5% to 0.4%
South Korea:
Unemployment Rate (Jan) increased from 4.6% to 5.4%
Australia:
Westpac Consumer Sentiment (Feb) increased from -4.5% to 1.9%
Building Approvals (MoM) increased from 2.6% to 10.9%
EUROPE/EMEA:
Hatch, a consultancy firm conducted a study on behalf of BT group to estimate the operator's value to the UK economy and results show that the ex-incumbent operator Group provided around £24 billion in Gross Value Added (GVA) to the UK economy and supported around 300,000 full-time jobs (both directly and via its suppliers) in the 2019/2020 financial year. The report suggests that BT spent around £10.1 billion with UK based suppliers in the financial year, a large part of which came from the maintenance of the Group's fleet of 35,000 vehicles. BT has plans to transition to 28,000 electric vehicles by 2030. In addition, those receiving a pension from BT supported around 26,600 more UK jobs, contributing nearly £2 billion.
Britain's tough new lockdown measures have dented consumer confidence and reduced spending to levels not seen since last spring, according to two separate surveys. Both the British Retail Consortium and Barclaycard said spending in January was at its weakest since May as booming online activity failed to compensate fully for the closure of stores. One of Britain's leading think-tanks, the National Institute of Economic and Social Research (NIESR), added on Monday that after the UK's sluggish start to 2021, it had cut its forecast for growth this year and put back the start of the recovery. Barclaycard said consumer spending last month was down by more than 16% year-on-year, while the monthly BRC/KPMP retail sales monitor showed that 63% of all non-food shopping took place online in January – a doubling from the 31% seen a year previously.
Sweden has become the latest Nordic country to bolster its cyber defense ambitions and capabilities in the face of heightened threats, with the government commissioning key defense and security agencies to establish a national cyber security center (NCSC). The NCSC will be created following a series of high-profile cyber-attacks that targeted major Swedish corporations in 2020, including industrial security group Gunnebo. Sweden's government has allocated SEK440m to meet the NCSC's projected operational costs in the period 2021 to 2025. The creation of the NCSC is a central part of Sweden's long-term desire to boost its capacity to prevent, identify and deal with the increasing cyber threats that target critical IT infrastructure.
The major Europe stock markets had a negative day:
CAC 40 decreased 20.74 points or -0.36% to 5,670.80
FTSE 100 decreased 7.20 points or -0.11% to 6,524.36
DAX 30 decreased 78.83 points or -0.56% to 13,932.97
The major Europe currency markets had a mixed day today:
EURUSD increased 0.00166 or 0.14% to 1.21343
GBPUSD increased 0.00288 or 0.21% to 1.38434
USDCHF decreased 0.00288 or -0.32% to 0.88955
Some economic news from Europe today:
Germany:
German CPI (YoY) (Jan) increased from -0.3% to 1.0%
German CPI (MoM) (Jan) increased from 0.5% to 0.8%
German HICP (MoM) (Jan) increased from 0.6% to 1.4%
German HICP (YoY) (Jan) increased from -0.7% to 1.6%
Norway:
Core CPI YTD (Jan) decreased from 3.0% to 2.7%
Core Inflation (MoM) (Jan) increased from -0.1% to 0.1%
CPI (MoM) (Jan) increased from 0.4% to 1.1%
CPI (YoY) (Jan) increased from 1.4% to 2.5%
PPI (YoY) (Jan) increased from -5.7% to 0.6%
France:
French Industrial Production (MoM) (Dec) decreased from -0.7% to -0.8%
US/AMERICAS:
Federal Reserve Chairman Jerome Powell stated this Wednesday that the US is "a long way" from pre-pandemic levels of employment. Although unemployment stands at 6.3%, Powell noted that the data is "dramatically understated" and believes it is closed to 10%. Unemployment remains beneath the 2020 high of 14.8% but well above the 3.5% pre-pandemic level. "Given the number of people who have lost their jobs and the likelihood that some will struggle to find work in the post-pandemic economy, achieving and sustaining maximum employment will require more than supportive monetary policy. It will require a society-wide commitment, with contributions from across government and the private sector," Powell stated. "Despite the surprising speed of recovery early on, we are still very far from a strong labor market whose benefits are broadly shared."
SpaceX launched a beta test of it's Starlink internet service in the US, Canada, and the UK. SpaceX CEO Elon Musk believes that the Starlink could be the future of the internet, powered by satellites orbiting Earth. Pre-orders will begin at $99, but the Starlink kit will cost around $499. Musk said that the company plans to release an IPO "once we can predict cash flow reasonably well."
Joe Biden has yet to speak to China's President Xi Jinping since taking the presidency, leaving many to wonder how US-China relations will move forward. Biden claims the opportunity for the two world leaders to speak has not be presented yet. President Biden said that he does not foresee the US has having a "conflict" with China, but "there's going to be extreme competition," as both countries fight to become the financial capital of the world.
The US will impose sanctions on the people responsible for the Myanmar coup that occurred on February 1. President Biden stated that those will responsible will be identified and targeted this week and he is prepared to apply additional measures if necessary.
US Market Closings:
Dow advanced 61,97 points or 0.2% to 31,437.8
S&P 500 declined 1.35 points or -0.03% to 3,909.88
Nasdaq declined 35.16 points or -0.25% to 13,972.53
Russell 2000 declined 16.56 points or -0.72% to 2,282.44
Canada Market Closings:
TSX Composite advanced 49.16 points or 0.27% to 18,457.78
TSX 60 advanced 2.88 points or 0.26% to 1,092.53
Brazil Market Closing:
Bovespa declined 1,036.29 points or -0.87% to 118,435.33
ENERGY:
The oil markets had a mixed day today:
Crude Oil increased 0.37 USD/BBL or 0.63% to 58.7300
Brent increased 0.38 USD/BBL or 0.62% to 61.4700
Natural gas increased 0.055 USD/MMBtu or 1.94% to 2.8900
Gasoline decreased 0.0163 USD/GAL or -0.97% to 1.6573
Heating oil increased 0.0046 USD/GAL or 0.26% to 1.7613
The above data was collected around 12:42 EST on Wednesday
Top commodity gainers: Platinum (4.47%), Natural Gas (1.94%), Cocoa (4.15%) and Palladium (1.56%)
Top commodity losers: Corn (-2.79%), Soybeans (-2.15%), Wheat (-2.69%), and Cotton (-2.11%)
The above data was collected around 12:50 EST on Wednesday.
BONDS:
Japan 0.08%(+1bp), US 2's 0.00%(-0.00%), US 10's 1.14%(-2bps); US 30's 2.00%(-0.02%), Bunds -0.45% (+3bp), France -0.22% (+1bp), Italy 0.52% (+0bp), Turkey 12.60% (-2bp), Greece 0.79% (+1bp), Portugal 0.10% (+4bp); Spain 0.16% (+3bp) and UK Gilts 0.48% (+2bp).
German 5-Year Bobl Auction increased from -0.700% to -0.690%
Italian 12-Month BOT Auction increased from -0.478% to -0.454%