Blog/Market Talk
Posted Feb 10, 2020 by Martin Armstrong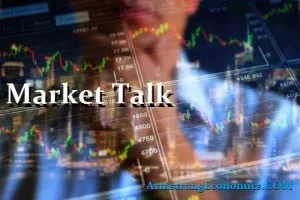 ASIA:
Amazon Inc has decided to take legal action in India to quash an antitrust investigation against the company. Amazon said in a statement that last month the Competition Commission of India (CCI) ordered a probe against the company over alleged violations of competition law and certain discounting practices, which could cause "irreparable" loss and damage to its reputation. Amazon denied the allegations. The Bengaluru court is likely to hear Amazon's petition later this week and the complainant trader group, Delhi Vyapar Mahasangh, has been informed about it, a lawyer involved in the matter said.
Indian tour operators estimated that they could lose up to 500 million USD because of cancelations from tourists from China and other countries due to the coronavirus outbreak. It is expected that this cost could rise up to four times if the virus outbreak persists throughout the year. Tour operators said more than 50,000 Chinese tourists were expected to visit during January-February and most of these bookings are now canceled. India, like other countries, has blocked the entry of people from China and Hong Kong.
Chinese President Xi Jinping appealed to the corporates in China that large-scale layoffs must be avoided as China officially returned to work on Monday amid the coronavirus outbreak. Authorities said they are still reviewing a request by Foxconn, the maker of Apple's iPhone and China's largest employer, to restart production in Shenzhen, near Hong Kong, and Zhengzhou, a city in Henan province about 500km from Wuhan the center of the outbreak.
The Justice Department announced charges on Monday against four members of China's military on suspicion of hacking into Equifax, the credit reporting agency, in 2017 and stealing trade secrets and the personal data of about 145 million Americans. The Justice Department has announced this charge far more severe as the hackers have stolen names, birth dates and Social Security Numbers of millions of Americans which can be used to access information like medical histories and bank accounts.
HSBC Women's World Championship, a major Golfing tournament in Singapore, was canceled on Monday due to the coronavirus outbreak. Organizers took this decision taking into account health concerns and advisories by some Asian countries which stated that large-scale events should be canceled or postponed as a result of coronavirus.
The major Asian stock markets had a mixed day today:
Shanghai increased 14.52 points or 0.51% to 2,890.49
Kospi decreased 10.88 points or -0.49% to 2,201.07
ASX 200 decreased 10.10 points or -0.14% to 7,012.50
NIKKEI 225 decreased 142.00 points or -0.60% to 23,685.98
Hang Seng decreased 162.93 points or -0.59% to 27,241.34
SENSEX decreased 162.23 points or -0.39% to 40,979.62
The major Asian currency markets had a mixed day today:
AUDUSD increased 0.0021 or 0.31% to 0.6694
NZDUSD decreased 0.0015 or -0.24% to 0.6387
USDJPY increased 0.1340 or 0.12% to 109.7450
USDCNY decreased 0.0182 or -0.26% to 6.98660
Precious Metals:
Gold increased 5.45 USD/t oz. or 0.35% to 1,576.03
Silver increased 0.119 USD/t. oz or 0.67% to 17.8527
Some economic news from last night:
China:
CPI (YoY) (Jan) increased from 4.5% to 5.4%
CPI (MoM) (Jan) increased from 0.4% to 1.4%
PPI (YoY) (Jan) increased from -0.5% to 0.1%
Japan:
Bank Lending (YoY) (Jan) increased from 1.8% to 1.9%
Current Account n.s.a. (Dec) decreased from 1.437T to 0.524T
Some economic news from today:
Japan:
Economy Watchers Current Index (Jan) increased from 39.7 to 41.9
EUROPE/EMEA:
Nicola Sturgeon has told the public that Scotland needs the EU "more than ever" and that she will make sure that Scotland and the EU remains close regardless of the outcome with Brexit. She pledged at a speech in Brussels to keep regulations in line with EU standards, which will help Scotland transition back to the EU if Scotland were to ever gain independence from the UK.
Michael Gove, a senior official in the UK, said that there will be a need to declare a customs declaration when transferring goods from the EU to the UK when the transition period ends as of Dec. 31, 2020.
The alleged successor for Angela Merkel, Annegret Kramp-Karrenbauer, quit from the CDU today as the far right-winged teamed up with conservative Christian democrats and she failed to stop them. She said the CDU was weaker because of the events. She will remain in power until a newly appointed head is announced and then she will remain as German defense minister. Analysts are expecting the chances of Angela Merkel remaining in power to be lower as a consequence.
The latest US figures released of injuries caused due to the Iranian bombing of a US base now stands at more than 100. Meanwhile, Iran has attempted to deploy a satellite into orbit but failed. The defense minister said that they will make improvements and try again. This is the fourth time they have failed.
The major Europe stock markets had a negative day today:
CAC 40 decreased 14.08 points or -0.23% to 6,015.67
FTSE 100 decreased 19.82 points, or -0.27% to 7,446.88
DAX 30 decreased 19.78 points or -0.15% to 13,494.03
The major Europe currency markets had a mixed day today:
EURUSD decreased 0.00318 or -0.29% to 1.09142
GBPUSD increased 0.00316 or 0.25% to 1.29166
USDCHF decreased 0.0006 or 0.06% to 0.9769
Some economic news from Europe today:
Swiss:
Unemployment Rate n.s.a. (Jan) increased from 2.5% to 2.6%
Unemployment Rate s.a. (Jan) remain the same at 2.3%
CPI (YoY) (Jan) remain the same at 0.2%
CPI (MoM) (Jan) decreased from 0.0% to -0.2%
Norway:
Core CPI YTD (Jan) increased from 1.8% to 2.9%
Core Inflation (MoM) (Jan) increased from -0.2% to 0.4%
CPI (MoM) (Jan) increased from -0.3% to 0.0%
CPI (YoY) (Jan) increased from 1.4% to 1.8%
PPI (YoY) (Jan) decreased from -2.2% to -3.9%
Italy:
Italian Industrial Production (YoY) (Dec) decreased from -0.8% to-4.3%
Italian Industrial Production (MoM) (Dec) decreased from 0.1% to -2.7%
Euro Zone:
Sentix Investor Confidence (Feb) decreased from 7.6 to 5.2
US/AMERICAS:
Advanced Micro Devices (5.09%) and NVIDIA (4.52%) outperformed this Monday and helped push the S&P 500 and Nasdaq to record highs. The S&P advanced 24.38 points (0.73%) to 3,352.09, also aided by strong performances from Lowes (4.81%) and McKesson (3.72%). The Nasdaq rose 107.88 points (1.13%) to 9,628.39, pushed higher by Netease (3.75%) and Tesla (3.10%). Amazon (2.63%) and Microsoft (2.62%) also excelled in today's session, helping both indexes to peak.
The US Justice Department plans to prosecute Chinese military personnel for the 2017 Equifax hack that resulted in 145 million people having their personal information stolen. The Justice Department is considering the hack an act of "cyberwar" that has reiterated the US' distrust of the Chinese government. "Unfortunately, the Equifax hack fits a disturbing and unacceptable pattern of state-sponsored computer intrusions and thefts by China and its citizens that have targeted personally identifiable information, trade secrets and other confidential information," Attorney General William Barr declared.
Amazon's cloud service, Amazon Web Services (AWS), is filing charges against President Trump and members of his administration after claiming they lost a profitable Pentagon deal due to political reasons. AWS was in a bidding war for a $10 billion deal with the Pentagon, but lost to Microsoft's JEDI service. Amazon CEO Jeff Bezos owns The Washington Post, which frequently criticizes the Trump administration. "The question is whether the President of the United States should be allowed to use the budget of the DoD to pursue his own personal and political ends," a member of AWS' staff told reporters at CNBC. The White House maintains that Microsoft offered a better deal and that their decision was business based.
Blackstone CEO Stephen Schwarzman, who was involved in phase one of the US-China trade negotiations, told reporters at Yahoo Finance that it will be in the best interest of both parties to reduce tariffs during the second phase of the trade deal. Schwarzman said the next phase is a matter of timing due to the deadly coronavirus that is ravaging China.
US Market Closings:
Dow advanced 174.31 points or 0.60% to 29,276.82
S&P 500 advanced 24.38 points or 0.73% to 3,352.09
Nasdaq advanced 107.88 points or 1.13% to 9,628.39
Russell 2000 advanced 10.89 points or 0.66% to 1,667.67
Canada Market Closings
TSX Composite advanced 85.08 points or 0.48% to 17,740.57
TSX 60 advanced 5.89 points or 0.56% to 1,058.92
Brazil Market Closing:
Bovespa declined 1,199.99 points or -1.05% to 112,570.30
ENERGY:
WTI crude hit below 50 USD per barrel for the second time this month, with Brent crude not far behind at 54 USD. The impact of coronavirus is apparent, with China usually consuming 14m bpd being forced to a standstill. OPEC+ is finally coming around with their production culls with production down nearly 500k bpd in January, but it is not enough to stop the decline.
The oil markets had a negative day today:
Crude Oil decreased 0.7917 USD/BBL or -1.57% to 49.6744
Brent decreased 1.1836 USD/BBL or -2.17% to 53.2354
Natural gas decreased 0.0694 USD/MMBtu or -3.76% to 1.7785
Gasoline decreased 0.0065 1USD/GAL or -0.43% to 1.5250
Heating oil decreased 0.0347 USD/GAL or -2.11% to 1.6144
Top commodity gainers: Coffee (2.14%), Orange Juice (2.11%), Steel (2.02%), and Lumber (1.66%)
Top commodity losers: Natural Gas (-3.76%), Brent (-2.17%), Heating Oil (-2.11%), and Lean Hogs (-1.85%)
The above data was collected around 14.58 EST on Monday.
BONDS:
Japan -0.05%(+0bp), US 2's 1.37% (-2bps), US 10's 1.55%(-4bps); US 30's 2.02%(-2bps), Bunds -0.41% (-2bp), France -0.17% (-2bp), Italy 0.96% (+1bp), Turkey 10.88 % (+36bp), Greece 1.03% (-61bp), Portugal 0.26% (-4bp) Spain 0.26% (-3bp) and UK Gilts 0.57% (-0bp).
French 3-Month BTF Auction decreased from -0.596% to -0.609%
French 6-Month BTF Auction increased from -0.595% to -0.592%
French 12-Month BTF Auction increased from -0.596% to -0.586%
US 3-Month Bill Auction remain the same at 1.550%
US 6-Month Bill Auction decreased from 1.520% to 1.510%