Blog/Market Talk
Posted Feb 10, 2017 by Martin Armstrong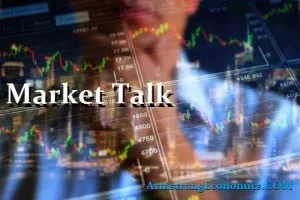 Asia benefited from new record highs in the US and really set the pace for the end of the week. The Nikkei was certainly the star performer adding 2.5% on the day taking the index to 19,400 with many talking the psychological 20k is next weeks target number. The JPY suffered against the USD falling to the mid 113 level with attempts made late in US trading at the 114 handle. In China's Export numbers saw the release better at 7.9% against an estimated 3.3% while Trade Balance came in at $51.35bn against an estimated $47.9bn. The CNH (off-shore) was last seen around the 6.8700 late in US trading. In cash we saw the Shanghai close +0.5% while the Hang Seng added just small closing +0.2%.
Europe had many rumours early in the session but most concerns fears of credit rating downgrades. Much talk surrounded France and Italy given their country's bond market performance and the ongoing talk around political uncertainties. Which many still discussing the US infrastructure talk we understandably saw basic materials perform along with the US Dollar. All this talk helped energy prices with WTI gaining nearly 2% in Friday trading. If the globe were a yield curve traders would be selling the belly and buying the wings as this trend looks to be with us for a while. Europe closed mixed with many looking for inspiration.
US indices made yet more historical records today with the DOW, S+P and NASDAQ all hitting contract highs. Many were concerned these infrastructure plans had been delayed since no fresh news seemed to be coming but that was ignored today after it was rumoured we could be hearing things in the next few weeks. Either way, this being a Friday and much speculation of what the Sunday papers may say, dealers just do not wish to be running short positions over the weekend. The USD gained more support in late trading and also saw the VIX down to 10.86. Bonds are selling off as the curve starts to reflate.
US 2's closed 1.19% (+1bp), 10's at 2.42 (+2bp). Germany 10's 0.325% (+1.5bp) closes US/Bund at unchanged). Italy 2.26% (+10bp), Greece 7.64%, France 1.04% (+6bp), Turkey 10.67% (+5bp), Portugal 4.07% (+7bp) and Gilts 1.25%.