Blog/Market Talk
Posted Feb 19, 2018 by Martin Armstrong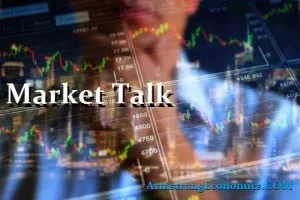 Even though much of Asia remain on holidays celebrating the New Year, we did see the impressive broad based rally continue. The Nikkei rose another 2% and with commodities improving also, that helped the Australian ASX. The Yen drifted back to the mid 106's and that helped the exporters push the Nikkei. This has been a sigh of relief for exporters since we saw the low 105's rejected last week. Banks has also benefited with this rally with MUFG and Mizuho both adding just over 2% today. The Nikkei managed a close at the days highs, but we are seeing futures return some of those gains as western markets drift in US afternoon trading.
Volumes were extremely light all over, but that is to be expected with so many markets closed.
Core European indices tried to follow Asia's lead but was soon to be rejected. In thin lacklustre trading the markets looked jittery with bids backing off rather than being hit. The auto sector saw the worst decline losing more than the averages by the end of the day (Daimler down 2.1% closing at 71.01). All core traded lower as the day progressed with most closing on their days lows – on average down -0.6%. Next week we will hear more planned details surrounding BREXIT as Theresa May (UK Prime Minister) is likely to address the general public, after having agreed its content with her cabinet, from outside of London. There is much speculation surrounding planning and details as the EU continues to indicate that trade agreement will only be completed after the UK leaves. GBP direction will provide an indication on the success of the domestic progress and the likelihood of any delays.
US cash markets are closed but the futures continue to trade. In Asian trading hours the DOW fut's were trading around +125 points higher, however, in afternoon trading have lost that gain and are now in negative territory at -75 points at time of writing.
Japan 0.06%, US 2's closed 2.19% (u/c), 10's 2.87% (+2bp), 30's 3.13% (+1bp), Bunds 0.73% (+2bp), France 0.99% (+4bp), Italy 2.04% (+6bp), Greece 4.18% (-1bp), Turkey 11.56% (-5bp), Portugal 1.99% (+1bp), Spain 1.49% (+4bp), Gilts 1.60% (+2bp).