Blog/Market Talk
Posted Dec 9, 2016 by Martin Armstrong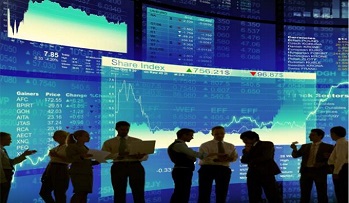 The euphoria created yesterday by the ECB continued in to Asia and especially Japan – again. The Yen has started to feel the heat as prices take out the 114 handle again and we make our way towards 115. The Nikkei closing the day up 1.25% has established a new high for the 2016. Producer Prices in China helped the Shanghai return 0.5% with the Hang Seng small lower after Casino's took a hit due to new regulations surrounding the use of ATM's within the casino premises. In late trading futures had reacted to positive western markets with the Nikkei adding over 1% with the Yen trading mid 115's.
Since the election result in the States and the "experiment" (as one dealer expressed it to us) that is underway and the Trump administration is worth investigating the direct bearing on markets and their relevant sectors. Since November 8th stocks have rallied creating new all time highs with the Financials and Energy sectors leading the charge. Bank of America for example is up over 30% since the news, as talk of easing banking and energy regulations are just two of the topics under discussion; admittedly, the recent OPEC meeting helped. One key topic for the Financials performance (+20%) is the re-pricing of the bond market and the yield curve. Higher and steeper curve will project bank earnings which in itself changes the type of assets that will come to market. Soon we should see the return of FRN's (Floating Rate Notes) and Convertible (Bond) Issuance. Given we have also seen the ECB escape yesterdays tapering mascaraed, although the EURO suffers the consequences', it appears the core bond market (Bunds) remain unscathed. Peripheral Europe was not so fortunate with Italy, Spain and Portugal all under pressure but also 30yr German Bunds (+10bp 1.12%) which were probably missed as its the 5's and 10's spread that are more visible.
Stocks remain the only investment in town and fixed-income the hot potato. European indices closed small changed but Italy continues to suffer. In the US more historic highs were recorded and still with the talking heads expecting a pull-back. The more it records the greater the reversal will have to be in order the majority managed to get back in, which is why it will continue along its present path. All this with the DXY back up at 101.50 which is a double return for many international investors.
US curve another 4.5 steeper today with 2's closing 1.13% and 10's at 2.47%. German Bunds were initially stronger then retraced to close just 1bp lower (yield) at 0.36%, which puts 10's/10's at +211bp. Italy closed 2.04% (+4bp), Greece 6.57% (+4bp), Turkey 11.03% (+13bp), Portugal 3.81% (+11bp) and UK Gilt 10's at 1.45% (+8bp).