Blog/Market Talk
Posted Dec 8, 2017 by Martin Armstrong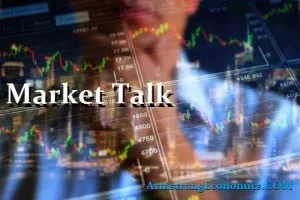 Asia started where the US markets off and confidence ahead of payrolls Friday, a government shut-down averted and hopes riding high for a BREXIT deal – which ran on the back of Sterling's strength. For the Nikkei it felt important that we saw a 1.5% rally today taking us back to returning a roughly flat week. The GDP data certainly helped sentiment blasting the market 1.4% expectation and printing an impressive +2.5%. Yen lost a little as expected (0.4%), but that was a full big figure change and was in-place ahead of the US payrolls number. China's economic data was also in the news with Trade figures better than forecast, resulting in a strong Hang Seng (+1.2%) and Shanghai (+1.1%) indices. Including the near 1% rally for the SENSEX also, these were strong and confident closes for Asia.
Europe was abuzz with the level and expectations of BITCOIN and also news of BREXIT negotiations. Cable had rallied ahead of any announcements but again this was more buy the rumour sell the fact as it turned south as soon as the press conference completed. Financials led much of todays rally with core indices improving across the spectrum. The US jobless numbers helped afternoon sentiment even though it waned just at the close. Still a solid return with gains of around +0.5% but with DAX and FTSE closer to 1%. The first-half BREXIT deal is debated within the EU leaders next week, but more pressing will be this weekend coverage within the media. Looking very much like a 'soft' deal with an extension continuing for years and even then Parliament needs to approve both. Not positive news for either the Euro or GBP with next weeks FED, BOE and the ECB meetings and only the FED looking to be in play.
The US payroll headline printed ahead of market expectation and so saw renewed buying interest. The DOW was up over 100 points in early trade and held that for the remainder of the session. Expectation were calling for 198k number against a 228k release. The rate remained with no sign of pressure on wage growth. Still, given where stocks are playing the FED will be playing next week but do not expect the other two to join them.
2's closed 1.79% (-1bp), 10's at 2.38% (+3bp), 30's 2.77% (+3bp), Bunds 0.30% (+1bp), France 0.62% (+2bp), Italy 1.64% (-2bp), Greece 4.43% (-28bp), Turkey 11.67% (-1bp), Portugal 1.77% (-1bp), Spain 1.39% (u/c), and Gilts 1.28% (+3bp).
A little bit of reaction at the core, from todays economic data reports but quite frankly, the market has been broken for a while now so why expect any movement at all!